Why the Best Picture Oscar Could Go to 'Silver Linings Playbook' Over 'Lincoln'
A low-budget comedy defeating a much-hyped historical drama by Steven Spielberg? The record has shown that when the Weinsteins are involved, it could happen.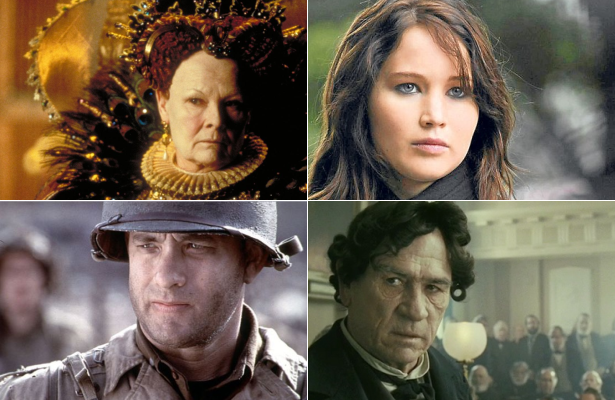 Miramax / DreamWorks / The Weinstein Company
It's Oscar night in Hollywood. The stars are out in their loveliest designer finery; the moguls are schmoozing. The frontrunner, ever since the announcement of the nominees weeks before, is the latest from Steven Spielberg, a vast yet intimate historical drama that has made an impressive showing in the year-end awards. But there's a spoiler in the midst: a light comedy/drama with romance and a happy ending, brought to you by Bob and Harvey Weinstein, the independents-turned-majors whose Oscar-campaigning acumen is by now the stuff of legend. Spielberg wins the Best Director prize, to no one's surprise. But the shock comes at the end of the evening, when Harvey is called up to the stage to take home the statue for Best Picture.
That was March 21, 1999, but history could repeat itself at this year's Oscars on February 24. This morning, the Academy of Motion Picture Arts and Sciences announced
their nominees
—with a remarkable number of surprises in the mix. The biggest stunner of the morning was the absence of Kathryn Bigelow among the contenders for Best Director, a slight that all but ensures her film, the thoughtful, masterful, and
endlessly controversial Zero Dark Thirty, won't win Best Picture. (Exactly three movies have won Best Picture without a corresponding nomination for direction: Wings in 1928, Grand Hotel in 1932, and Driving Miss Daisy in 1990.) Steven Spielberg's dusty, homey, and surprisingly timely Lincoln, leading the pack with 12 nominations, would seem to have the prize sewn up.
But not so fast. Tying with Les Misérables for third most nominations (with eight nods) is Silver Linings Playbook, director David O. Russell's romantic comedy/drama about bipolar disorder, sport superstition, and ballroom dancing. It won a nomination in each of the acting categories, and Russell got one of those Best Director slots that eluded Bigelow. Compared with Lincoln's 13th Amendment concerns, Zero's manhunt for Osama bin Laden, and the spiritual matters of Life of Pi (11 nominations), Silver Linings seems like awfully lightweight stuff. But it comes to us via The Weinstein Company, so it cannot be shrugged off.
The Weinsteins have, for the past two decades, proven remarkably successful at gathering Oscar nominations—and statues. At their first company, Miramax, the brothers initially went for one-off nominations and wins (like Daniel Day-Lewis's Best Actor prize for My Left Foot). But once they got a taste of the prestige and industry cred that followed a successful Oscar campaign—with The Crying Game's six nominations in 1993, The Piano's eight (with three wins) in 1994, and Pulp Fiction's seven (with one win) in 1995—the brothers, particularly the gregarious Harvey, became notably less daring in their production and distribution choices, focusing primarily on potential "Oscar bait" and leaving the genre films of Bob's Dimension division to pay the bills.
And Harvey got very good at courting Oscar voters. The proof is in the remarkable nomination totals for otherwise unimpressive efforts like Chocolat (five in 2001), The Cider House Rules (five nominations and two wins in 2000), Iris (two nominations and one win in 2002), and Cold Mountain (six nominations and one win in 2004). The trend continued when they left Miramax and started up The Weinstein Company, where they managed to get four nominations for Nine, four nominations and one win for The Reader, and eight nominations and four wins for The King's Speech. Some of these films are bad; some are not. All were disproportionately recognized by the Academy—and none are the kind of edgy, gutsy, unique fare upon which Miramax made its name. But at a certain point in the '90s, the Weinsteins changed their focus from jazzing up film culture to winning little gold men.
And plenty of attention has been paid to their efforts to do so. A week before Saving Private Ryan and Shakespeare in Love faced off at the 1999 Oscars, influential film columnist Nikki Finke correctly predicted that if Shakespeare won Best Picture, "movie-biz insiders will likely credit—or blame—Miramax's blitzkrieg campaign." Finke charged that the studio (which also managed to nab seven nominations for the twinkly, unbearable Life is Beautiful) "pays a fleet of ultra-veteran Hollywood publicists (who also happen to be Academy members)... not to generate press coverage but to schmooze their prominent Academy colleagues. As cronies of the Academy's graying voters, they are paid not just during the five-month Oscar season but nearly year-round—a practice unheard-of elsewhere in the industry." And it wasn't cheap. "True independents might spend up to $250,000 on an Oscar campaign; the majors, $2 million," Finke wrote. "Miramax is estimated by competitors to have spent at least $5 million on its campaign for Shakespeare."
Miramax denied these charges ("We are not in any way in the vote-buying business," protested Miramax L.A. president Mark Gill), as well as Finke's stories of studio publicists and Weinstein himself trashing Ryan to journalists. But the reputation persists, and the outcome back in '99 was undeniable: Beautiful won three Oscars, and Shakespeare won seven of the 13 it was up for—including the big prize. Oscar analysts chalked that win up to the Academy's large voting bloc of actors; in contrast to Ryan, a war movie with only one real stand-out role, Shakespeare was a film about actors, a valentine to them, really. That distinction is not as clear this time around: Lincoln is as much a showcase for its actors as its director, and it's got a larger cast than Silver Linings (though with roughly as many juicy, major roles). But those who've prematurely called it for Lincoln would be wise to hedge their bets. As we've seen before, it's never wise to underestimate Mr. Weinstein.