Lance Armstrong makes more sense to me after his Oprah interview. And my wristband still means the same thing it always did.
AP/Courtesy of Harpo Studios, Inc., George Burns
I was wearing one of those yellow Livestrong wristbands yesterday, pre-Oprah. It's still on.
It isn't about Lance Armstrong, I've explained to my kids. It's about me. I survived prostate cancer five years ago, and it changed in useful ways how I think about life—aiming high, not putting things off, that sort of stuff. I rather like the continual reminder. I've never cared much for cycling, for myself or on TV, but it's hard not to admire a man of determination who keeps coming back.
Related Story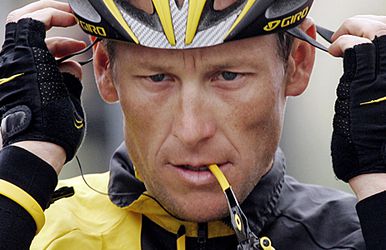 Watching Lance Armstrong last night, I was prepared to feel betrayed and to dislike the guy who split up with Sheryl Crow when she had cancer. But I found I didn't. To my surprise, I liked him. I'm not proud of this, or saying I'd ever forgive him if he'd personally wronged me the way he wronged so many. But everything he said—and did—made a certain sense.
A fact: Lance Armstrong is a driven man. Whether because of genetics, a rough childhood, whatever the reason(s), he's a man of outsized ambitions whose outsized talents are inextricably mixed with outsized flaws. They come as a package, as they do for many truly accomplished people who struggle to the top. Think of Bill Clinton or Newt Gingrich or Steve Jobs. In a crowded and competitive world, that's often what it takes.