Author Jim Shepard's favorite passage from "A Good Man Is Hard to Find" highlights a sad truth: A moment of clarity only lasts a moment.
By Heart is a series in which authors share and discuss their all-time favorite passages in literature.
Flannery O'Connor's classic short story "A Good Man Is Hard to Find" moves from satiric family comedy to brutal revelation as a grandmother leads her exasperated family on a wild goose chase in rural Georgia. While looking for the site of her girlhood homestead, she inadvertently brings her whole family to their deaths at the hands of a tortured killer, The Misfit. He displays an odd regard for the grandmother, who forgives him right before she dies:
"She could have been a good woman," The Misfit said, "if it had been someone there to shoot her every minute of her life."
For Jim Shepard, author of Love and Hydrogen and You Call That Bad, this line has been cause to contemplate what it means to be good—and the value of goodness when it's merely fleeting. If human beings can muster startling flashes of selflessness and generosity, why do we revert so quickly to our flawed, limited selves? And does the fact that we do relapse into old patterns diminish what we are in our best moments? O'Connor's story helps Shepard wrestle with these questions as he crafts his own imperfect characters, who catch glimpses of how to become better—but are often not quite strong enough to change.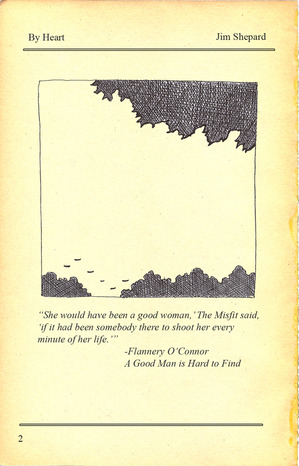 Doug McLean Shepard is one of America's foremost story writers: His work has appeared in magazines like The New Yorker, Granta, and Harper's, and has been anthologized in The Best American Short Stories. His collection Like You'd Understand, Anyway (2007) won the Story Prize and was a finalist for The National Book Award. He's a professor of English Literature at Williams College, and he spoke to me by phone from his home in Williamstown, Massachusetts.