What Alabama's Boring Blowout BCS Victory Last Night Revealed
The Crimson Tide unspectacularly crushed Notre Dame in the college football championship, but at least we learned a few things along the way.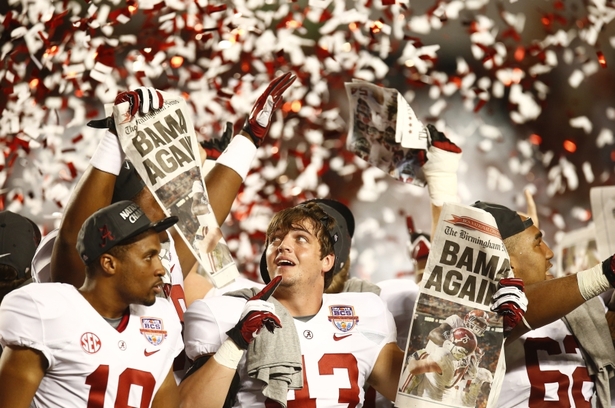 Reuters/Chris Keane
Suppose you sit down for what's supposed to be a classic battle between Alabama and Notre Dame. Instead it's a massive blowout. All of a sudden, watching the premiere of The Bachelor on another channel might not seem like such a bad idea. At least Sean Lowe had a chance of scoring. Notre Dame was down 28-0 at halftime, and eventually blown out 42-14—the second-largest margin of victory ever in a BCS title game. Here's what anyone who avoided reaching for their remote control last night learned.
1. Alabama head coach Nick Saban might be the best college football coach ever.
Publicly, at least, he seems joyless, often described as "not happy" even after big wins. When he jokes with reporters, it's forced and sarcastic. If not quite sleazy, Saban has slithered a time or two in his career.
But he also just won his second straight BCS trophy and third in four years, with a good chance to make it three consecutive next season. Throw in the title he won at LSU—and forget his weak record in the NFL—and Saban has just jumped up a class. Like him or not, he has gone from being one of his era's best to the king. He has also at least entered the conversation for best of all-time, along with legends like Tom Osborne, Knute Rockne, Fielding Yost, and Alabama's own Bear Bryant.
Yes, the Irish got a bad call early. Officials ruled that Alabama's Christion Jones was hit by an Irish player on a punt, nullifying his fumble. Whatever. Notre Dame had an incredible season—and were unranked when the year began. But last night the team rolled over like a neutered Shih Tzu. They were boys against men, beaten badly in every phase of the game. The guys in stripes didn't hold Notre Dame to 32 yards rushing. The refs weren't the ones who gave up 529 yards of total offense. Notre Dame had a defense, remember, that had allowed just nine touchdowns during the entire 2012 season. The Tide scored six last TD's last night.
3. Notre Dame star defender Manti Te'o lost lots of money.
Notre Dame linebacker Manti Te'o Te'o may turn out to be a brilliant pro. The team's spiritual leader and biggest hitter may win a dozen Super Bowls and end up enshrined at Canton. Last night, though, the Tide offense made him look silly. Te'o is still looking for the jockstrap Crimson Tide running back Eddie Lacy juked him out of with a devastating spin behind the line. NFL teams, on the whole, frown on players who look silly and lose their jockstraps.
4. Alabama running back Eddie Lacy made lots of money.
Speaking of that fireplug with dreads, Lacy earned offensive MVP honors last night, rushing for 140 yards and a pair of touchdowns. He also improved his position in the 2013 NFL Draft, which he seems awfully likely to be in. A junior, Lacy could stay in Tuscaloosa for his senior season and try to win a Heisman. Or he could take those spin moves he claims to have invented and become a millionaire.
5. Announcer Brent Musberger, 73, has life in him yet.
Alabama quarterback AJ McCarron finished the game 20-28 with four touchdowns. But McCarron got more praise for his girlfriend, Katherine Webb.
With about four minutes left in the first quarter, and the Crimson Tide already up two scores, ESPN cameras showed Webb sitting with McCarron's mom in the stands. Announcer Brent Musberger raved, pointing out the incredibly obvious fact that she, the reigning Miss Alabama, is an extremely attractive woman. For this, Musberger was predictably and instantly excoriated on social media —the world's Twitter-ites and Facebookers erupting with condemnation, branding him a filthy lecher.Again.
Um, why? Shots of players' wives and girlfriends in the stands are as old as sports on TV. It's not like Brent sent the girl his phone number via Twitter. It was Arizona Cardinals defensive end Darnell Dockett who did that. Seriously. Shortly after Wade was on screen, Dockett sent her his digits via Twitter. Not a very classy move, and no one is probably madder about it than AJ McCarron.
2. There is an "I" in "Quit"