Watching My Diehard Football Fandom Turn to Dread
The head-injury concerns seemed abstract—until I watched my favorite young player take a hit in the last game of his season.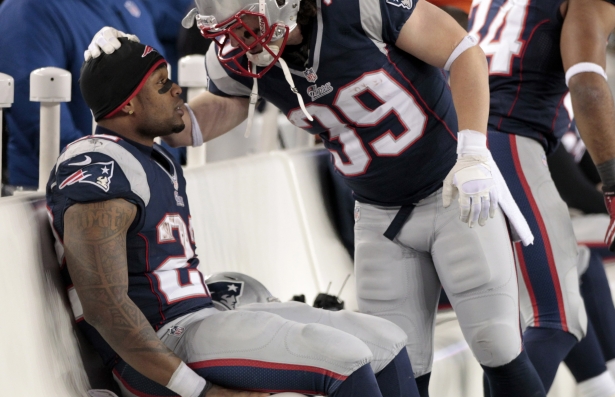 It was early August, 2011, and I was sitting in a seat at Gillette Stadium in Foxboro, Massachusetts. Tom Brady was warming up about four yards in front of me, but I wasn't here to see him. I was looking for the rookies. It was the best view I'd get of them before the season started.
Related Story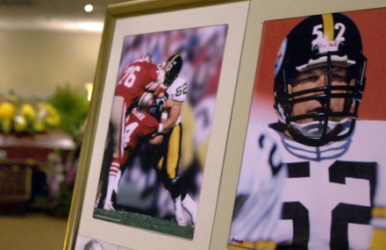 They hold precious few of these public practices in the actual stadium, so I try to attend every one. Practices are free, and Gillette Stadium offers a children's play area on training-camp days. So there were plenty of families there that morning, with kids hoping to catch a glimpse of their favorite players. (My kids were at summer camp, though, so I was enjoying this particular practice alone).
The Patriots were working on their running game that day, and the ball was being handed off to one of the rookies with regularity. I took some notes. When practice was over, I picked up my kids, went home, and did some research. I knew the Patriots had drafted this guy in the third round, and that he had played for LSU, but that was about it. I said to my husband that night, "This rookie the Pats picked up, Ridley, he's got something special."
The 2011 season was a great time to be a New England Patriots fan. When they won the AFC Championship and were headed to the Super Bowl, I entered every contest known to man trying to win a trip to Indianapolis. I canceled my biweekly date nights with my husband so I could spend the money on raffle tickets. I got on every email list and signed up for every advertiser's sweepstakes. (I still have more than 3,000 unread emails in my inbox to prove it—it's hard to get off those lists once you get on them.)
A couple days before the Super Bowl, the last name was drawn from the last raffle, and I wasn't going. Are there bigger problems in life than not making it to the Super Bowl? Of course. But I was dejected, nonetheless. This dream team of Belichick and Brady has had a good run, but time's running out. When they retire, the team will have to be rebuilt, redesigned, and that will take time.
When the next training camp came around, I pulled out my notebook, my pen, and my NFL gear, and was excited for a new chapter in Patriots football. Stevan Ridley was looking even better, I thought. I called my favorite sports radio program and asked, "What are your thoughts on Ridley this year? Could he be the key to our running game?" They replied, "He's got to stop dropping the ball."
Give him time, fellas, give him time, I thought.
I watched the season unfold, spent many a Monday night and Sunday afternoon yelling at the TV, watching some other great second-years and rookies, but particularly watching Ridley's performance. I would occasionally boast, "I knew it. I knew that kid could fit into this system."
* * *
I watched the AFC championship last week, discouraged that my team seemed to be totally off their game in the second half, but giving props to Baltimore's enthusiasm and fight. Things were looking grim for Patriots fans by the fourth quarter when Ridley took a hand-off from Brady. As Ridley found an opening and was gaining yards, he was blindsided by Baltimore Safety Bernard Pollard.
Pollard hit Ridley head to head. You could hear the crack of the helmets colliding, and I cringed. Ridley collapsed, exhibiting the "fencing" response that medical experts agree indicates brain injury.
I held my breath as Ridley remained on the ground, barely moving. His teammate, Brandon Lloyd, was hovering over him, clearly concerned. Several players from both sides were stacked up next to them—when Ridley went down, he dropped the ball, and the referees were trying to determine who had recovered it. It was taking too long. "Get them out of there!" I was screaming at the TV.
The trainers had run onto the field with Coach Belichick not far behind. The argument over whose ball it was seemed to be encroaching on Ridley, and I now began directing my pleas toward the players, as if they could hear me, "Get out of the way! Give him room!"
The next NFL coverage showed Ridley sitting on the bench, and I breathed a sigh of relief. It was a frightening few minutes for a fan who has been following Ridley's still-young NFL career. I can't imagine what his family, friends, and teammates were feeling.
When I heard John Harbaugh's comments about the hit in his post-game press conference, "It was football at its finest," I cringed again. I entirely disagree. This is football at its ugliest. I'm a football fan, and I'm also a mother. I don't ever want to see my kid, or anyone else's kid, take a hit like that.
Based on the comments from both Pollard and Ridley after the game, there's no hard feelings there. Pollard has said that he hoped Ridley was okay, and I believe him. Ridley has given credit where credit's due and wished Baltimore good luck in Sunday's game. And I know, of course, that there was nothing else Coach Harbaugh could say. It was a legal hit. Pollard did his job. You can't fault him for that. All you can do is change the job.
* * *
I won't go into all the ways to fix football. Ta-Nehisi Coates laid out a comprehensive, and I think attainable, list of possible changes earlier this month here at The Atlantic. I'd add to his list a rule banning all contact above the shoulders, even though that would require changes in player lineups and designations.
But I reject the notion, popular among some, that brutality is the point of watching football. I enjoy the strategy of it, the game plans, the skill level required, but I don't enjoy seeing guys get head injuries. The problem isn't the nature of the game but the nature of its culture. When a player goes down like Ridley did, we shouldn't hear cheers from the crowd or mocking from the booth.
It's fans who hold the ultimate control over that culture. The league's success depends upon us watching the game. If we voice an aversion to seeing these kinds of hits and, more importantly, we hold back our money on tickets and gear, the league will respond. It is entertainment, after all. We should not accept men being disabled for life, unable to hold a job or care for their families once they retire, for the sake of our entertainment.
* * *
I've made my pick, guessed the point spread, and am eagerly anticipating a good game on Sunday. Most likely my kids will be watching it with me, and I hope neither they nor I have to cringe or turn away from another hit like we saw last week. But if we do, I'll have to answer to them, and to my own conscience, as to how I can so enjoy a game that is becoming more and more dangerous to those who play it.