Two Reasons to Watch 'She's Out of My League'
Which the critics and reviewers, with their fancy emphasis on "plot" and "casting,"
might not encourage
you to do. But this is what my wife and I unexpectedly ended up doing last night after trawling through the TiVo to see what movies it had hauled in.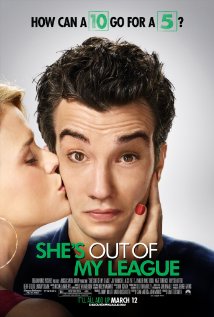 Reason One
:
This movie
humanizes the TSA. It had to happen sometime.
Reason Two: The dramatic payoff, which I can reveal without spoiler danger, occurs when a previously downcast and disrespected character demonstrates his overall success in life (plus success with the girls) by becoming ... a Cirrus SR-22 pilot!
Good to see a movie that is so true-to-life in depicting the markers of suaveness and accomplishment.
__
Bonus reason to see the movie: the very edgy Krysten Ritter, best known as the doomed consort of Aaron Paul/Jesse in Breaking Bad, returns as the sarcastic, put-down-look-that-could-shoot-a-Predator-drone-out-of-the-sky friend of the leading lady.
Bonus proof that the She's Out of My League guy figured out exactly the right way to demonstrate his omni-directional appeal and sophistication: Angelina Jolie flies this plane too. So there.