'Too Dope for Words': Jay-Z Is the Ideal Composer for 'The Great Gatsby' Score
A pair of king Jays -- Gatsby and Z -- will roll together this spring.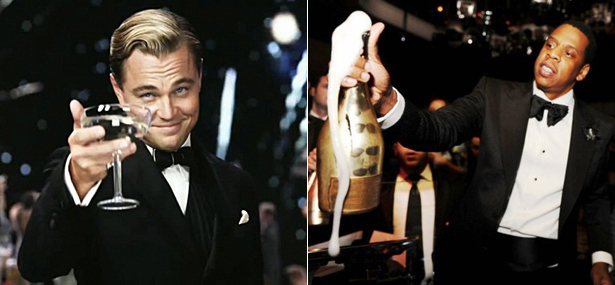 Warner Bros.; Jay-Z
Our first sensory experience in the opening seconds of the debut Great Gatsby trailer back in May was the bass drum and guitar of Kanye and Jay-Z's 2011 "No Church in the Wild." The whole world smiled.
Then, despite an otherwise entirely different score for the second trailer (below), released in December, "No Church" was again featured prominently.
Turns out the repeat wasn't an accident. Which, of course; because nothing Baz Luhrmann does is an accident. It was an allusion to the greatest of announcements -- which came yesterday. Jay-Z will be using the hotly anticipated Luhrmannic visualization of unfettered 1920s NYC as a canvas for an entire original score that he is composing.
Jay-Z is collaborating with The Bullits, who called the project "too dope for words."
Both advocates of Long Island (Brooklyn and West Egg, respectively), Z and Gatsby have more in common than the first halves of their pseudonyms. Both are inordinately wealthy (Gatsby an "instant millionaire"; Jay-Z worth $500 million and even if he fell he'd land on a bunch of money) and unabashedly ostentatious in displays of their capacity for decadence -- because conscious curation of that image was integral to its realization. And their heroes' journeys are both defined by the fact that they are self-made. Jay-Z sold crack, Gatsby was a bootlegger; but they both made themselves kings. They ran with gangsters, kept enemies close, did what they had to, rose. You can read about them both in books about their lives; though Jay-Z wrote his, if you're keeping score.
The one real and important difference, of course, centers on Jay-Z being happily married. The happiest and most perfect marriage of our time, to be precise. And even before that, he categorically did not have girl problems. Meanwhile, Gatsby's entire existence is defined by a girl problem.
But the feel of Jay's music is of course infinitely more relevant to scoping the film's environs than is the likeness of his character or personal history. And what better beats to roll out the larger-than-afterlife Gatsby persona than the grandiose productions of our one and only Hova?