The Two Raymond Chandler Sentences That Changed Walter Mosley's Life
The acclaimed novelist shares the passage from The Long Goodbye that turned him from a 16-year-old consumer of the printed word into a creator.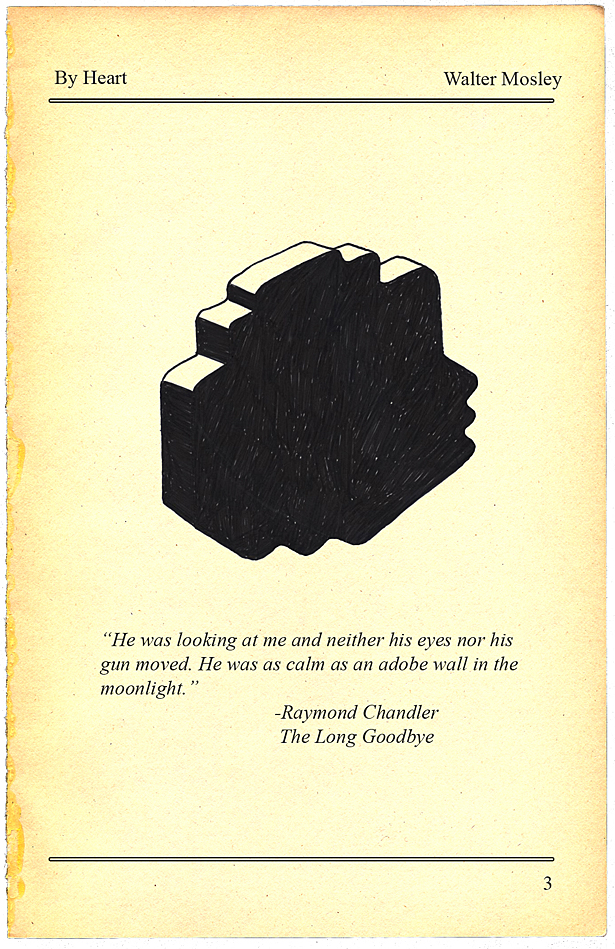 Doug McLean
By Heart is a series in which authors share and discuss their all-time favorite passages in literature.
When I asked Walter Mosley to name a favorite passage from literature, he chose two sentences in Raymond Chandler's The Long Goodbye. He credits this brief narrative instant with germinating his career and calling:
He was looking at me and neither his eyes nor his gun moved. He was as calm as an adobe wall in the moonlight.
Many writers first turn to books for diversion but remember a moment when words became deadly serious. For Mosley, this revelation hit like a thunderbolt. Chandler takes an innocuous image—a clay wall in moonlight, an everyday sight for Mosley during his Southern California boyhood—and imbues it with sinister power. This well-aimed description, then, does more than conjure the ice-cool calmness of a practiced killer. It juxtaposes light and dark, serenity and violence, in a way that reaches beyond the physical into the anguished struggle of the human heart.
Walter Mosley, one of America's bestselling detective novelists, is author of more than 30 books. He's best known for his Easy Rawlins mysteries, works of hardboiled crime fiction that revisited the taut, terse prose of 1940s crime novels but broadened the genre's scope to include African-American experience. His diverse body of work ranges across many genres, including science-fiction stories and trenchant dystopian allegories, haunting novels and plays of race and class, and nonfiction books about writing, comics, and politics.
Mosley's latest novel, Parishioner, is a story about the lengths remorseful criminals will go to find redemption. It's available as an ebook from Vintage Crime/Black Lizard.
---
Forty-four years ago, I came across a passage that changed my life. I was teenager then, reading just about anything that struck my fancy. In those days I was pretty much an unconscious reader taking in one book after another looking for good stories. When I was finished with one novel it receded into the background and made way for the next. I had no notion of becoming a writer. Writers were, for me, long dead practitioners of a lost art.
And so it went. I read, let's say, Treasure Island by Stevenson, then Damien by Hesse, and on to The Long Goodbye. One page after the other went by and I was as happy (and as unaware) as a clam. And then two sentences, toward the end of the novel, shook me from my waking slumber. It was like a one-two combination punch. The jab was a man, a dangerous man, looking at the protagonist without the slightest concern. He had a gun but didn't bother lifting it. He was sitting down but saw no reason to stand. And then came the straight right cross: The first person narrator told me that this dangerous man was as calm as an adobe wall in the moonlight.
I was overcome by an image that I had seen many times but that I had never stopped to mark in my mind. It took Raymond Chandler to show me something that I already knew but had never been aware of. Adobe walls in the lunar light of the southern California desert had the most passive demeanor—they were the ideal of peacefulness.
Then the writer contrasts this nearly absolute tranquility to an armed and dangerous man ... For the first time I understood the power of language to reach beyond the real into the metaphysical and into metaphor.
Those 24 words alerted me to the potential power of writing. It was a step beyond the limitations of the physical world into a realm where a thing and its opposite could meet and magically become something else.