The Sad, Probably Inevitable End of the 5-Set Tennis Match
A switch to best-of-three-set matches for men at Grand Slam events may keep top players competitive for longer, but it would deprive the world of a singularly awesome spectacle.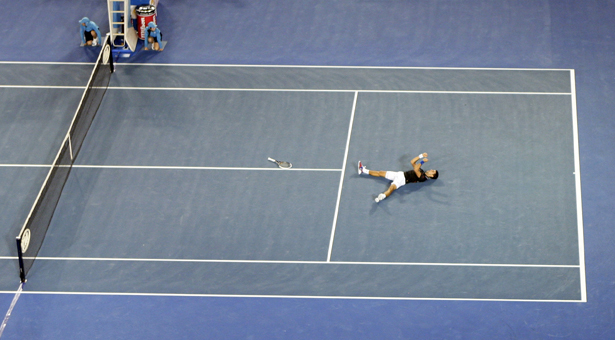 AP / John Donegan
Men's tennis has produced an array of unforgettable images over the past five years. Rafael Nadal flat on his back in the London twilight at Wimbledon in 2008, moments after dethroning five-time defending champion Roger Federer. Nadal comforting Federer six months later at the 2009 Australian Open, as the Swiss great sobbed uncontrollably after losing to Rafa once again in a major final. Novak Djokovic ripping off his shirt and screaming with primal ecstasy after last year's Aussie Open final, celebrating a win over Nadal that took nearly six hours to earn.
The moments are memorable for having most of the same characters—a testament to the dominance of Federer, Nadal, Djokovic and Andy Murray over the past half-decade.
And they share one other trait: They all came at the end of epic five-set matches.
Those matches, though, may soon be a thing of the past, as current and former tennis greats are calling for men to play best two-of-three-set matches at the four Grand Slam tournaments. The practical thing to do may well be to shorten the matches, but if so, something unique and powerfully beautiful will have exited sports, with no mano-a-mano contest to fill the void.
Related Story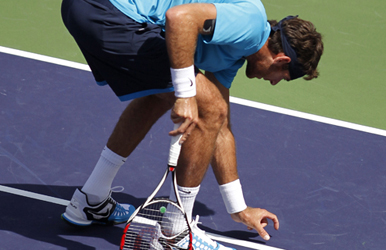 A best-of-three format (say, Player A vs. Player B) can produce only four distinct three-set outcomes: ABA, ABB, BAA and BAB. A five-set match, on the other hand, has 12 possible set outcomes, creating a host of ways momentum can twist and turn over the course of several hours.
But it's not really about the numbers. In the latter stages of a five-set match, the stats give way to a clash of wills, a combination of skill, endurance and faith that pushes men to their physical limits and well beyond. The players are not merely competing anymore. They are suffering, fighting against joints that want to quit and lungs that feel ready to collapse. And because each player knows that the man on the other side of the net is suffering too, the struggle becomes mental as the players try to hide just how much pain they're in.
Champions are revealed in five-set matches, and pretenders are exposed. Doubt and fatigue are punished, while self-belief and stamina are rewarded. If there is one chink in Federer's legacy, it is his 2-3 record in five-set finals at Grand Slams, including two heartbreaking losses to Nadal.
Djokovic, meanwhile, has become larger than life in part because of his indomitable success in five-setters. Beginning with the 2010 U.S. Open, Djokovic is a staggering 8-1 in five-set matches at Grand Slams, including two wins over Federer, a win over Murray, and the unforgettable 2012 Aussie Open final victory over Nadal.
The Serb's implacable resolve was on display Monday when he refused to crumble against Stanislas Wawrinka in the fourth round in Australia. Down a set and two breaks, Djokovic rallied to take the lead and stood his ground when Wawrinka won a fourth-set tiebreak. After five hours and four minutes of grueling tennis, Djokovic finally prevailed 12-10 in the fifth set and once again celebrated by Hulking out of his shirt and bellowing in triumph.
Tuesday provided another five-set epic, with enough momentum swings to fill a whole tournament. Spanish pro Nicolas Almagro jumped out to a 6-4, 6-4, 5-4 lead over his countryman David Ferrer in the quarterfinals and was on the verge of winning his first match over Ferrer in 13 tries. But Ferrer broke Almagro and won the set, setting up a fourth set that beggared belief. Four times, Almagro broke Ferrer to take the lead in the set, and each time Ferrer broke back in the following game. Almagro served for the match at 5-4 and 6-5, but he couldn't even get a match point on his serve. When Ferrer won the fourth-set tiebreak to even the match, Almagro was a hobbled man, and he went down meekly in the final set.
Wednesday brought a third straight five-setter, this time between Federer and ebullient Frenchman Jo-Wilfried Tsonga, who famously came back from two sets down to beat Federer in the 2011 Wimbledon quarterfinals. After holding off Tsonga is five sets, Federer offered a fan-like perspective on the many five-set epics in his Grand Slam career.
"All the straight-set matches eventually become a bit of a blur, no doubt about it, whereas the five-setters stand out more," he said.
Playing five sets against Tsonga may have sapped Federer's strength, because he wilted in the fifth set against Murray in Friday's semifinal. After battling back to even the match at two sets all, the Swiss great simply ran out of gas, dropping the final set 6-2 to Murray.
* * *
Proponents of the shift to best-of-three-set matches argue that playing seven best-of-five-set matches in two weeks (as both the men's champion and runner-up must do at each Grand Slam) wreaks havoc on muscles, ligaments and joints and can shorten careers considerably. Women's tennis legend Billie Jean King forcefully made that argument to me at a charity event in New York last year:
I don't want the boys playing three out of five. It's too much. [...] Playing two-of-three [set] matches will lengthen careers, especially for the guys. The guys are so unbelievably fit—Djokovic and Nadal in the Australian, they were totally spent. You play a couple matches like that, it takes years off your career. You only have so many miles in your legs.
The most compelling evidence in support of the argument is the continuing absence of Nadal, who has missed the last two majors and the 2012 Olympics with knee tendonitis. His countryman Almagro suggested at a media session before this month's Australian Open that Nadal may have skipped the tournament because his slowly recovering knee could not handle five-set matches.
Some current men's players have also said that they should play the same match length as the women because men and women are now paid equally. After he won the first two sets but eventually lost a second-round match at the U.S. Open last year, Russian player Nikolay Davydenko groused about the best-of-five format in a post-match interview.
"Why [do] girls play best of three sets, and we should play best of five sets, and have the same prize money?" he said.
The arguments by King and Davydenko, which have been echoed by many others, are persuasive. But if men played best-of-three-set matches, Djokovic would have won far more easily on Tuesday, and Ferrer would have never come back against Almagro. For that matter, Nadal would have beaten Federer in two quick sets instead of winning the greatest tennis match ever played in 2008, and Djokovic would have eliminated Nadal well before their Aussie Open final became a marathon last year.
Men's tennis, then, would become a different game, one that rewards a different skill set than the current format. Fast starters like Federer would be rewarded, as would heavy hitters like Tsonga and Argentine behemoth Juan Martin del Petro who could put their all into every shot without the specter of going five sets. In four of the last 15 majors, the eventual winner (Nadal twice, Federer twice) would have lost early in the tournament.
And yet, I find myself sympathizing with King and the people who want to save men's tennis players from themselves. Football is in the midst of re-evaluating its entire style of play; hockey is trying to eradicate dirty head shots and high sticks from the game. Given the obvious wear and tear of a five-set match, particularly for the game's best who advance into the later rounds of seemingly every Grand Slam tournament, it's incumbent on tennis to at the very least strongly consider making the switch to three-set matches.
Still, it will be an unfathomably sad day when the five-set match is relegated to ESPN Classic and the memories of wistful fans. But for many fans of Nadal, Djokovic, and the other young stars of the game, that's an acceptable price to pay to keep them healthy and walking throughout their careers and beyond.