The Revenge of 'Speakerboxxx': How Big Boi Flipped the OutKast Script
André 3000's highbrow ambitions made him the more-acclaimed rapper of the duo, but as often the case in art, it's the more prolific, genre entertainer who had made the greater long-term impact.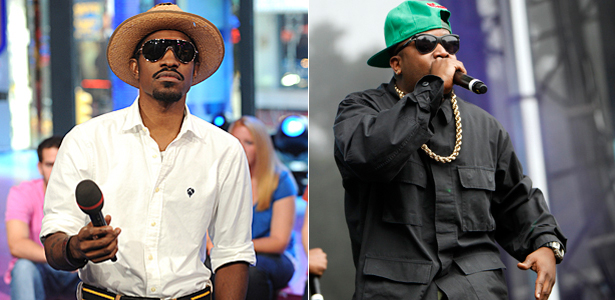 AP / Peter Kramer; Alison Yin
The hip-hop pairing of André 3000 (André Benjamin) and Big Boi (Antwan André Patton) in the duo OutKast, it once seemed, was made of necessity. André, the creative, musically gifted experimentalist, drew OutKast critical accolades while Big Boi provided street cred, a necessary ingredient for the hip-hop mainstream to take the group seriously. The cover of 2000's Stankonia illustrates their roles perfectly. Big Boi wears a plain white tee, gold chain announcing his affiliation with the Southern rap collective "Dungeon Family," hair relaxed, arms at his side. André poses shirt-off like a nouveau Jimi Hendrix, head cocked and hands out in a slightly effete, even effeminate, gesture, especially as he looks to be sucking in his stomach.
Related Story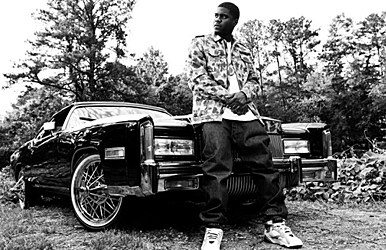 On the song "Return of the 'G'" from 1998's Aquemini, André addresses his image, saying that people often ask Big Boi, "What's up with André? Is he in a cult? Is he on drugs? Is he gay? When y'all gonna break up?" He raps about how the return of gangsta style in hip-hop is a restrictive, limiting thing. Instead of talking about "bitches and switches and hoes and clothes and weed," he'd rather "talk about time travelin'" and "somethin' mind unravelin'." But on the next verse, Big Boi boasts about owning a gun, and how he'll "rob, steal, and kill" to protect his own. In this song, as in many others, the duo seem on different pages, with André's voice being the far more interesting, unconventional one. On Jay-Z's song "A Star is Born," from The Blueprint 3, he calls André "a male version of Lauryn Hill." An apt comparison—André outshone his collaborator as Hill did fellow Fugees Wycleaf Jean and Pras.
I had assumed that André, a multi-instrumentalist, piloted OutKast not just lyrically but also in sound, on tracks that married disparate styles (funk, gospel, drum and bass, rock) to dirty beats studded with keyboards. Yet in 2003, when the duo released two solo albums under the OutKast name—Big Boi's Speakerboxxx and André 3000's The Love Below—this turned out to not be the case. André's album ranged far and wide musically, for sure. A chameleon, he changed appearance from song to song, leaving the restraints of hip-hop behind in favor of jazz and funk, crooning far more than he rapped. Though, as the title suggests, André unified The Love Below around lust and romance, his peripatetic approach made for a sprawling, disjointed mess of an album. Aside from the infectious "Hey Ya!" and a handful of other tracks—"Spread," "Roses"—the songs were forgettable, overly long, and sometimes even corny.
Big Boi's Speakerboxxx sounded more like an OutKast album, if one a bit heavier on the gospel and soul samples. The first single, "The Way You Move," was almost as big a hit as "Hey Ya!" though being a hip-hop track, it lacked the ubiquity of Dre's three-minute masterpiece. Over the years, I've often returned to Speakerboxxx, while The Love Below, which on its release captivated many critics with its bold vision of a post-genre pop future, I rarely revisit.
Since OutKast went on hiatus in 2007, after the disappointing jazz-infused album Idelwild, André 3000 has all but disappeared from the hip-hop scene. He drops a great verse here and there, like on last year's Frank Ocean album, Channel Orange, but he seems more intent on acting and fashion designing. There's word he's working on a solo release, but whether he's too busy with other projects to complete it, or else bogged down in perfecting the album, like Dr. Dre with Detox (an album that's been in the works for more than 10 years), who knows.
Big Boi, on the other hand, has put out two great albums, most recently last month's Vicious Lies and Dangerous Rumors. All the hallmarks of the classic OutKast sound remain: great samples diced with keyboards ("In the A"), distorted vocals mixed into a molasses-thick beat ("Thom Pettie"), a unique hybrid of hip-hop and, in this case, various indie sounds. His musical borrowings are as surprising as anything André might have made—on some songs, Big Boi collaborates with the synth-pop duo Phantogram and the noise-rock, surf influenced bad Wavves.
Lyrically, the political jabs and church wisdom that used to appear sparingly among his more macho boasts have grown in number, and he's moved his liberal politics further to the fore. On "Shoes for Running," he raps about the 99 percent getting screwed over, how poor black men complain about but do nothing to change their situation, and how even elections bring "no progressions, just recessions," though he might be spitting so fast you didn't notice. (Big Boi excels at rapping in double time to the beat.) These topical concerns never bog him down into a morose mood, and jokes and boasts about his love of fun, sex, family, and Cadillacs abound on the album. He's a light, jovial presence, the kind of guy you'd like to hang with at a party.
With these albums, Big Boi has come out from André's shadow, not by doing anything different, but by doing what he does really well. The film critic Manny Farber's essay "White Elephant Art vs. Termite Art" comes to mind, as André and Big Boi seem to epitomize these two styles of art. White Elephant Art is big, made up of grandiose gestures, meant to be taken by others as a masterwork. Think of the self-important Hollywood blockbusters on serious topics (Steven Spielberg's Saving Private Ryan or Lincoln), or the fat tomes of "literary" novels that deal with heavy issues (Jonathan Franzen's Freedom)—works that, no matter how well done, become "a yawning production of overripe technique shrieking with preciosity, fame, ambition," and collapse under their own weight—just like André's The Love Below.
Meanwhile, Big Boi has approached his work like a termite, giving no indications that he has anything in mind "other than eating away the immediate boundaries of his art, and turning these boundaries into conditions of the next achievement." Think of the filmmaker who makes movies fueled by small moments and dripping with love of the medium (Nicholas Winding Refn's Drive), or the genre author kicking out book after book of griping stories with the goal of doing nothing more than spinning a good yarn (Elmore Leonard): works that love the art, and the craft of the art, and don't strive to do anything other than entertain.
In recent years, termite artists have garnered greater attention and acclaim. Genre has stopped being a bad word, as we've recognized that not only is there nothing wrong with entertainment, but that these works of art can tell us important things about ourselves, our culture, and our world without being self-conscious about doing so. Critically acclaimed filmmakers helm James Bond flicks—most recently Sam Mendes on Skyfall—or take on superhero films, like Chris Nolan's trilogy of Batman movies. In the writing world, the master of horror, Stephen King, received the Medal for Distinguished Contributions to American Letters from the National Book Foundation, and now lands short stories in the literary-minded New Yorker. So, too, has Big Boi risen in estimation. He is now recognized as a dexterous, clever rapper who distills a wide array of musical styles into catchy dance tunes and hip-hop anthems. His reputation has caught up with André's.
This isn't to brush his former OutKast partner off. It could be that in a month, a year, or 10 years' time, André 3000 comes out with a magnum opus, some amazing wonder of pop, track after track of "Hey Ya!"'s. But in that time, expect Big Boi to have churned out album after great album, and to have built a solid legacy of hits that demands equal respect and repeat listens.