The Problem With Remembering Stan Musial as Baseball's 'Perfect Knight'
Biographers and fans paint the late Cardinals outfielder as the nicest guy in baseball, but that narrative has lessened his longterm legacy when compared with the other greats of his time.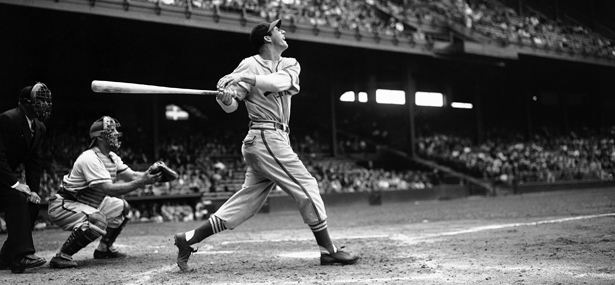 AP / Warren M. Winterbottom
Like most fans in the Gateway City, I convene with family and friends before St. Louis Cardinals' games at the base of the Stan Musial statue outside of Busch Stadium. "Let's meet at the statue," we text on the day of the game, and despite the fact that 12 statues encircle the ballpark, there's never any confusion about which one we're referring to. It's the statue of Stan the Man, of course, the undisputed best player in the history of the National League's most decorated franchise.
Unlike the meticulously lifelike statues of lesser Cardinals luminaries nearby—Bob Gibson tumbling off the mound after hurling a ferocious fastball, Ozzie Smith lunging to his left for a shallow pop-fly—the 10-foot bronze Musial statue is beefy, stiff, and unrepresentative of the lithe Pennsylvania native whose 170-pound frame earned him the nickname the "Donora Greyhound." Even though Musial possessed one of baseball's most unorthodox batting stances—a hunched, butt-out coil—the statue flattens the stance, jettisoning the kinks that made it distinctive. In his 1977 autobiography, The Man Stan, Musial stated bluntly, "I didn't hit the way that guy in the statue does." With its brawny shoulders and boxy facial features, the statue looks like a work of heroic realism—a sanitized depiction of an idealized hitter, which is reinforced by then-Commissioner Ford Frick's inscription: "Here stands baseball's perfect warrior. Here stands baseball's perfect knight."
Related Story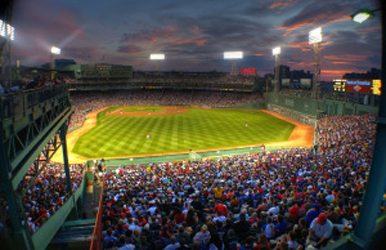 In many ways, the romanticized statue is a good metaphor for the difficulties that many have faced in conveying Musial's greatness. Even by the time he retired in 1963, Musial already was fading into baseball lore as the game's model citizen. He signed every autograph, shook every hand, and entertained all admirers with a well-rehearsed magic trick or an impromptu rendition of "Take Me Out to the Ball Game" with the harmonica that he invariably kept in his pocket. He stayed married to his high-school sweetheart for more than 70 years, and remained loyal to the St. Louis Cardinals for nearly as long. After becoming the first National League player to sign a $100,000 contract in 1957, he asked the owners to dock his pay three years later when age began to impair his hitting prowess. In choosing him as its Sportsman of the Year in 1957, Sports Illustrated reasoned that Musial "is a rare human. Great talent can distort as well as reward a man, but Musial seems to have been born with a truly awesome sense of duty and self-control....His is the story, trite but astounding, of the poor, proud boy who goes to the great city, marries a lovely girl, becomes rich and famous, raises three handsome children and earns the admiration of his fellow citizens in all walks of life." According to eyewitness accounts, during Musial's induction ceremony into the Baseball Hall of Fame in 1969, a light rain fell throughout the morning in Cooperstown, but as soon as Musial was called on to give his speech, the clouds broke and the sun peeked out, as if it were a beatification ceremony rather than an induction. Commissioner Frick wasn't exaggerating: Musial really had become "baseball's perfect knight," an ideal by which he would continue to be assessed, for better or worse, right up to his death this past Saturday at the age of 92.
In a 1963 New York Times article, Hank Sauer, an all-star outfielder in the '50s, declared, "Any guy who ever says anything bad about Stan Musial has to have something wrong with him." Rather than boosting Musial's post-career popularity, this sort of attitude, no matter how well intentioned, effectively turned Musial into a cardboard cutout, a bygone era's one-dimensional paragon of constancy, stability, community fealty, and humility, devoid of the temperamental shadings that humanize public figures. A 2007 profile in the St. Louis Post-Dispatch earnestly dubbed him "baseball's Galahad."
Musial's statistics place him comfortably among baseball's elite: three World Series rings, three Most Valuable Player awards, 3,630 hits, 475 home runs, seven batting titles, 24 selections to the All-Star game, and 17 major league records by the time he retired. But even here, his signature statistic—1,815 hits at home and 1,815 hits on the road—comes across as almost too perfect an emblem of his consistency. (It should also be noted that he nearly matched this freakish symmetry with 1,949 runs scored and 1,951 runs batted in.) Instead of invoking awe the way that batting .400 or garnering a 56-game hitting streak does, Musial's home-away hit totals seem ineffably strange, too coincidental to be believable. Albert Pujols, the brawny infielder who was Musial's heir apparent in St. Louis until he signed last season with the Los Angeles Angels, pondered whether Musial had accomplished this home-road split on purpose. There seemed to be no better explanation for it.
Ted Williams and Joe DiMaggio, Musial's closest peers, suffered from the opposite problem: Their off-field imperfections often threatened to overshadow their on-field feats. But it was their flaws and foibles that induced some of the nation's best writers—John Updike, Richard Ben Cramer, David Halberstam, Gay Talese—to dig deep into their personalities, sifting through the complexities that made them human. The key scene in "Hub Fans Bid Kid Adieu," Updike's seminal portrait of Ted Williams's last game in the major leagues, is not when Ted Williams hits a homerun in his final at-bat, but when he refuses to acknowledge the cheering fans, a baffling snub that would elicit discussion about Williams's motivations for decades. In "The Silent Season of the Hero," Gay Talese depicts the 50-something DiMaggio as a reclusive, heartbroken retiree who lived with his widowed sister in San Francisco, kept pictures of his ex-wife, Marilyn Monroe, on his bedroom dresser, and mandated that flowers be placed on Monroe's grave "forever." Through such warts-and-all depictions, Williams and DiMaggio came across as multilayered, slightly tormented souls who struggled with their public fame and private shortcomings, which rendered them equal parts relatable and enigmatic.
Musial, in contrast, has inspired little poetry. He was the subject of several fawning biographies, as well as two unrevealing autobiographies processed through the forgiving pen of St. Louis sportswriter Bob Broeg. In 2011 the New York Times sports columnist George Vecsey released the first comprehensive treatment of Musial, entitled Stan Musial: An American Life. Even though Vecsey skillfully contextualizes Musial's career, characterizing him as the "epitome of the Eisenhower years," he never fully gets away from the "Galahad" cliché. More than once, Vecsey has to remind readers that Musial had his share of vices and imperfections. Midway through the book, for example, he dedicates a short chapter to Musial's supposed temper, in which he notes: "After collecting thousands of examples of Musial's kindness and good humor, it was downright refreshing to hear of an instance when Stanley got angry—at a kid! Otherwise, we would be submitting his name for sainthood. Much better to think of him as a nearly but not quite perfect human being." The unsubstantiated anecdote involves Musial threatening to kick a young autograph seeker in the shins after a game at Wrigley Field. Unable to come up with a reasonable explanation for Musial's outburst, Vecsey muses: "That little episode outside Wrigley goes down in history as one of nature's mysteries, but affirmative in its own way. Stanley was human. Thank goodness for that."
The fact that Vecsey felt the need to affirm Musial's humanness (and, conversely, to deny his saintliness) indicates how closely his book adheres to the "perfect knight" framework, shifting it ever so slightly to "nearly but not quite perfect human being." And it's this same framework that hinders Vecsey from fully exploring the narrative threads that might complicate it. In an interview with Vecsey, Fay Vincent, the former commissioner of baseball, recalls that Musial was "very aggressive in making me see the celebratory side of him...It was almost like he was making me see that he was a great man and a great ballplayer. He didn't have to persuade me at all, but he worked pretty hard at it." Musial had, Vincent surmised, "sort of a compulsion to convince you how good he was." Vecsey curiously follows these intriguing observations with the declaration: "There was little ambiguity to Musial."
In fact, Vincent hinted at a great deal of ambiguity in Musial. He was, in effect, insinuating that the public persona that Musial had crafted was rooted in underexplored insecurities, namely a knee-jerk albeit sincere impulse to make strangers like him. What's more, Vincent contended that Musial used this persona as a distancing effect, a way to keep his audience from penetrating beyond his veneer of good humor to the deeper recesses of his personality. Vincent concluded that despite his warmth, Musial was just as difficult to get to know as the withdrawn DiMaggio; Musial was just subtler about it. Bill White, a former Cardinals first baseman, said that Musial was equally inscrutable with his teammates: "Nice guy, I guess. I don't know Stan. He was a great player, but I don't know him. I don't think any white guys knew him, either."
But the biography's most startling statements come from former catcher Joe Garagiola. Once close-knit business partners, Musial and Garagiola suffered an acrimonious split when Garagiola sued Musial for mismanagement, which was settled out of court. As Vecsey notes, "Garagiola rarely spoke about the rift, once telling somebody he had come to realize Musial was not a nice person. There were suggestions that Musial, prior to settling, had shown a heretofore unseen brusque side, in effect saying, Who are they going to believe, you or me?" Vecsey tries his best to square these statements with the version of Musial that he has presented—"It is hard to imagine Stan Musial kiting money or approving of it"—but he eventually concedes that the broken partnership "exposed a melancholy side, a trace of vindictiveness," which he quickly qualifies with the statement: "Or maybe it was old age coming on."
In truth, Vecsey no more wants to pry into Musial's melancholy side than fans want to learn about it. There is too much comfort to be gained, for fans and writers alike, from continuing to envision Musial as "baseball's perfect knight"—a selfless, uncomplicated figure born to hit a baseball and belt out harmonica soloes, one of the last star athletes to be largely untarnished by a media culture that thrives on scandal and conflict. In an online remembrance, the sportswriter Joe Posnanski, after first affirming that Musial "was a man, flesh and blood, [and] made his share of mistakes," argued that "if there's one overriding theme of Stan Musial's life, it was how much he wanted to make people happy." It's a romantic sentiment, to be sure, one that would sound corny or fake if affixed to nearly any other public figure. But it's true to the spirit of Musial and, more important, is how we want to remember him.
So perhaps the heroic statue of Musial outside of Busch Stadium is indeed appropriate. After all, when it comes to Musial, we prefer to see him uncritically, as someone so close to the all-American ideal that even the most skillful writers periodically need to remind us that the player known as "the Man" was, in fact, exactly that.