The Pro-Football Hall of Fame Needs to Stop Ignoring Jerry Kramer
The Lombardi-era Packers guard, whose Hall of Famer teammate Bart Starr called him "probably the best player on our championship teams," is somehow still not a Hall of Famer himself.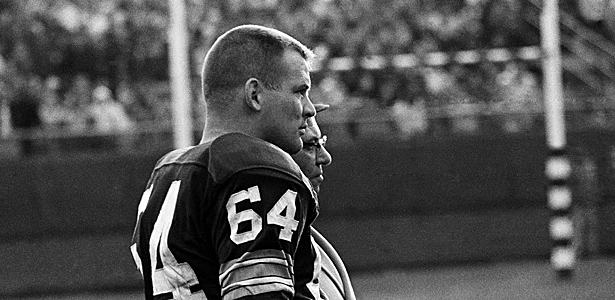 AP
There's no easy bet to make on who among the 15 modern-day finalists will be inducted into the Pro Football Hall of Fame when the announcement is made this Saturday.
My best guess for which of the first-year eligibles will take the honor is the New York Giants' Michael Strahan, the 2001 NFL Defensive Player of the Year and single-season sacks leader. Jerome Bettis, the former Pittsburgh Steelers running back who was 5th in all-time rushing yards when he retired, is also likely to be voted in. Among the players known as senior nominees, Dave Robinson, a mainstay at linebacker on the Vince Lombardi Green Bay Packers teams that won three championships from 1965-1967, should also be enshrined, although this is the first year Robinson made the cut to the final selection.
But there will be a genuine irony if Robinson makes it. Of the 22 starters on Lombardi's mid-1960s championship teams, 10 are already enshrined at Canton. Robinson's selection would mean that half of the starters from those teams are now Hall of Famers. Just one all-time great of the Lombardi era, the player that Packers quarterback Bart Starr, himself a Hall of Famer, called "probably the best player on our championship teams" would not be in the Hall of Fame.
Related Story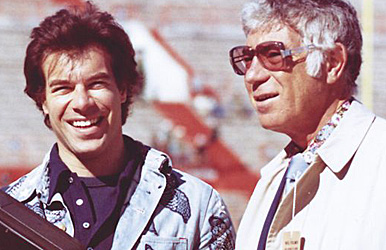 That would be Jerry Kramer, the Packers right guard for most of 11 seasons from 1958 through 1968. I mentioned Kramer and his omission from the Hall of Fame for The Atlantic about a year ago. Now I want to make the case even more emphatically: Jerry Kramer is one of the greatest players in pro-football history. If I were selecting an all-time team of players not in the Hall of Fame, I'd start with him.
In fact, if I were selecting an all-time, pro-football All-Star team, I might start with him, too.
Such extravagant praise demands explanation. It's long been an axiom in football that the toughest position to find a great player for is guard, which requires not only enormous strength for pass blocking but tremendous agility and quickness for run blocking. In addition, a great many coaches think that guards need even greater intelligence than quarterbacks. The late, great 49ers coach Bill Walsh once told me, "Quarterbacks have a whole brain trust choosing plays for them. Guards have a fraction of a second to identify who is coming into the backfield and from where."
Great coaches always start building great teams with their offensive line—think Vince Lombardi with the Packers when he started at Green Bay in 1959, or think Nick Saban with Alabama's championship teams over the last two years. And because guard is the most skilled position on the offensive line, it's generally the one that most great coaches focus on first. Kramer was the rock around which Lombardi's dynasty was built.
How good was Jerry Kramer? In 11 seasons, Jerry Kramer played in three Pro Bowls and was a five-time first team All-Pro (and second team All-Pro once). How good was he at both pass and run blocking? The quarterback who threw behind him, Bart Starr, is in the Hall of Fame as are the two runners, Jim Taylor and Paul Hornung, who ran through his blocks.
The signature play of the Packers during the Lombardi era was the "Green Bay Sweep"—or as some called it, The Lombardi Sweep—with Kramer and the Packers' left guard, Fuzzy Thurston, pulling out of the line and leading interference around either end. Yet these two men, Kramer and Thurston (himself a first-team All-Pro selection and two-time second team selection) are not in Canton.
Kramer has other feats to recommend him for the Hall of Fame in addition to his All-Pro honors and championship rings. In the 1962 NFL championship game against the New York Giants, Paul Hornung, Green Bay's regular kicker, was injured and Kramer went in as the last-minute substitution, driving in three field goals to provide the margin of victory in a 16-7 Packers victory. And on December 31, 1967, on the frozen turf of Green Bay's Lambeau Field, Kramer delivered the most famous block in football history, enabling Bart Starr to score from the one-yard line and defeat the Dallas Cowboys 21-17 in the NFL championship game that would forever be known as "The Ice Bowl."
Alex Karras is the second-greatest lineman not in the Hall of Fame, and he was Kramer's opposite number, literally. He played defensive tackle for the Detroit Lions on the other side of the line from Kramer in many classic games. Off the field, Karras was Kramer's opposite, too. Quiet and reserved, Kramer was never associated with any controversy—except one, which I'll get to in a moment—and retired to his ranch near Boise, Idaho. Karras was loud and boisterous, becoming known to the public outside football with the publication of George Plimpton's account of his year with Detroit, Paper Lion, in 1966. Why? Karras went on to movie stardom as Mongo in Mel Brooks's Blazing Saddles—who can forget his immortal line, "Mongo just pawn in game of life"?—and later on TV with his wife Susan Clark in the series Webster. He also did a stint as a color commentator on Monday Night Football.
Karras played in four Pro-Bowl teams and was first team All-Pro three times; he was named to the NFL's All-Decade Team of the 1960s, which are chosen by the Hall of Fame Selection Committee. Yet he's not in the Hall of Fame.
Why? Some commentators point to his suspension during the 1963 season for betting on football games. After his suspension, he was always ready with a quip, the most famous during the opening game of the 1964 season when he was asked to call the pregame coin toss. "Uh, uh," he said, "The commissioner doesn't want me to have anything to do with gambling." But Paul Hornung was suspended for the same offense the same year, and he made it to Canton.
Karras's failure to garner Hall of Fame support probably had more to do with this outspokenness, particularly his criticism of NFL commissioner Pete Rozelle. The NFL has always liked to keep a tight lid on its own publicity, and Karras was the ultimate loose cannon. So was, in an odd way, Kramer. His hugely bestselling 1968 book, Instant Replay: A Green Bay Diary, was respectful to his teammates and the league but was nonetheless the first time a player had opened the locker room to fans.
Whatever the reasons, two of the greatest players of the 1960s and probably ever to wear an NFL uniform are not in the Hall of Fame. It's too late to make it up to Karras, who died of heart disease and stomach cancer last October. But it's not too late to get Kramer, age 79, off that ranch to give an acceptance speech next year.