The Other Victims of RG3's Injury
Robert Griffin III's endorsement of the NFL's sports-as-war mentality cost him his health, but it also set a dangerous example for the teenage players who look up to him.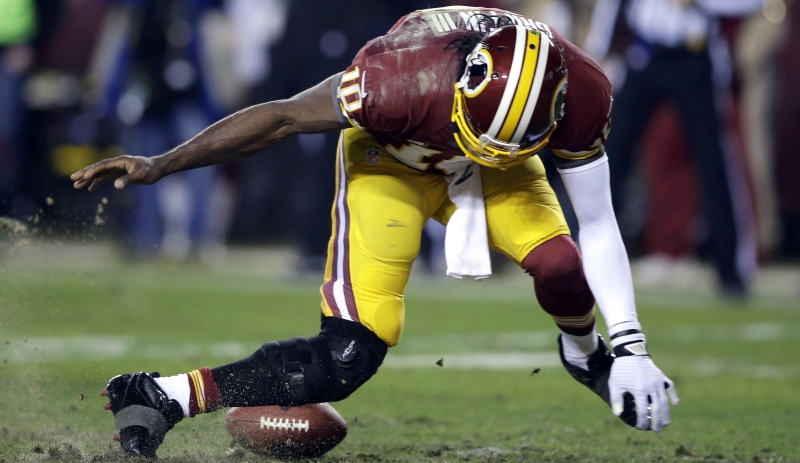 AP Photo/Matt Slocum
The most revealing quote from the fiasco that was the Washington Redskins' handling of Robert Griffin III's health didn't come from head coach Mike Shanahan, or team doctor and world-renowned sports orthopedist James Andrews. It didn't come from the angry mob of fans calling for Shanahan's head on a pike, or the indignant horde of NFL retirees turned media members who blamed the rest of the press for "nitpicking" about player safety.
No, the most important words of the entire sad affair came from RGIII himself. After Sunday's wild-card game against the Seahawks, the Redskins' quarterback took to Twitter to defend his team's decision to let Griffin stay in play for three quarters after re-aggravating a right knee injury early in the matchup.
"Many may question criticize & think they have all the right answer. But few have been in the line of fire in battle," he tweeted on Monday. Later he added: "When adversity strikes you respond in one of two way....You step aside and give in..Or you step up and fight."
Related Story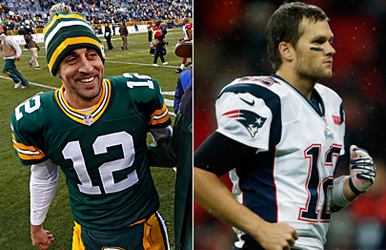 That's the problem, right there in 280 characters or less. Griffin verbalized the two biggest obstacles to football players' long-term health and safety: the military mentality that pervades teams at every level and the false dichotomy that either you play until you drop dead or you're giving up. Given his status as the newest role model and hero for a legion of D.C.-area fans and young football players, RGIII needs to know better.
In the wake of Sunday's action, when Griffin limped around from the second quarter on before tearing his right ACL and LCL in the game's final minutes, much has been written about how to better protect players who are hurt during a game. The Atlantic's own Ta-Nehisi Coates explored the issue several times this week, noting in one post: "I think it's worth recognizing that circumventing medical opinion is an old tradition in football. [...] Football is premised on the hazy morality of 'playing through pain.'"
Coates is absolutely right. Red Grange, Bronco Nagurski, and the other gridiron greats of the NFL's infancy undoubtedly hid the severity of their injures from their coaches, as Griffin appears to have done. But it wasn't okay then, and it's not okay now. The difference is that in 2013, in the age of YouTube and Twitter and infinite replays available at your fingertips, we know all about it. Armed with that knowledge, the least we can do is try to pinpoint the causes of football's hazy morality and work to move past them.
The most obvious source of football's play-at-all-costs mentality is the stated belief among players, coaches, and others that football athletes are akin to soldiers, and their team is their unit. Take yourself out of a playoff game because of an injury, like Chicago Bears quarterback Jay Cutler did in the 2010 NFC Championship Game, and you're deserting the battle and letting down your unit.
On its face, that is absurd. Soldiers are risking their lives in actual battles to defend and serve their country; NFL athletes are being paid exorbitant sums of money to play a game. But when every coach a player has—from Pop Warner to high school to college to the pros—drills a military mentality into him (and most coaches do) what else would you expect? RGIII tweeting "few have been in the line of fire in battle" is not a put-on—he honestly views the game and his struggle as a battle. The natural outgrowth of that mentality is an obstinate refusal to put one's own long-term health above winning, especially winning in the playoffs. Even the best doctors in the world are going to have a hard time overcoming that mindset, especially when it's held by a young, high-profile player like Griffin.
"These guys are competitors," said Dr. Neal ElAttrache, a sports surgeon at Kerlan-Jobe Orthopaedic Clinic in Los Angeles and a consultant to the St. Louis Rams, when I asked about the difficulty of determining the proper medical course in concert with an injured player. "One of the attributes that got them to this level is that they're competitive."
At the highest levels of football, "competitive" means you don't come out voluntarily unless you're dead, barely conscious, or unable to walk. Anything less is giving up, a football sin much more severe than losing. Watching RGIII hobble around like wounded horse for drive after drive Sunday was excruciating for me, like helplessly witnessing a slow-speed car crash. But I've never played organized football. If I had, I might have been watching proudly while a warrior fought bravely to the bitter end, because that's what many people steeped in the culture of football saw.
But maybe it's time for the people who played football to listen to the people who haven't. After all, the victim of Griffin's Twitter bravado isn't players, coaches, the media or Redskins fans. It's the 15-year-old boy on a high school football team in Alexandria or Silver Springs who refuses to tell his coach about an injury because he wants to be like RGIII. The kid who ends up ripping his leg apart and walking with a limp for the rest of his life, or suffers multiple concussions and gets dementia at 50, even though he never played above the high school level.
RGIII has a responsibility to those kids and to aspiring young football players nationwide. He owes it to the 99.999 percent of high school players who don't make a career in football to advocate seeking the proper medical care and listening to doctors, even at the expense of the team.
I don't expect to hear that from Griffin, not yet anyway. But I hope that one day, when he's older and wiser, he steps up. In a culture struggling to deal with the grim long-term effects of football's inherent violence, we need the game's brightest young stars to be part of the solution, not the problem.