The Myth of Harriet Tubman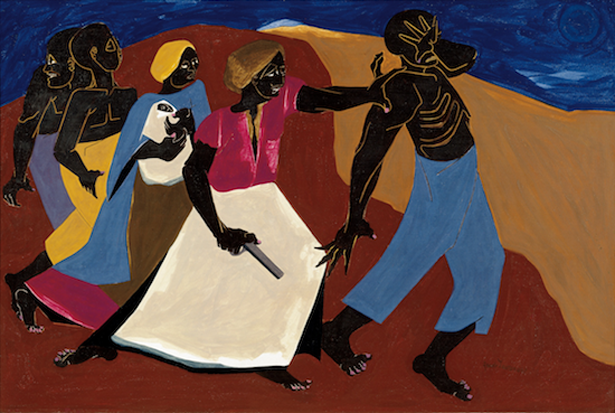 Jacob Lawrence
I recently finished Kate Larsen's excellent biography of Harriet Tubman--Bound For The Promised Land. Tubman, like any mythical figure has had her exploits elevated beyond actual events. But even in Larsen's historical telling she emerges as a super-heroic figure. It's true she didn't shepherd 200 slaves out of Maryland. The number was more like 70--which is to say, given the logistics, a lot.
At any rate, I've done a lot of thinking on the place of myth in African-American history. Django aside, we don't really have many avenging angels. Reviewing the primary documents of the time, I don't even detect much taste for mass vengeance. There's often a taste for particular vengeance on particular people, but more than anything there's a strong desire to be left the fuck alone. Actions, like absconding with oneself, are usually set in motion by the threat of sale and the disruption of family ties. At first I was surprised by the lack of race hatred. But when I thought about it, it makes sense.
Race hatred among whites was not irrational devolution. On the contrary it served an actual political purpose--defining the borders of citizenship, manhood and the broadest aristocracy ever created. Race hatred among blacks is just vengeance. It doesn't really go anywhere. It doesn't offer access to anything you didn't have before. Even if you look at the actual ideology of black nationalists what you will find more than "Kill Whitey" is "Leave us the fuck alone." Whereas integrationists wanted to be left alone here as Americans, separatists wanted to be left alone elsewhere. But both wanted to left alone.
That said, the black freedom movement isn't faultlessly benign. Above is painting from Jacob Lawrence's awesome series on Harriet Tubman. It takes as inspiration Tubman's famous aphorism--"Dead niggers tell no tales." (Yes that's Harriet Tubman, not DMX.) Tubman was known, on at least one occasion, to force an escaped slave forward at gun-point. The point was practical--should the slave return he would be tortured, and give up Tubman's methods. What I love most about this piece is how the man is shielding his face from the freedom that lay before him, or perhaps mourning the friends, and possibly family, he's left behind.
Freedom must have been scary for these peoples. Tubman says when she first escaped, she felt like a man who'd been let out jail after long bid. There was no one there to greet her. No home to return to. She had to make her way alone. And she did--along with a lot of others.