The Glamorous Life of a Journalist, Amazing Kreskin Edition
In the mailbox over the weekend, from someone I do not know. For previous "glamorous life" entries see here, here, here, here, here, etc. The subject line on this latest message was "Expert Available - The Amazing Kreskin."


Hi James,
Hope you had a great weekend!
I am excited to announce that world-renowned mentalist, The Amazing Kreskin, has come out with his 2013 Predictions book.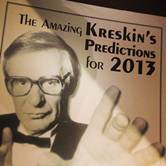 Kreskin covers topics ranging from post-Sandy Hurricane reforms to the dispersion of birth control and religious trends.
Here are some of the top predictions that Kreskin has made for 2013:
1.      How the Internet is destined to threaten the future of young people applying for jobs.
2.      The dramatic scenario unprecedented in Kreskin's career regarding this year's Presidential election and what Kreskin predicted on the Jimmy Fallon Show one year four months before.
3.      The coming year and the future of the drug war in the United States and how it will play out in 2013.
4.      The increasing phenomena of compulsive gambling amongst young people will spread to an also increasingly popular phenomena that will extend to all ages thanks to the Internet, that of compulsive buying.
5.      How public libraries will survive in the United States; as reading becomes less and less of an activity amongst the general public.
For the record, once back in the 1980s I saw The Amazing Kreskin perform, and it was appropriately amazing. I suppose there's an unavoidable falloff in amazingness when you get into public-policy issues.