The Dodgers' Big TV-Revenue Bust Before Its Huge New TV-Revenue Boom
Sixty years ago, the team owner tried to pioneer a lucrative pay-to-watch system—and failed. But now his team is poised to make good on that vision, beyond what he could have imagined.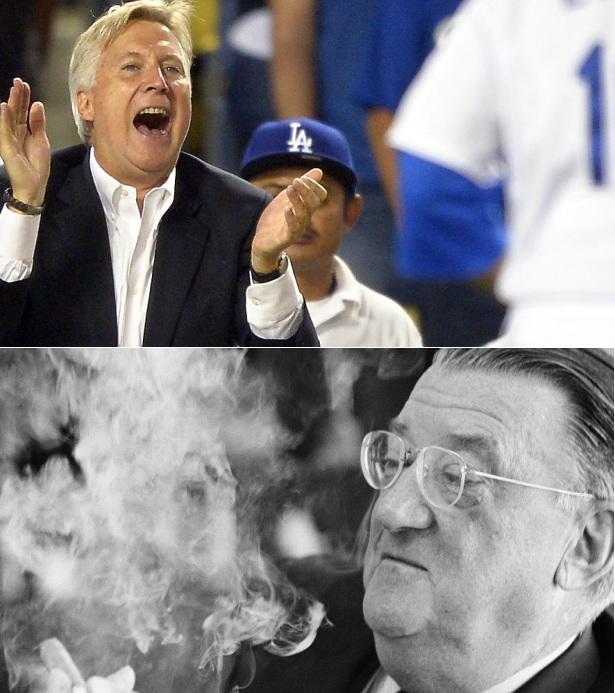 On Monday, the Los Angeles Dodgers and cable partner Time-Warner announced (pending the approval of Major League Baseball) that, starting next season, the team's games will be telecast by Time-Warner via a new team-owned channel, SportsNet LA. The 25-year deal with Time-Warner, worth an estimated $7 billion to $8 billion, allows the Dodgers to level the financial playing field with the New York Yankees and Boston Red Sox, whose team-owned channels already earn the big TV revenues that allow those franchises to clean up in the arms race for free-agent talent.
It is also a reminder of an evening at Ebbets Field in Brooklyn 60 years ago that may have set in motion the drive towards making fans pay to watch games on TV—and also may have helped spur the Dodgers to move from Brooklyn to LA in the first place.
On the night of August 28, 1953, the National League-leading Dodgers battled to a 9-8 win over the visiting Cincinnati Redlegs (as the "Reds" had officially renamed themselves that year in the face of McCarthy-era pressures) while Brooklyn team owner Walter O'Malley looked out at over a half-empty ball park. The small size of the crowd was hardly unusual that year for the now fabled "Boys of Summer": season home game attendance was down by 600,000, more than a third, from its 1947 peak. As O'Malley remembered at a congressional hearing in 1957, "one night we had 15,700 people in Ebbets Field and I asked a radio-wise man who was with me ... how many sets were tuned in to that particular game. And after some phone calling he came back and said, 'Walter, there are about 2,440,000 sets watching this game.'" "That," O'Malley said, "made me convert right away" to the idea of coming up with a way to make that couch-potato fan pay for watching a telecast at home.
True, the Dodgers were earning more than $500,000 in 1953 from free, over-the-air broadcasts of their games. That number would increase to about $900,000 three years later—the most in baseball. But calculating that fans would pay one dollar to watch a game on their home television sets, and that 500,000 sets would be tuned into each game, the per-game gross from a pay television system would amount to $500,000—a sum that over the course of a season would dwarf what the team was taking in under its existing television contracts.
No surprise, then, that O'Malley (along with his partner in expansion to the West Coast, New York Giants owner Horace Stoneham) was soon talking to a start-up pay-television company called Skiatron TV. By 1957, Skiatron claimed that it had the technology in place to televise Dodger and Giant games to the home-television sets of fee-paying customers. One quarter of the gross would go to the ball club. So if just 500,000 of the more than two-million fans said to be watching a game only for the price of having to sit through commercials for Lucky Strike cigarettes and Schaefer beer instead tuned in and paid a dollar for the privilege, the clubs' share would amount to $125,000 per game. The total for the full slate of 77 home games would add up to a scarcely believable $10 million.
But not in Brooklyn or New York, where fans and politicos were not going to give up their "right" to free televised baseball. Not only would adoption of any pay system have to await the expiration of the commercial broadcasting agreements in place, but the New York City Council hastened to bar the award of pay-television franchises within the five boroughs. And so California appeared to be a far more favorable venue for this venture—and when the 1958 season opened, the Dodgers were in Los Angeles and the Giants in San Francisco.
That's not to say that things worked out in LA or San Francisco for O'Malley's and Stoneham's pay-TV dreams. As it happened, Skiatron possessed neither the technology nor the financing to fulfill its promises. According to the Securities Exchange Commission, Skiatron "had no source of income or credit sufficient to enable it to finance the establishment and construction of a subscription television system and to secure program material for its proposed system." Within a few years, Skiatron was bankrupt, with registration of its stock suspended on account of "misleading statements and omissions of material facts" in its SEC filings. Nor was the political climate on the West Coast more favorable to any system that threatened to displace free broadcast television. In 1964, California voters approved a referendum that blocked the development of a pay-television system. The path to realize the vision that occurred to Walter O'Malley that night in August 1953 would not be an easy or swift one.
But wherever he is—whether in the innermost circle of hell to which incensed Brooklyn Dodger fans consigned him long ago or in some more salubrious locale—Walter O'Malley is likely smiling today. If anything, he didn't think big enough. Pay-television revenues for sports now don't depend merely on those fans who are willing to pay to follow the action from afar. The price is being paid by all of a cable system's subscribers.
Even the then-unimaginably astronomical revenue numbers calculated a half-century ago are far smaller than the current arithmetic of pro sports allows. Ten million dollars in a season of pay-TV revenues in the mid 1950s works out to $80 million in current dollars. The Dodgers will be banking an average of $320 million a year from Time-Warner.