The Baseball Hall of Fame's Shocking Message: In the End, Cheaters Lose
Ignore the apologists for Barry Bonds and Roger Clemens's doping. Inducting no one was the right call.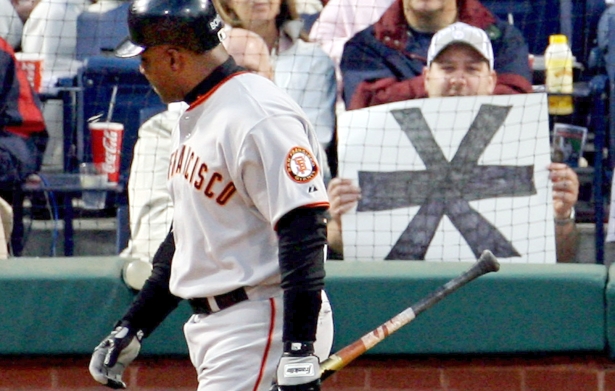 Reuters/Jeff Zelevansky
Despite what you might have heard, there will be an induction ceremony in Cooperstown this summer. It's just that everyone inducted will have been dead for about a century. The National Baseball Hall of Fame has a panel that considers those no longer eligible for the regular ballot, and in December they announced three new posthumous inductees. Jacob Ruppert, the Yankees owner who bought Babe Ruth's contract from Boston, will get a bronze plaque. As will Deacon White, a catcher who played in the 19th century. Ditto for Hank O'Day, famous as a pioneering umpire.
But the reigning home-run king won't be enshrined. Neither will the only pitcher ever to win seven Cy Young awards. And that's a good thing.
Related Story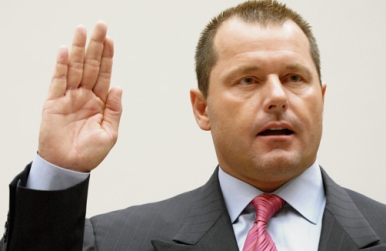 On Wednesday, the Baseball Writers Association of America announced that not a single player on the 2013 ballot—including Barry Bonds and Roger Clemens—got enough votes for entry into the hall. It's only the eighth time in the sport's history no one was voted in. It happened because 2013 marks the first year of eligibility for Bonds and Clemens, unquestionably the best hitter and pitcher of their era, but also tainted by its shameful performance-enhancing drugs scandals.
In denying those two players the otherwise completely deserved honor of first-ballot, unanimous elections, voters basically flipped their collective middle finger at the sports establishment—at the athletes for cheating, and at Major League Baseball for its nearly two decades of greed-driven denial and obfuscation about PED use.
The backlash to this backlash came, of course, instantaneously. There are plenty of arguments against what the Hall of Fame voters did. But all those arguments are wrong. The fact is that cheaters really do deserve to be shut out.
Yes, it's true that Bonds/Clemens-era players weren't the first to illegally enhance their performance with drugs. Amphetamines were popped like Chiclets in the 1960s and 70s. Cocaine abuse was big in the '80s. Ferguson Jenkins even admitted to having a coke problem, but he's still in the hall. Besides, the reasoning goes, everybody was juicing along with Bonds and Clemens back then, which theoretically cancels out the advantages the substances may have gave them. Finally, goes the old refrain, both Bonds or Clemens—say it with me—"never failed a drug test." Shouldn't we just vote in the era's best players and put the whole ugliness behind us?
No way.
First, take a look at the saga of Lance Armstrong before buying that "never failed a drug test" crap.
Secondly, no, not "everyone" was doing it. Yes, many big leaguers juiced. Some didn't. They did their best to follow MLB's confusing, ever-changing rules. For that, they were eclipsed by guys who got shot up in bathroom stalls with human growth hormone. Allegedly. The guys who did what they were told they were supposed to do lost out on millions of dollars and who knows what else.
Take Frank Thomas. The slugger played 19 years in the majors, hitting 521 home runs. He was a vocal advocate for drug testing, then and now. The Big Hurt also narrowly lost in the 2000 American League MVP voting to Jason Giambi, who later admitted that he was cheating at the time. Tell Thomas that "everyone" was doing it.
Rationalize and justify all you want. Mention Doc Ellis threw a perfect game on LSD. Argue that a player who takes aspirin to quell a headache is technically using a "performance-enhancing drug." All the intellectual contortions won't change the fact that in letter and spirit, Bonds and Clemens cheated. They deceived the public and betrayed the game. To excuse that in any way is to change the meaning of the sport itself.
Pro Football's Hall of Fame doesn't work like baseball's. How a player conducts himself off the field has no bearing on his eligibility. Thus O.J. Simpson has a bronze bust in Canton. The BBWA, though, has their well-known "morality clause," bane of Pete Rose, which instructs voters to consider integrity, sportsmanship, and character.
Roger Goodell, although he has no authority over football's Hall of Fame voters, says he would like to see his sport change. Goodell thinks football's voters should start taking character into account. For baseball to stop doing so would be a huge step backwards. Sports are used to communicate values. Voting Bonds, Clemens, or any of their pumped-up cohorts into Cooperstown now would communicate only that it ain't cheating if nobody catches you—a philosophy that's antithetical to not only baseball but to sports in general.
Maybe the baseball writers will relent and vote Bonds and Clemens in over the next few years. Maybe it will take a generation, and a whole new bunch of voters who can't remember the sense of betrayal. My guess is that it will take even longer. Just like Jacob Ruppert, Deacon White, and Hank O'Day—Bonds and Clemens may be enshrined in the Hall of Fame posthumously, by special committee, just about 100 years or so after they've died. It'll still be too soon.