Two seeming longshots faced off spectacularly Sunday, and it was the less-hyped one who prevailed.
Reuters/Chris Keane
A lot of the big stories of this past weekend's NFL playoffs came with a whiff of familiarity. After all, there there's not much new to be said about established superstars like Peyton Manning (whose Denver Broncos lost a double-overtime thriller to the Baltimore Ravens, 38-35) or Aaron Rodgers (whose Packers continued their wretched downward spiral in the postseason, losing to the San Francisco 49ers 45-31) or Tom Brady (who wiped out the Houston Texans 41-28).
Related Story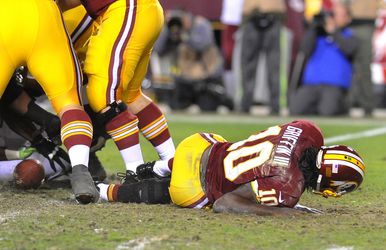 About the only teams left to write anything new about are the Seattle Seahawks, who have appeared in the Super Bowl once, losing to the Pittsburgh Steelers in 2006 (21-10), and the Atlanta Falcons, who only made it to the big game in 1999 when they lost to the Broncos (34-19). When the two seeming underdogs faced off on Sunday in what would turn out to be the most entertaining game of the weekend, it was the greater underdog—the Falcons—who ended up claiming the title of the league's most exciting upstart.
It's been so long since the Falcons came close to winning anything that many of their fans have stopped believing they can; in late November, when the Falcons had the best record in the entire NFL, a poll showed that most Georgia fans were more interested in the national championship chances of the University of Georgia Bulldogs. (The Dawgs lost the SEC championship to Alabama and didn't make it to the title game.)