The Agony and the Ecstasy of the NFL's Wild Playoff Weekend
It was as dramatic a weekend as you could have hoped for—or, if you're a Redskins, Colts, Vikings, or Bengals fan, feared. Below, my take on the big moments of pro football's first round of playoffs this season: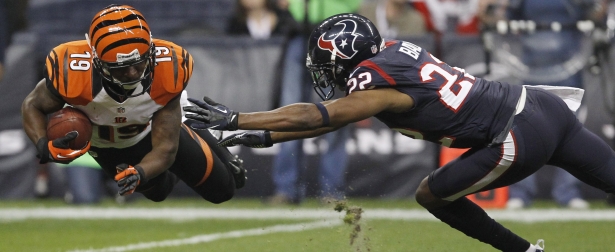 Reuters/Tim Sharp
Houston Texans beat Cincinnati Bengals,19-13
This wasn't a game to inspire big ratings or to even make hearts pound for anyone but big fans of the Cincinnati Bengals or the Houston Texans. The names of their respective quarterbacks, Andy Dalton and Matt Schaub, are probably know to very few fans; Bengals' receiver A.J. Green and Texans' defensive lineman J.J. Watt were the real marquee stars in the opening game of the Wild Card round of the playoffs Saturday.
Watt chased Dalton around in the Bengals' backfield all afternoon, and though he got in on only one sack of Cincinnati's passer, he swatted down two other passes, and deflected a third. Finally, in the ultimate humiliation that defensive player can impose on a quarterback, he wagged his finger in Dalton's face after a pass thudded into the turf.
Cincinnati had just 198 yards all day. If Schaub hadn't thrown a terrible second-quarter pass, which Bengals' defensive back Leon Hall intercepted and ran back 17 yards for a touchdown, Cincinnati could probably have kept playing through Sunday and on into Monday without scoring a TD.
The Texans' 19-13 win looked more lopsided on the field than on the scoreboard. With Schaub passing for 262 yards and the sturdy running back Arian Foster gouging out 140 more, the Texans came off more like the team that was the AFC's best through the first half of the year than the one that lost 3 of 4 games in the final month of the regular season. Schaub and Foster will have to do at least as well for the Texans to have a chance against New England Sunday afternoon at Foxborough; the Patriots drubbed them 42-14 on Monday Night Football back on December 10.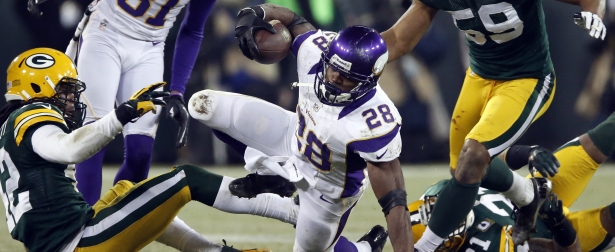 Reuters/Tom Lynn
Green Bay Packers beat Minnesota Vikings, 24-10
The Minnesota Vikings have now played the Green Bay Packers three times this season: a 23-14 victory for the Packers in Wisconsin, a 37-34 OT win for the Vikings in Minnesota, and, now, in the first round of the playoffs, a 24-10 win for Green Bay at Lambeau Field. The games between these two teams this season, taken together, were almost a clinic on how passing beats running in the NFL.
The Vikings Adrian Peterson was the league's leading rusher and may well wind up as this season's MVP. He gained 199 yards in a losing effort against the Packers on Dec. 2 and 210 yards in the Dec 30 victory, but Peterson was scarcely noticeable on Saturday.
After the game, Charles Woodson, the Packers' great veteran safety, told reporters, "No disrespect to [Vikings quarterback Christian] Ponder, but it's about one guy, and that's Adrian Peterson. Our main focus, whether it was Ponder or Webb, was to keep No. 28 from getting off. And if we were going to keep him from getting off, put the ball in the quarterbacks hands, whichever quarterback it was."
Translated from football-ese into English, Woodson meant that it didn't matter to the Packers' defense that Vikings QB Ponder did not play because of an elbow injury. Green Bay had decided to key on Peterson regardless of who took the Minnesota snaps.
I don't think Woodson was being entirely truthful. Ponder, at least, could put the ball downfield and keep the Packers honest, which in football terms means not committing seven or sometime eight men to the line of scrimmage with their eyes on Peterson.
Anyway, after the Packers got a look at the Vikings backup QB Joe Webb, all doubts about winning must have vanished. Webb had not thrown a pass for Minnesota all season and could establish no rhythm with his wide receivers. He spent much of the third and fourth quarters on his back staring upwards at grim, dark January Wisconsin sky. Packer linemen—when they weren't contemptuously jamming Minnesota's wideouts early in the game on the assumption that Peterson would get the ball—spent so much time reaching down to help Webb up that I thought one of them was going to pull his shoulder out of the socket.
Aaron Rodgers attacked the Vikings pass defense, completing several key throws and building up a 17-3 lead at the half, after which it was pretty much irrelevant what Peterson did since giving him the ball for four or five yards merely served to eat up the clock in the second half. Rodgers wound up with 274 yards on 33 passes and no interceptions. The Vikings did succeed in sacking him three times, but you got the feeling that each time Rodgers was simply choosing to go down with the ball rather than put it up for grabs.
All things being equal, or at least close to equal, good passing always beats good running in the NFL. That's because the passing team can strike quickly, establish an early lead, and force the running team to play catch-up. But all things were not close to equal in this game: The Packers had the best passer in football and the Vikings had a second-string QB.
Rogers will have to be at least as sharp for the Packers to beat the 49ers at San Francisco next Saturday night.
Reuters / Jonathan Ernst
Baltimore Ravens beat Indianapolis Colts, 24-9
Football teams always look for that win-one-for-the-Gipper edge before a big game, but early Sunday afternoon both the Indianapolis Colts and Baltimore Ravens had unusual pregame morale boosts. The Colts' coach Chuck Pagano missed 12 games while undergoing treatment for leukemia and returned to the team just last week. One the Baltimore side, Ray Lewis, who might be the greatest linebacker in NFL history, was playing for the first time since tearing his right triceps on October 13. It was also the last game of the 37-year old Lewis's career—if they lost.
Unfortunately for the Colts, only one of these two inspirational figures actually played in the game. Lewis made 13 tackles against Indianapolis on Sunday, chasing rookie 23-year old quarterback Andrew Luck with such glee that you'd never guess which player was 14 years the senior of the other.
Luck did manage to pass for 288 yards, but it took him 54 throws to do it. The number of passes thrown proved to be a record for a rookie in a playoff game, but it's doubtful that that fact made Luck feel any better. His counterpart on the Ravens, Joe Flacco, who often looks as if he's shot-putting an iron ball when he passes a pigskin, gained almost as many yards, 282, on just 23 throws. Of course, Flacco had more help than Luck in the form of pass blocking. He was hit three times all afternoon and only once for a loss; Luck was sacked three times for a loss of 21 yards and knocked down on nine other attempts.
The NFL also keeps a stat called "hurries" in which, according to an official scorer's opinion, the QB is forced to throw the ball sooner than he would choose. On this day, they could have given Luck a "hurry" on every one of his 54 throws.
Indianapolis, who finished 11-5, are regarded by most observes as the AFC's team of the future. Against Baltimore, though, their young and relatively inexperience offensive line simply couldn't control the Ravens' front seven inside the Baltimore 35-yard line. The Colts got there just six times and had to settle for three field goals from Adam Vinatieri, a missed kick from the 23 yards out, an interception, and a lost fumble.
Flacco may not be the most stylish quarterback in the league, but whether or not his passes have a perfect spiral doesn't matter to the scoreboard. In the fourth quarter, with the Ravens leading 17-9, he threw an 18-yard pass just good enough for his superb wide receiver, Anquan Boldin, to pull in for the TD that crushed any spirit the Colts might still have had at that point.
This gave Flacco the odd distinction of being the only quarterback in the Super Bowl era to have won at least one playoff game in each of his first five pro seasons. He'll need to do that and more next week, and Ray Lewis will have to pick on someone his own age—the Broncos Peyton Manning, who's 36—when the teams meet in Denver next Saturday.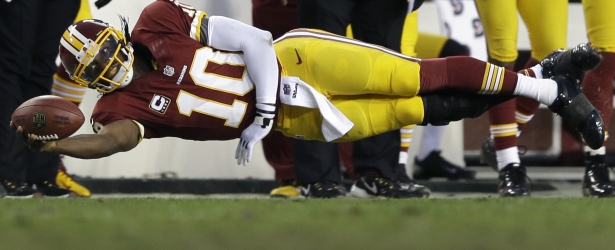 AP Images / Matt Slocum
Seattle Seahawks beat Washington Redskins, 24-14
Early in the second quarter of the NFC Wild Card match between Washington and Seattle, things looked good for the Redskins. As they say in the movies, a little too good. The Redskins had marched 80 yards on their opening possession, which was capped with a TD pass by Robert Griffin III. Early in the second quarter, buoyed by excellent field position, Washington began another march, which would lead to a second RG3 pass.
But three plays before the TD, the nightmare began. Griffin, the most spectacularly talented passer and runner to appear in the NFL this century, was hit near the sidelines and staggered awkwardly back before falling. One of the radio announcers said it looked as if Griffin was "acting." It looked like that to me, too, when I saw it later on TV. From that moment on, though, the dream season of Griffin, his coach Mike Shanahan, and the entire Washington Redskins team began to fall apart.
Griffin had shown great poise for a first-year man. Many promising rookie passers either throw too much or carry the ball themselves too much; Griffin worked the offense without trying to be the offense. He made everyone around him, including running back Alfred Morris, look better. But with his knee hurting again—he first injured a minor ligament in a December 9 game against the Baltimore Ravens—his minor mobility went with it.
Though he set a rushing record for rookie RBs, RG3, as the season went on, learned how to use his mobility to give his receivers an extra second or two to break loose from coverage. But unable to move quickly to his right or left, he became a rather pedestrian pocket passer, and the Redskins went through six consecutive possessions of three-plays-and-punt. Meanwhile, the Seahawks, who have had the most devastating offensive in the league over the last third of the season, slowly and inexorably went from a 14 point deficit to within just one point at the half, 14-13, and then, finally in the fourth, snowed the Redskins under with 11 unanswered points in a 24-24 win.
With a little more than seven minutes to play, Griffin, playing out of the shotgun formation, failed to hold onto a center snap when his knee again buckled. This time he went down and stayed down for more than a minute. More than 80,000 Washington fans in attendance—along with millions of RG3 fans throughout the country and, no doubt, cores of television executives who had been calculating the ratings Griffin was going to bring them—got a cold feeling in the pits of their stomachs.
Griffin walked off under his own power, went to the locker room, and later came back to root his team on from the sidelines. His replacement, Kirk Cousins, tried to mount an offensive, but every time he went back to throw he was snowed under. He was just three of 10 for 31 yards, was knocked down 4 times, and sacked twice.
The focus of the story, though, should not have that RG3 went down, but that another rookie QB, Seattle's Russell Wilson, was sensational. Wilson, a stumpy, 5-foot-10 200-pounder from the University of Wisconsin, completed 15 of 26 passes for 187 yards, rushed for 67 more on eight carries, and even threw a mean block for Marshawn Lynch on a 26-yard gain. Late in the game, Lynch would go 27 yards for the touchdown that put the Seahawks ahead to stay, 19-14. Then, as if to underline his own brilliance, he threw to Zach Miller for a 2-point conversion that made it 28-14.
The ratings probably won't be as high for a Seattle Seahawks playoff game as for a Washington Redskins game with Griffin at QB, but in notching their sixth consecutive victory, in which they have now outscored their opponents by a ridiculous 217 to 74, they have established themselves as the team to beat in the NFC. They have also earned the right to be considered favorites next week against the Atlanta Falcons in Atlanta, even though the Falcons have the NFC's best record.
Two months ago Russell Wilson was rated a distant third compared to the league's two star rookie quarterbacks, Robert Griffin III and Andrew Luck. He may not be better than they are—we'll see—but he's the last rookie QB left standing.