Ride of the Helicop ... er, Valkyrie: Classical Music You Know from Movies
Can you whistle Gioachino Rossini's most famous orchestral work? Surprise: You can if you've ever watched The Lone Ranger.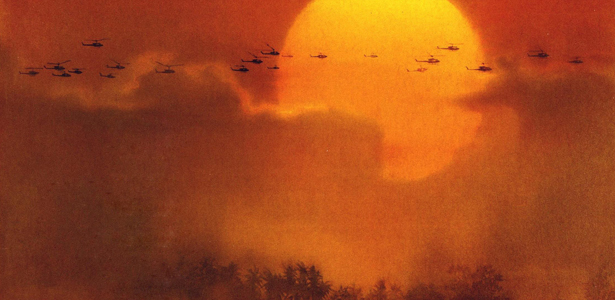 United Artists
Think back to the first time you heard the overture to Mozart's The Marriage of Figaro. Were you just a kid watching Willy Wonka and the Chocolate Factory in a dark cinema? Similarly, thanks to V for Vendetta, I can't hear Tchaikovsky's 1812 Overture without picturing a revolution, or Ravel's Boléro without thinking about Bo Derek "making love" to Dudley Moore.
It's hard to list all the pieces of classical music used in soundtracks that are now inextricably associated with specific events and moods, but here are some of the most ubiquitous of the bunch.
---
Richard Wagner's "Ritt der Walküren" ("The Ride of the Valkyrie")
Watch the scene—I dare you not to shudder. Every bit of Francis Ford Coppola's Apocalypse Now is frightening, but providing your own epic soundtrack while bombing an entire Vietnamese village is something else. In Die Walküre, the theme accompanies the Valkyrie sisters riding flying horses as they search for fallen heroes and ever since that it has become synonymous with battle imagery. "The Ride of the Valkyrie" appears in D.W. Griffith's silent film The Birth of a Nation, Stanley Kubrick's Full Metal Jacket, and even provides the tunes for one of Elmer Fudd's many hunts for Bugs Bunny.
Carl Orff's "O Fortuna"
When you hear this chorus, you know something's about to happen and it's going to be so. Very. Dramatic. Originally a medieval poem about fate, "O Fortuna" was set to music by Orff in the 1930s and has become a staple in epics, dramas, parodies, and even television commercials. Notably used in John Boorman's Arthurian film, Excalibur, Oliver Stone's Jim Morrison biopic, The Doors, as well as his 1994 flick Natural Born Killers.
J.S. Bach's "Toccata and Fugue in D Minor"
Walk into a dark Victorian (or Transylvanian) mansion and this is what you'll hear. It was prominently featured during the opening credits of Rouben Mamoulian's 1931 film adaption of Dr. Jekyll and Mr. Hyde. That's probably why this piece of organ music has become associated with everything eerie. Also heard in The Black Cat and Tales from the Crypt for obvious creepy reasons; parodied in Monty Python's The Meaning of Life, and outside the horror genre in Sunset Boulevard.
Mozart's "Eine Kleine Nachtmusik"
Mozart is the composer whose music has appeared most in films and this particular piece is the most popular. The allegro is usually set against posh affairs, but it appears to be infinitely more popular as a comic point of contrast—and who better than Ace Ventura in a mental hospital in a pink tutu to prove it?
Jacques Offenbach's "Galop Infernal" ("Infernal Gallop")
Okay, this tune may have been popularized by the can-can, but in Baz Luhrmann's Moulin Rouge it's used spectacularly. To convince the Duke to invest in an upcoming show, the troupe puts on an improvised song-and-dance set to a thumping interpretation of "Infernal Gallop". So exciting, the audience will stomp and cheer! So delighting, it will run for 50 years!
Léo Delibe's "The Flower Duet"
This ethereal duet is written for two sopranos and is often performed by two women. In Tony Scott's The Hunger, it's set against the seduction and sexual encounter between Miriam and Sarah. That, in itself, is sensual, but when the vampire Miriam bites Sarah and blood is exchanged, the scene becomes infinitely more erotic. (Skip to the four minute mark in the clip above.) For 27 years, the scene was left unchallenged but in Alexandre Aja's Piranha 3D, it now has a worthy contender. The underwater ballet features two beautiful (and nude) women dancing underwater entwined in each other to the sounds of "The Flower Duet."
Gioachino Rossini's "Call to Cows" and "Finale"
There's a good chance that the first of the two is your alarm tune. The "Call to Cows" is one of two classical pieces most commonly used to suggest morning—the other one is Edvard Grieg's Peer Gynt "Morning Mood." The "Finale," on the other hand, is more rousing—you can practically hear the horses galloping. That's because it was used as the theme to Lone Ranger. Other films that it has appeared in include Armageddon, A Clockwork Orange, and Toy Story 2.
Tchaikovsky's Swan Lake
One of the earliest uses of the Swan theme is during the opening credit sequence to Tod Browning's 1931 masterpiece Dracula. It effectively sets the tone as eerie, yet beautiful right from the beginning. Tchaikovsky wrote Swan Lake as a ballet, and the piece eventually makes it way back to that in the closing scenes of Billy Elliot and takes center stage in Darren Aronofsky's Black Swan.
Beethoven's "Ode to Joy"
Another piece that has been used many times in films, this famous choral finale was Beethoven's musical representation of our universal humanity and brotherhood. Of course, it is now used as a juxtaposition of how far we have fallen from that romantic ideal. It was used to great horrifying effect as part of the aversion therapy meant to rehabilitate sociopathic delinquent Alex in Stanley Kubrick's A Clockwork Orange, as well as during the self-immolation of Domenico in Andrei Tarkovsky's Nostalghia.
Richard Strauss's Also sprach Zarathustra
One of the most memorable musical moments in cinema is the opening scene of Stanley Kubrick's 2001: A Space Odyssey. Ever since, the introduction to Also sprach Zarathustra has been used to indicate space, or to set the mood for anything vast and grand. 2001 features an impressive number of classical music cues: Aram Khachaturian's Gayane Ballet Suite, György Liget's Atmosphères, Requiem, and Lux Aeterna, but the other most prominent piece belongs to another Strauss—Johann Strauss II's The Blue Danube, which was used in the scene where the spacecraft docks with the station.
This post also appears on Flavorpill, an Atlantic partner site.