Prodigy Envy Isn't a New Thing: Atlantic Writers Were Doing It in 1914
Young writers have always been angsty about the ever-waning time left to become a literary wunderkind.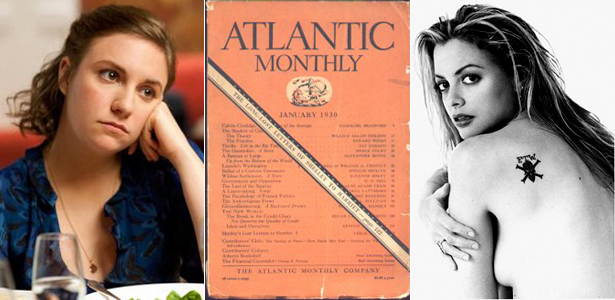 HBO; The Atlantic; Elizabeth Wurtzel
Between the New York magazine confessional by personal essayist Elizabeth Wurtzel and the second season of Girls, there's been a lot of talk among the writerish folk online recently about the tradeoffs of literary and quasi-literary life—and whether the youthful angst over those tradeoffs is ever put to bed. Those hell-bent on an artistic or literary career often plunge into the impoverished, insecure existence of their twenties hoping it will get better: assuming that success will come, and with it, some measure of financial security. Wurtzel says that in her case, it hasn't—even with prominently published essays and a highly successful book deal. The agonizing over that never-really-"arrived" feeling has come out in a number of pieces by younger women in the past few months, even pegged to different debates ostensibly about childrearing or elder care.
The feeling of having hoped you'd be further along by age x is pretty common, whether the yardstick is in financial success or artistic achievement and critical acclaim (and often young writers aren't sure which they value more). This is evidently one of the reasons the coming of Girls has been such an emotional experience for viewers with literary or artistic aspirations: Character Hannah Horvath is going through a rough time becoming the "voice of [her] generation." But the star and the creator of the show, Lena Dunham, has just won her second Golden Globe Award, writes off and on for the New Yorker, and received a $3.7 million advance to write a book for Random House. She's 26. Jeez, what have the rest of us been doing?
So with that sort of angst hanging heavily—spoken or unspoken—over office and bar chats in the past few weeks, there's a certain humor in paging through The Atlantic's issues from the World War I years: Even with Europe in tatters, writers of the period still had time to agonize over not being prodigies—as measured against established other prodigies, of course.
Observe the charming candor in this short essay for a recurring, un-bylined section called "The Contributor's Club" in by a young poet in the December issue of 1914:
From the inquisitive elder Disraeli I learned that Lope de Vega was a poet from his cradle, and I learned it bitterly, for I was sixteen, and my poetic April lingered. There was great solace in Keats, who had begun to be a poet at an age which gave me still two years to falter in. But what of these cradle rhymes of the Spaniard? What of the numerous lispings of Pope to nurse and bottle? What of the spines of satire Bryant put out at three-and-ten, or the Blossomes Cowley bore midway his second decade? And Chatterton!
The writer goes through all the standard justifications, including looking for great late-blooming poets to use as benchmarks. But—oh, damn: Do you want to be one of those late bloomers? No, you want to know that you're going to be a great poet now! No one wants those years wondering if you'll forever be trapped in your own mediocrity. Or, as the writer admits, "Nor could I be much heartened by the spectacle of those who had come late into self-knowledge. Wandering in the wilderness palled no less because of the tribes who shared it with me."
Poor comfort though those older examples are, they're the only comfort available. So begins the writer's great game of aging, and finding parallels for every age:
Thus, year by year, I pushed back the age at which I must come into my powers and fame. By the precedent of Bryant, I should have written some new Thanatopsis at seventeen, but I had only heartache from that precedent. With what a thrill, then, I learned that he had made the poem over in riper years. Eighteen was harder for me to endure. Poems by Two Brothers, Poe's Tamerlane, The Blessed Damosel (unanswerable challenge), drove me ashamed and passionate to my rhyming. But once again I found out a defense. If Pope's Ode on Solitude, written at twelve for lasting honor, was a prank of genius, why not The Blessed Damosel? And who would contend with ghosts? Yet I could not remember this assurance when, that year, I found Chatterton's bitter, proud will, and thought of the career which had led so straight toward it.

Some years were kinder, or at least my ignorance saved me, for at nineteen and twenty I kept my courage well. But twenty-one threatened me to the very teeth. Drake's Culprit Fay mocked me; Holmes's Old Ironsides roared at me; Campbell's Pleasures of Hope enticed me; Milton's Nativity ode submerged and cowed me. 'No, no,' I cried, as I read again these resonant strophes, 'I will be a minor poet and never strive with Milton.'

Later, by strange reversal, I consoled myself with proofs that the great poet must come slowly to his height, and I lived for cheerful months on the surpassing badness of Shelley's work before Alastor, fruit of twenty-three.
Surely even if your own aspirations lie in other directions, you've known someone tortured from time to time by this compulsive inner game with idols and ages. (That said, Take another look at this passage above: Pope, Milton, and Oliver Wendell Holmes could still be thought of as household names, but Drake? Campbell? This piece—though I don't mean to disparage the quality of the poetry in the slightest, and though Drake and Campbell are renowned compared to some of the other poets this writer cites—is a reminder that the Great Figures against whom we measure our own stature rise and fall in human estimation and favor over time. The fight for artistic immortality is never won for good.)
"But the years would not cease," our poor poet continues, "nor would they bring my summons. ... With twenty-eight, The Lyrical Ballads and Atalanta in Calydon saw my hopes begin a slow decline, which dropped off, the next year, amid contracting ardor, past Johnson's London, Crabbe's Village, Clough's hospitable Bothie, into thirty's hopeless wilderness. After thirty poets are not made. And I am thirty."
Bless him. Or her. Apparently 30 was a dreaded number even then.
Tall Alp after tall Alp behind me, I see before me only a world of foothills. Yet my journey was passionate. Now the work I have done is dead leaves, my energy all burned grass, my aspirations dust. And dry and bitter in my mouth is the reflection that the summons may have missed my ear while I watched my fellows. Did zeal overreach me, some hidden jealousy undo me? What grief and rebellion to know one's self [sic] cause, agent, and penalty of one's own ruin! O black decades to come! Scott found himself at thirty-four.
The human spirit—ever hopeful. As Scott would say, "Fight on, brave knights! Man dies, but glory lives!"