Porn, Liberals, and Unironic Love: The Trends of Sundance 2013
A look at the popular themes in 2013's festival crop—and, in turn, in theaters elsewhere not long from now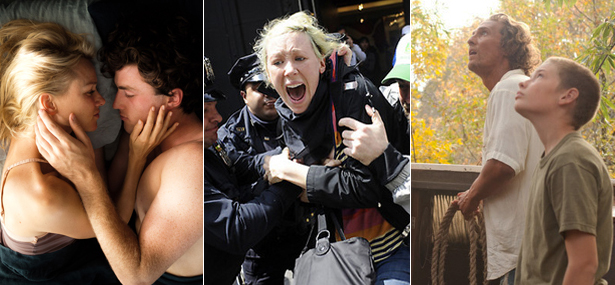 Various
Year after year, the Sundance Film Festival, which wraps its 2013 edition this weekend, serves as a survey for the year ahead in indie film. These are the movies that we'll be seeing in art houses over the next 12 months (sometimes more), discussing and analyzing and reviewing and dismissing and arguing over. And the recurrence of certain themes, ideas, and perspectives indicate something in the zeitgeist that created those films, which will presumably be further fueled by their circuitous entrance into popular culture over the coming months. Here are a few of the more noticeable trends among this year's slate.
PORN (FRANCO OPTIONAL)
The prolific (and somewhat self-obsessed) actor/filmmaker/performance-art experiment James Franco took part in three films at this year's festival, and all of them at least casually engaged in what we look at to get turned on, and why. He co-produced Christina Voros's kink, an inside look at the kink.com, renowned purveyor of BDSM porn. He co-directed Interior. Leather Bar., a "reimagining" of the fabled 40 minutes of gay sex cut from William Friedkin's Cruising; though the film's promise to recreate all of that footage is ultimately a tease, it does pose some compelling questions about "normative" sexual behavior and sexuality on screen. No such questions are asked in the lifeless Lovelace, a generic biopic of porn's first superstar (featuring Franco in a cameo as Hugh Hefner), and Michael Winterbottom's The Look of Love mostly uses its porn backdrop as window dressing. But Joseph Gordon-Levitt's Don Jon's Addiction, while comic in nature, is a surprisingly perceptive look at the impulses and warped expectations of those who consume erotica compulsively (or even regularly).
MAY/DECEMBER
The forbidden romance between the younger woman and the much older man is an indie standby, seen most obviously this year in Breathe In (Drake Doremus's Like Crazy follow-up), with Guy Pearce and Felicity Jones first resenting, then falling for each other. An unhealthy obsession with younger women is just one of the unnerving elements of Escape From Tomorrow, the nightmarish drama from writer/director Randy Moore, which became one of the fest's most-discussed films due to its remarkable backstory: It was shot guerilla-style at Disney theme parks, entirely without permits, meaning that fear of the mighty Mickey Mouse lawyers could keep the film from ever seeing a screen outside of the festival. But this year's slate also featured several films centered on relationships between older women and younger men: Hannah Fidel's A Teacher, which concerns an affair between a high school teacher and a student; Liz W. Garcia's The Lifeguard, in which Kristen Bell takes up with a teenage boy; and Two Mothers, in which Robin Wright and Naomi Watts are friends who each get with the other's teenage son.
COMING OF AGE IN THE WILD
The act of becoming a man, preferably by going out into nature and working with your hands, was all over the place this year. In Jeff Nichols's wonderful Mud, two Southern kids discover a drifter (Matthew McConaughey, continuing his run of extraordinary performances) hiding on an isolated island, and by helping him escape, wouldn't you know, they do a little growing up of their own. Jordan Vogt-Roberts's schizophrenic but satisfying Toy's House follows three teenage boys into the woods, where they build a house from spare parts to escape their overbearing parents. Kyle Patrick Alvarez's C.O.G. is a "becoming a man" tale with a twist of Sedaris (it's adapted from a story in his collection Naked), as his Steinbeck-reading protagonist floats from fields to factory to church pews. And the totemic use of Walden in Shane Carruth's beautiful and baffling Upstream Color might qualify it for inclusion here; that's about the only categorization you're going to come up with for it, I'd imagine.
DOCS FOR THE LEFT
"Liberal Hollywood" or not, it's modestly amusing that a festival held in the most scarlet of states has a documentary slate that looks less like a festival program than a Rachel Maddow Show rundown. This year's schedule included a troubling look at the invasion of Uganda by American evangelicals (God Loves Uganda), profiles of reliable boogeymen like Dick Cheney (The World According to Dick Cheney) and the Koch Brothers (Citizen Koch), celebrations of Robert Reich (Inequality for All), Occupy (99%: The Occupy Wall Street Collaborative Film) and WikiLeaks (We Steal Secrets), and After Tiller, a remarkable all-access look at the four remaining third-trimester abortion providers, and the tough choices made every day within their walls.
WOMEN IN THE DIRECTOR'S CHAIR
The dearth of opportunities for female filmmakers is one of Hollywood's biggest problems these days, so it's cheering to note that fully half of the films in the U.S. Dramatic Competition were directed by women, including Stacie Passion's Concussion, Lake Bell's In A World..., Jill Solloway's Afternoon Delight, Cherien Dabis's opening-night selection, May in the Summer, and...
TOUCHY FEELY
...Lynn Shelton's Touchy Feely, the film that best personified the festival's most welcome trend. Too often, indie film is defined either by a jaded, ironic sensibility or an impenetrable, intellectualized alienation, and there was plenty of both on display in Park City. But the best films of this year's festival (to my eyes, anyway) were those that took the chance of honestly and openly exploring genuine emotional content, with often overwhelming results. In addition to Touchy Feely and Breathe In, I was stunned by the warmth and emotional intensity of The Spectacular Now, James Ponsoldt's story of a cocky kid changed by the love of a truly good girl. And then there's Before Midnight, Richard Linklater's eagerly anticipated return to the story of Jesse and Celine, whose 40-year-old version of true love is pricklier and more complicated than its 20-year-old incarnation. The laid-bare poignancy and touching immediacy of these films are exactly the kind of thing that is too often jettisoned by studio pictures; they're part of what makes indie film great, and connection with those common themes are, let's hope, a trend that we'll continue to see in independent film this year.