Oscar Nomination Predictions: 'The Master' Out, 'Les Miserables' In
An awards-season junkie picks which films will be in contention after Thursday morning.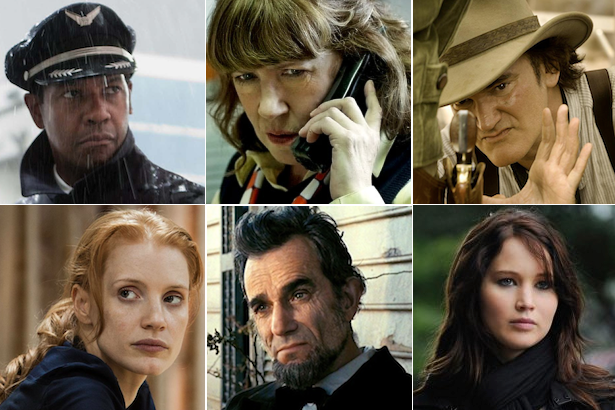 Various
Predicting the Academy Award nominations is a famously inexact science.
Related Story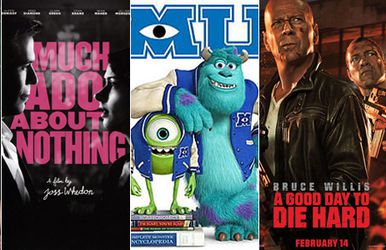 There are the contenders singled out by precursor awards groups like the Directors Guild, the Screen Actors Guild, and the Hollywood Foreign Press, all of which have varying degrees of overlap with those who vote for the Oscar nominees. (In the case of the Hollywood Foreign Press, which votes for the Golden Globes, that's no overlap at all—though they can reflect a certain amount of buzz a film is receiving.) There's gauging the rising and falling levels of enthusiasm and support a film is receiving—it was not long ago, for example, The Master was considered the frontrunner to win Best Picture, and now the film and its actors would find themselves lucky to be nominated at all. One should consider the makeup of the Academy, which, famously, skews old, white, and conservative, and how the nominees are selected. In the major categories, contenders must receive a certain percentage of number-one votes on ranked ballots.
So though there's no surefire rule for predicting the nominees, it's always fun to take a stab it. Especially for someone like me, who has followed the the award season thus far to an almost pathetically obsessive degree. So here's my best guess at the films and people that will be nominated Thursday morning (in the categories that the widest range of people likely care about).
Best Picture
Amour
Argo
Django Unchained
Les Misérables
Life of Pi
Lincoln
Silver Linings Playbook
Zero Dark Thirty
And maybe Beasts of the Southern Wild and Moonrise Kingdom
In a cruel development for Oscar predictors, the Academy's new rules allow between five and 10 nominees in this category, depending on how many films meet a benchmark of votes. I'm predicting that eight will make it, based on the films that seem to have the strongest support among voters this season. Should the category actually go to 10 this year, Beasts of the Southern Wild and Moonrise Kingdom will have the best shot to make it in, but they don't have nearly the enthusiasm the other contenders have. In fact, either The Best Exotic Marigold Hotel or Skyfall, which would be the first James Bond film to ever receive a Best Picture nod, have just about the same amount of awards buzz going for them right now as those two movies, and could sneak in in their places.
Best Director
Ben Affleck - Argo
Kathryn Bigelow - Zero Dark Thirty
Tom Hooper - Les Miserables
Ang Lee - Life of Pi
Steven Spielberg - Lincoln

David O. Russell deserves to get in for Silver Linings Playbook and one should never count out Quentin Tarantino, this year for Django Unchained. But it's hard to imagine them replacing anyone on this shortlist. Bigelow, Hooper, Lee, and Spielberg are all former winners doing some of the best work of their careers here, and there's no way Affleck, this year's Hollywood golden boy, doesn't get in. Hooper could miss out, with so many critics taking him to task for over-the-top closeups on actors' runny noses in Les Miz, but this is one movie that it seems awards groups and critics just don't agree on.
Best Actor
Bradley Cooper - Silver Linings Playbook
Daniel Day-Lewis - Lincoln
John Hawkes - The Sessions
Hugh Jackman - Les Miserables
Denzel Washington - Flight
This category may be the one that's most set in stone. The only real spoiler could be Joaquin Phoenix for his performance in The Master, which has unjustly fallen off the radar thanks to general waning enthusiasm for the polarizing film and some unsavory quotes by the actor about awards season. Hawkes may be the most vulnerable should Phoenix surge into a fifth slot, but gauging by the precursor awards—especially the SAG nominations, which typically have the most overlap with the Oscars—the five above will be the final five.
Best Actress
Jessica Chastain - Zero Dark Thirty
Marion Cotillard - Rust and Bone
Jennifer Lawrence - Silver Linings Playbook
Emmanuele Riva - Amour
Naomi Watts - The Impossible
Chastain and Lawrence are locks in this category and will be the two duking it out for the win. Based on the nomination process, where voters rank their choices with No. 1 votes being especially important, it would be shocking if Riva doesn't make it in, too, given the passionate support Amour is receiving. That also means that Watts, who is giving a universally cheered performance in an under-performing movie, should also scrape out a deserved nod. Cotillard has picked up mentions from most precursor groups and will likely earn her second trip to the Oscars, but that means that two foreign-language performances will be in nominated in this category. Will voters really do that? If not, pint-sized powerhouse Quevanzhane Wallis from Beasts in the Southern Wild is waiting in the wings to become the youngest Best Actress nominee (based on her age at time of performance) ever.
Best Supporting Actor
Alan Arkin - Argo
Robert De Niro - Silver Linings Playbook
Tommy Lee Jones - Lincoln
Phillip Seymour Hoffman - The Master
Christoph Waltz - Django Unchained

This category is the hardest to predict. The above shortlist is the safest to forecast, as the Academy famously loves to reward veteran actors, and these five are a Who's Who of Hollywood's old guard. But after Arkin, De Niro, and Jones, the final two slots are, really, up for grabs. Waltz could forseeably be replaced by Leonard DiCaprio for Django—justly, if you ask me—but Waltz, for some reason, seems to be more popular with awards groups this year. If the Academy's distaste for The Master is as severe as some pundits are predicting, Hoffman could be snubbed, with, again, DiCaprio the most likely to fill his place. Skyfall's Javier Bardem, who would be the first actor to score a nod from a Bond film, could take the slot, and his SAG nomination suggests that is not so unlikely. Les Miserables's Eddie Redmayne could also be a spoiler here; if the film ends up sweeping the nominations, Redmayne could ride the wave in.
Best Supporting Actress
Ann Dowd - Compliance
Sally Field - Lincoln
Anne Hathaway - Les Miserables
Helen Hunt - The Sessions
Nicole Kidman - The Paperboy
Ann Dowd will be the big surprise nominee everyone is talking about on nomination morning. The veteran character actress found her name in the Oscar conversation, seemingly out of nowhere, when she was singled out by the National Board of Review for her performance. She then sent out For Your Consideration screeners to voters using her own credit card—the studio didn't pay—and has established herself as the Cinderella story of awards season. She didn't make it in with SAG or the Globes, but the growing buzz for her performance could peak with an Oscar nod. She'll join Field, Hathaway, and Hunt, who are locks in this category, and Kidman, whose turn in the otherwise dismissed The Paperboy should get her in over Maggie Smith for The Best Exotic Marigold Hotel. Should Dowd or Kidman not get nominated, Smith is the most likely replacement, followed by Amy Adams, who was once a frontrunner in the category for her performance in The Master, but found her awards hopes die with the film's.
Best Original Screenplay
Wes Anderson - Moonrise Kingdom
Mark Boal - Zero Dark Thirty
Michael Haneke - Amour
Rian Johnson - Looper
Quentin Tarantino - Django Unchained
Best Adapted Screenplay
Lucy Alibar, Benh Zeitlin - Beasts of the Southern Wild
Stephen Chbosky - Perks of Being a Wallflower
Tony Kushner - Lincoln
David O. Russell - Silver Linings Playbook
Chris Terrio - Argo
Best Animated Feature
Brave
Frankenweenie
The Painting
ParaNorman
Wreck-It Ralph
Best Foreign Film
Amour
Beyond the Hills
The Intouchables
Kon-Tiki
A Royal Affair
Best Documentary Feature
The Gatekeepers
The House I Live In
How to Survive a Plague
The Invisible War
Searching for Sugar Man