In What Universe Can the Falcons Beat the 49ers?
Metaphysically informed predictions for the NFL's conference championship games Sunday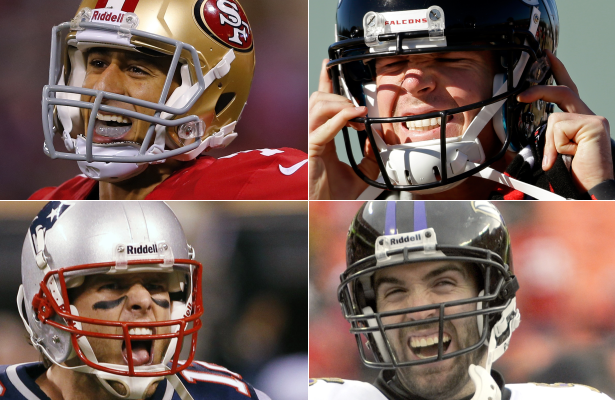 Mike Blake (Reuters) / David Goldman (AP) / Matt Sullivan (Reuters) / Dave Kaup (Reuters)
For weeks now, the biggest stories in sports haven't had any sports in them. Baseball announced their Hall of Fame inductions—or lack thereof. Lance Armstrong had his confession—or lack thereof. We found out that Manti Te'o's famous dead girlfriend was neither dead nor his girlfriend.
Doesn't anyone want to talk about games? Sunday, lest we forget, is the best day of the football calendar: Conference Championship Sunday. It's more action than the Super Bowl with none of the cultural trappings that accompany the season's final game. Almost seven hours of top-tier pro football: four teams, two matchups, two Super Bowl XLVII berths at stake, and nobody debating the best TV commercials or the halftime show while you watch.
The NFC's title match features two top-seeds, as the Falcons host the 49ers. Atlanta, a great city, will see their blackbirds lose. There's no chance for a club once the fans and media have begun calling it a "team of destiny." Not kidding. Nothing good has ever come from a bunch of football players thinking that their ultimate victory has been written in the stars. Besides, the many-worlds interpretation of quantum physics suggests that there is no such thing as anyone having a single destiny. According to that theory of ever-expanding universes, we all are creating an infinite number of new destinies for ourselves at any given instant.
So this means that alternate realities may exist where the Falcons' defense is able halt 49ers quarterback Colin Kaepernick. Perhaps you are living in one of them. In my reality, the star rookie starter QB has been unstoppable in San Francisco's throwback option-style offense.* Against the Packers last week, Kaepernick was harder to pin down than Schrodinger's Cat. His devastating pair of long touchdown runs included a 56-yard scamper off an ancient play that guys who played in leather helmets would have called "a keeper."
Kaepernick rushed for 181 yards against the Packers. 181! That's the most ever by an NFL quarterback. Not just the most in a playoff game or by a rookie starter. Ever. When a player is putting up numbers with "all-time" in front of them, be afraid. When a quarterback is running like Kaepernick, football's delicate equation, the balance between offense and defense, is thrown out of whack. There's nothing to be done. You could have Albert Einstein for a defensive coordinator and still not find a scheme to stop him. Only attrition will. But not Sunday. Atlanta's destiny—if you believe in that stuff—is to let Kaepernick gallop all over Georgia.
In the AFC, Baltimore crushed the hopes and dreams of all Broncos fans. Now the Ravens will travel the BosWash corridor to face New England.
Joe Flacco, the Ravens' quarterback, doesn't get much recognition, despite winning a postseason game for each of his first five years, including last week when he passed for 331 yards. But his counterpart, Tom Brady, has astronomical recognition. He's also about to bring New England yet another Lamar Hunt trophy. That's because Bill Belichick is smart. He's no Einstein, certainly. He's more like Heisenberg, with Brady running the Uncertainty Principle offense.
Running quarterbacks like Kaepernick and Cam Newton and Russell Wilson are all the rage in today's NFL. Belichick can't make Tom Brady's legs any faster, though, so he did something better. He made the game slower. Using a hyper-speed, no huddle, instant-snap offense that leaves defenders gasping and confused, the Patriots figured out how to let Brady tire out a defense with his mind instead of his feet.
It's ruthless. During the season, Jets' linebacker Calvin Pace called the Patriots' light-speed pace "borderline illegal." If so, it's now up to felonious assault.
This will be a close game. Flacco will hit receivers deep. Ray Rice will get his 100 yards. Ray Lewis will ham it up for the cameras. But New England will jump into warp speed in the 3rd quarter, and find themselves headed back to New Orleans.
Not coincidentally, just a few weeks ago, I predicted the Pats would meet San Francisco in Super Bowl XLVII. Who knows? Maybe it's destiny.
---
* This post initially referred to Colin Kaepernick as a rookie, not a rookie starter. We regret the error.