Before the Notre Dame Heisman-finalist and Lennay Kekua, there was Ms. Krabappel and Woodrow.
Fox
"For people my age, this is unfathomable," Notre Dame University athletic director Jack Swarbrick told the media during a press conference just hours after Deadspin revealed that star linebacker Manti Te'o's girlfriend, who had supposedly died of cancer in September, had been a fabrication . "Versions of this in different forms we would understand, but the sort of online social media, virtual nature of this, it's hard for us, hard for me."
Related Story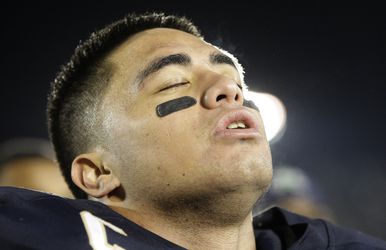 It's convenient to blame the Internet for the Manti Te'o mess. If you believe Swarbrick's interpretation, Te'o was the victim of online scammers who had cunningly exploited, in Swarbrick's words, "the most trusting human being I've ever met." But the technology that Ronaiah Tuiasosopo used to dupe Te'o, or that Te'o and Tuiasosopo used to dupe the entire national sports media (or some still-to-be-revealed combination of these), didn't exist on February 13th, 1992, the date that one of the most disquieting episodes of The Simpsons' 23-year run aired for the first time. Viewed today, that episode, "Bart the Lover," affirms that human nature was no different before the Internet arrived, and the web is just another venue where con artists and sadists can prey on the overly credulous.