The political criticisms of Zero Dark Thirty, Lincoln, and The Dark Knight Rises stem from the fact that for Hollywood, history and ideology are second to business—and individualistic narratives sell.
Sony / Warner Bros. / Touchstone
This past year was one of the best in memory for people who are both movie buffs and political geeks. Many of 2012's offerings from Hollywood were overtly political, with more than one major blockbuster concerned with what President Obama might call "big things." Class, race, gender, economics, even the art of politics itself—movies such as The Dark Knight Rises, Les Mis, Zero Dark Thirty, Lincoln, Django Unchained,and Argo all touched upon these one or more of these themes, sometimes adroitly, sometimes not-so-much.
Related Story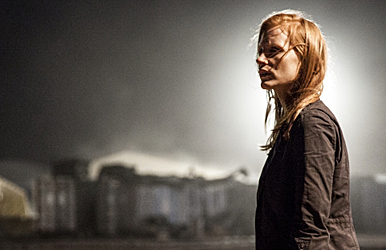 But in the understandable excitement to see these movies and join the debate, something fundamental has gone (mostly) forgotten: the ideology of Hollywood itself.
When I say that Hollywood has its own ideology, I'm not talking about the political fads that occasionally occupy its most prominent denizens. I'm not thinking of Madonna's Kabbalah hobby or Ben Affleck's campaigns for Congo. What I'm talking about is the ways in which its business model—which is entirely dependent upon big money and even bigger audiences—determines the risks it will and won't take, the questions it will and won't ask, and the answers it will and won't provide.