Golden Globes 2013: The Best Awards Show ... Ever?
There were lessons last night for other self-important trophy ceremonies.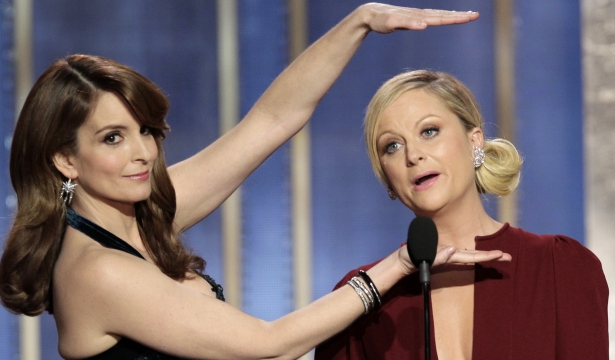 AP Photo/NBC, Paul Drinkwater
Hollywood loves putting on awards shows. And everyone else loves complaining about them.
Related Story
No matter who hosts the ceremony, what artists perform, which films are nominated, and how long it goes, critics and viewers are all too happy to call the Oscars, the Golden Globes, the Grammys, the Emmys, and the Blockbuster Entertainment Awards—what have you—too mean, too boring, too stodgy, too edgy, too reverent, too irreverent, and millions of other damning adjectives. So it's worth marveling at how, against odds, Sunday night's Golden Globes somehow managed to stage what might be the most perfect awards show ever.
The secret to why the proceedings succeeded? They were fun, they were fast, they were credible, and they were just the right amount of weird.
Hosts Tina Fey and Amy Poehler deserve the most credit. After all, awards ceremony hosting actually may be the most thankless job in show business. Ricky Gervais was funny, but his cynical joking turned people off. Anne Hathaway tried hard, but James Franco forgot to wake up. Jimmy Kimmel was pleasant, but not edgy enough. But Fey and Poehler proved to be just right—amusing, without overdoing anything.
Their opening monologue was silly, smart, and just ever-so-mischievousness, eliciting the warmest reception by a celebrity audience that I can remember. A big part of their appeal was in their self-effacement: In some of the night's best writing, Fey said "The Hunger Games" were "what I call the six weeks it took me to get into this dress," and Poehler said the "Life of Pi" would be "what I'm gonna call the six weeks after I take this dress off." And though they promised they wouldn't be insulting, they couldn't resist taking a few shots at celebrities, which, really, is something audiences live for. The most deliciously shocking one-liner was aimed at Kathryn Bigelow: "When it comes to torture, I trust the lady who spent three years married to James Cameron."
But what made Fey and Poehler stand out is that they seemed to be genuinely enjoying themselves. Not only were they hosting a big party; they were the party's most fun guests. Whether it was pretending to be nominees for a fake miniseries called Dog President, spoofing the self-importance of the awards by hobnobbing with George Clooney and Jennifer Lopez when their names were called as Best Actress in a TV Comedy nominees, or marveling at how drunk Glenn Close was, Fey and Poehler popped up at just the right moments, didn't overstay their welcome, and were almost unfailingly hilarious.
Perhaps even more crucially, however, the ceremony made good on the two big, competing imperatives for awards shows: remaining respectable as a program rewarding the arts and still managing to entertain. Almost uncharacteristically for the group so notorious for doling out statues to actors, TV shows, and films that elicit a raised-eyebrow "what the..." reaction, this year's crop of winners was remarkably solid. Girls deservedly announced itself as a presence in the TV comedy categories, while Homeland expectedly swept the drama side, and for good reason. Christoph Waltz, Anne Hathaway, Jennifer Lawrence, Hugh Jackman, Daniel Day-Lewis, Jessica Chastain, Argo—people might have minor quibbles or other favorites, but who could argue that any of those winners represented egregious mistakes?
The speeches, for the most part, were good enough to not want to fast-forward through, which is also rare for a show like this. Anne Hathaway made a touching and unexpected tribute to Sally Field. Jennifer Lawrence was as charming as you'd hope she would be. Adele proved she was as good at witty speech-giving as she is singing. Daniel Day-Lewis was as playful as Daniel Day-Lewis ever lets himself be, and it was just plain fun to see a flabbergasted Ben Affleck breathlessly accept Best Director after being snubbed out of a nomination by the Oscars.
And then there was Jodie Foster. Bless Jodie Foster for injecting the dreaded, pompous lifetime achievement segment with utterly bizarre, oddly moving energy. She turned her acceptance speech into an impassioned manifesto on Hollywood, at first puzzling everyone with some strange faux coming-out statement before moving on to a diatribe about the state of privacy and celebrity. The manic speech then quickly had viewers in tears as she spoke about her mother, saying that her mom wouldn't understand what's happening, but "I love you, I love you, I love you ... please take that with you when you're finally OK to go." As audience members dried their eyes, Foster moved on to the final act of her speech, the triumphant conclusion: "Jodie Foster was here. I still am, and I want to be seen, to be understood deeply, and to be not so very lonely."
It was baffling. It was nearly nonsensical. It was dramatic. It was amazing. People will be talking about it for years to come, which is something any awards show can hope for.
Any awards show can also hope to overcome the same frustrating dilemma the Globes did: so many awards, so little time. The clock had barely struck 11 p.m. when Poehler and Fey were signing off for the night, meaning the telecast, in an almost unheard-of feat, ended pretty much exactly on time. The show accomplished this by mercifully excising insufferable and awkward banter about how "brave" nominees are or how "transformative" films were in the past year. There were no clip packages honoring the history of movies, unlike the montage-addicted Academy Awards. The few presenters who were given a bit to do—Will Ferrell, Kristen Wiig, Sacha Baron Cohen—drew big laughs.
Was there anything to find fault in? Sure. Quentin Tarantino seemingly beamed in from another planet to deliver his meandering speech, and categories like Best Supporting Actress in All of Television (that's what it's called, right?) never cease to be ridiculous. Only at the Golden Globes will Sofia Vergara and Dame Maggie Smith compete in the same category. (Is anyone else tired of Smith winning awards for Downton Abbey but never being in attendance?) But when there's so often so much to gripe about with award shows telecasts, this year's Golden Globes deserves a trophy of its own for being purely enjoyable.