Don't Be Fooled, Hockey Fans: There's No Such Thing as 'Your Team'
After the lockout, National Hockey League's pretend inclusivity is hard to stomach.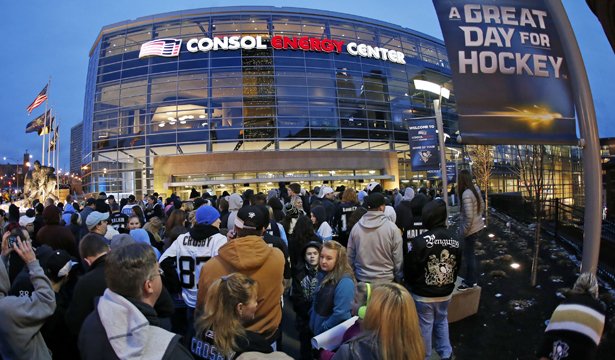 AP / Gene J. Puskar
Ahead of the belated start of its lock-out delayed season, the National Hockey League took to newspaper sports sections with a full-page ad Thursday morning addressed "Dear fans," and thanking "you for your patience " and "apologiz[ing] to you for the time we've missed." But what really stood out was the first line of the open letter: "As your teams prepare for the opening face-off of the 2012-2013 season..."
Related Story
"Your teams?" When did that happen? When did hockey fans enjoy any right other than the right to spend their money or time on the sport or its teams? They certainly had no rights of ownership or control when anything related to the labor dispute that derailed the scheduled start of this season was being decided. No fans sat at the bargaining table where owners and players dueled to a months-long impasse. Nor did they when a lockout at the start of the 1994-95 season led to a drastically shortened season or when another lockout forced the cancellation of the entire season in 2004-2005.
If "your team" happened to be the California Golden Seals or the Cleveland Barons or the Minnesota North Stars or the Quebec Nordiques or the Hartford Whalers or the Colorado Rockies, etc. (for the complete list of "relocated and defunct" NHL franchises see Wikipedia ), you woke up one morning to learn that "your team" was taking "French leave" and pulling up stakes moving to another city—without so much as a fond farewell and certainly without "your" permission or approval. Of course, the NHL isn't alone in the way it deals with its (definitely not "your") teams, as fans of baseball's Brooklyn Dodgers, New York Giants, Boston and Milwaukee Braves, St. Louis Browns, Seattle Pilots, or Philadelphia and Kansas City Athletics—or pro football's Cleveland and Los Angeles Rams, Chicago and St. Louis Cardinals, or Baltimore Colts—know all too well.
So the reference to "your teams" is no more than PR puffery that ignores—indeed denies—fans' utter impotence when the really important decisions about that sport are being made. As a veteran sportswriter explained it almost half a century ago: Big-league baseball or football, or in this case, hockey, is "strictly a business to those who make money off those who think it is strictly a sport."
But that won't, of course, deter hockey fans from welcoming the NHL's return with a customary passionate embrace (as indeed my own youthful love of the sport and of "my" team, the New York Rangers, survived their trade of my hero Andy Bathgate—without, needless to say, any consultation with me). And as far as the general sports public (in the US, if not in Canada), the NHL's absence was hardly noticed, and so the league can reappear without much anxiety about tarnishing a brand that didn't amount to much beforehand. TV ratings for the games will be as low as ever, and, as Yogi Berra said (or is said to have said), "If people don't want to come out to the ballpark, how are you going to stop them?" But you true hockey believers will be back cheering on the Red Wings or the Canadiens or the Kings or the Blackhawks—even if this latest saga has made clearer than ever that these teams are not really "your teams."