Benjamin Netanyahu Is Not in the Mood for a Portrait
Photographer Platon on how he shot a difficult portrait of the Israeli prime minister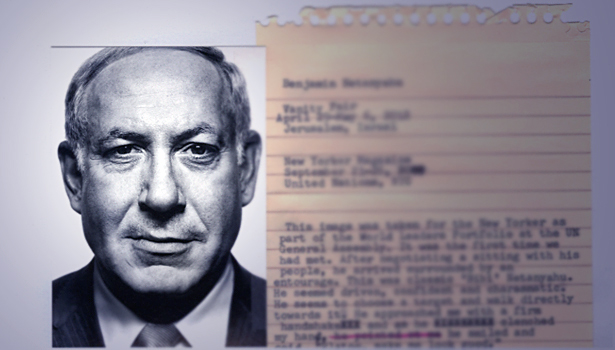 Platon / The New Yorker
Three years ago, as he was wrapping a photo shoot with Michelle Obama for Time magazine, the British portrait photographer Platon made a final request. "Right, my love," he said. "I want your soul. Give it to me now." As he remembers it, she did, and with his next click Platon got his cover shot.
That brazen demand gets at the paradox of his every assignment: In order to create iconic images of the world's most public figures, he must first conjure their most private selves. Such was his mission during a 2009 meeting of the U.N. General Assembly, when he photographed 49 heads of state for The New Yorker (where he's been a staff photographer since 2008). That five-day shoot yielded a portfolio of arrestingly intimate images—highlights include a beaming Jacob Zuma, a snarling Muammar Qaddafi, and a coolly defiant Hugo Chávez—which he later collected, along with previous portraits of international leaders, in his second book, Power.
This past spring, Platon had the chance to revisit one of his subjects when Vanity Fair commissioned him to photograph Benjamin Netanyahu in Jerusalem. Only when he arrived in Israel did he learn of a personal loss that had sent the prime minister into mourning and their shoot off-schedule. Below, Platon shares a portfolio from that trip and his earlier sitting with Netanyahu, accompanied by the story of how he captured a powerful man at a vulnerable moment—and still made him look good.
---

---
Read past First Drafts from Wilco, Natasha Trethewey, Stephen King, Christo, and others.