Behold: Dungeons & Dragons R&B
Diddy ex-affiliate Dawn Richard's fantastic full-length debut, Goldenheart, follows in the unheralded tradition of black musicians drawing emotional power from Tolkien tropes.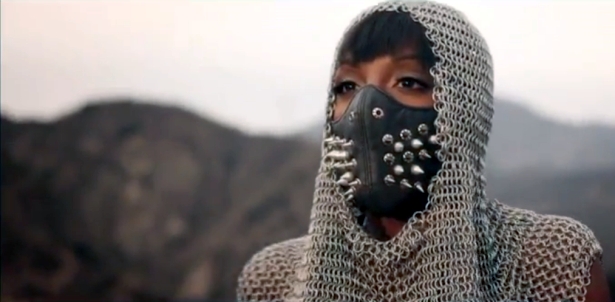 Here's a pop quiz. A new album is named for an alternate-universe version of a late-medieval king, and the lyrics throughout evoke imagery of quests, queens, giants, armies, battles, miraculous events, and (in one song) spaceships. The lyric sheet is printed in a pastiche medieval font, and the video for the lead single finds the singer wandering a forest in chainmail, encountering sirens, and defeating a mysterious foe by feats of arms. The final song on the album is built on a famous piece of classical music. What genre are we talking about?
If you answered prog rock or metal, you'd have a whole lot of precedent on your side. But the answer is R&B.
Related Story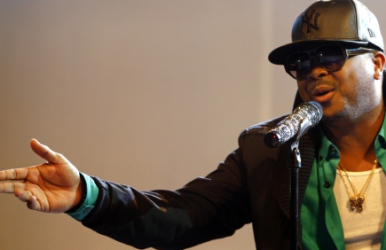 By the quick-moving standards of contemporary pop, Dawn Richard is a music-industry veteran. Born and raised in New Orleans, she first came to major-label attention as a member of Danity Kane, the R&B girl group formed on MTV's Making the Band in 2005. Signed to the Bad Boy label run by Sean "Diddy" Combs on the strength of their lush harmonies, Danity Kane had a few minor hits and then disbanded in 2008. But Richard kept going as one-third of Diddy-Dirty Money, a progressive R&B/rap trio with the label honcho at the fore, which produced one outstanding and underappreciated full-length (2010's Last Train to Paris), then too disbanded. Freed from her Bad Boy contract because she was unwilling to wait around for Diddy's release schedule, she's been releasing a steady stream of music since, including a mixtape named after an Edgar Allen Poe short story (2011's The Prelude to a Tell Tale Heart) and an EP (2012's Armor On) that was better-sequenced, more sonically varied, and of greater emotional weight than most albums.
Her new full-length, Goldenheart, builds on Armor On's progressive R&B. Supposedly the first in a trilogy of albums, it has the sort of ambition that many listeners still associate with long-haired '70s rockers; Richards's unabashed embrace of high fantasy and science-fiction tropes gives the album an imaginative urgency. Producer Druski acts as Brian Eno to her Berlin-era David Bowie, creating dense soundscapes for her often electronically altered voice to glide over, wash through, soar in, and pierce with sudden emotion.
The battle themes of Armor On pop up again and again, as do march rhythms, invocations of quasi-mythological figures, and odd spellings that suggest another, older world. Song titles like "Warfaire" and "Gleaux" would have made philology professor J.R.R. Tolkien reach for his red pen, but if the etymology is incorrect, the spirit of the post-Tolkien enthusiasm for medieval-sounding verbiage is exactly accurate. Then there's the video for "'86," which prompted one message-board wag to call her music LARP&B (LARP being, of course, "live action role playing"), though maybe D&D&R&B would be more accurate:
But what such cutesy nicknames obscure is that R&B music—and black American culture more widely—has embraced fantasy, sci-fi, or other "nerdy" subcultural tropes more often than many people realize. From the space-travel fantasias of Sun Ra and George Clinton in the '70s to the Wu-Tang Clan's Shaolin kung-fu obsession in the '90s to the present day—when 2012's most widely acclaimed album, R&B singer Frank Ocean's Channel Orange, includes a nine-minute odyssey imagining the ancient Egyptian empire reincarnated on the Las Vegas Strip— black musicians have drawn from the same wellsprings of imagination and popular culture as everyone else.
Even high fantasy in the vein of Tolkien's Middle-Earth, Wagner's Ring cycle, or Arthurian romance, traditionally so entrenched in Eurocentrism that Aryan ideology could make use of it, now belongs to everybody in a media landscape transformed by Peter Jackson's immensely successful Tolkien adaptations. Epic adventure in fantastic settings is not nerdy, but normal.
While the fantasy tropes stand out on Goldenheart, they're far from the whole of the album. Her battle imagery includes modern weaponry like AKs, tanks, and bombs. "Northern Lights" and "Frequency" dip into science fiction (space travel and cybernetics, respectively). She obliquely covers Phil Collins and Peter Gabriel. And the title track, the final song on the album, is built around the ineffably nostalgic "Clair de Lune," performed only with electronically treated voice and piano—making for a riveting meditation on memory, longing, and hope that twines around Debussy's shifting melody.
So when Dawn Richard sings "I feel like Leonidas battling the Titans/A thousand soldiers against one sword" on the song "300," the imagery's importance has nothing to do with the nerdy specifics of the narratives in question (the Spartan king Leonidas battled Persians, not the mythological Titans) and everything to do with the emotional use she's making of them. All the heroic last stands, world-dominating empires, parted oceans, starflights, vampiric lovers, and military deployment in her songs are metaphors for internal landscapes and personal conflict. In this she remains true to the oldest and most important standards of R&B, which, more than any other musical genre, charts the uncountable intricacies of the human heart.