What Makes Baseball's Offseason So Fascinating?
The excitement surrounding contract negotiations reflects our cultural obsession with wheeling and dealing—and gives otherwise bored fans something to argue about.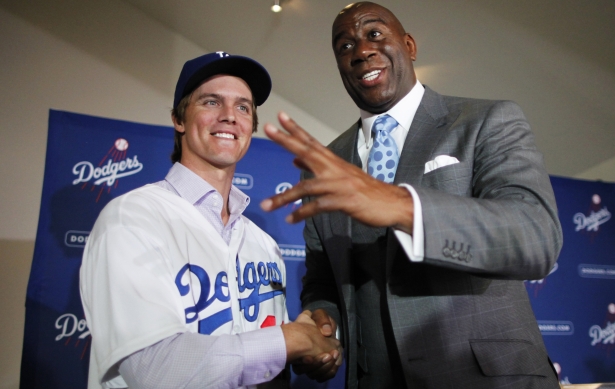 Every week, our panel of sports fans discusses a topic of the moment. For today's conversation,Patrick Hruby (writer, Sports on Earth and The Atlantic), Hampton Stevens (writer, ESPN and The Atlantic), and Jake Simpson (writer, The Atlantic) and discuss the recent flurry of trades in Major League Baseball's offseason.
---
Guys,
Josh Hamilton is on the move. Zack Greinke is set to fill the trust funds of his great-great-great-grandchildren. The New York Yankees just signed former Boston Red Sox hero Kevin Youkilis. Even the Kansas City Royals have been in the news. Baseball's hot stove is fully fired up, and for fans, this just may be the most wonderful time of the year.
In fact, I'll argue that it is.
The best thing about free agency in sports—well, besides the fact that various forms of labor rights-stifling collusion, including baseball's reserve clause, are utterly un-American—is that our offseasons are now as exciting as the games themselves. If not more so. And it isn't just baseball. Witness the mass hysteria over the NFL Draft, which has its own language and year-round Kremlinologists, and probably deserves its own television network. (Trust me: NFLDrafTV would crush CNN in the ratings. Of course, everyone crushes CNN. But still). Check out the NBA, where LeBron James's notorious "Decision" and Dwight Howard's recent indecision produced more ink and interest than anything either man has done on the floor. College football recruiting news is a growth industry; college basketball recruiting news is a thing; even the coaching carousels in various sports are a big, big deal.
For better or worse, we are a Hot Stove Nation—and that goes for more than athletics. (Be honest: We all pay a lot more attention to presidential elections than to what our presidents do in office, don't we?)
Why is the case? Two reasons, I think. The first is Christmas Eve syndrome. You know how when you're a kid, there's really nothing more exciting than the day you unwrap all those presents? How the mere anticipation of something new, different and potentially awesome is almost always better than the toys themselves? The offseason is the same thing. Oooh, the Los Angeles Lakers landed Howard and Steve Nash! RGIII is going to Washington! Petyon Manning in Denver! Can't wait to see Tim Tebow in ... well, never mind the last one. If you're a fan of a good team, this effect can be pretty powerful: Hey, maybe Ray Allen puts the Miami Heat in position to repeat. Meanwhile, if you root for a lousy franchise—like, say, my hometown Washington Wizards—this effect can be downright intoxicating. Because it's pretty much all you have, a little bit of hope before it gets dashed. (Speaking of which: The Wizards reportedly could have had James Harden, but instead filled their available salary cap space by acquiring journeyman role players Trevor Ariza and Emeka Okafor. Is it possible to sue a sports franchise for malpractice?)
Second, I think we obsess over offseason transactions because doing so fits the zeitgeist. Look at America's post-millenial pop culture obsessions: Moneyball, Wall Street, real estate, televised poker, house-flipping, "American Pickers." Forget Oscar Wilde: We want to know the price and value of everything, and then dish about who got the better deal. For better or worse, we're an arbitrage-minded people, which means that even if I don't care who any given team traded for, I am more than happy to argue about the moves from a purely analytical standpoint.
So let's argue. I think the Dodgers will regret Greinke's gargantuan deal exactly until the moment they take a double tax write-down on it. I think that Youkilis-to-New York is less enraging than a sad commentary on the Yankees' zombified, load-up-on-win-now-vets, can't-quite-say-goodbye-to-the-aughts direction. And I think that the Washington Nationals landing Dan Haren and Denard Span is going to matter a lot more than anything else that happened this offseason. Christmas is just around the corner!
Hampton, what are you obsessing over?
–Patrick
Patrick,
Kansas City, duh. After all, some of the hottest Hot Stove news came from Kaufman Stadium, where the Royals pulled off a big trade with Tampa. Yes, you read that right. Imagine how shocked we were in KC. When someone on the local news said that the Royals made a big move, my first thought was that it had something to do with Kate Middleton.
But no, KC sent four top prospects to the Rays in exchange for pitchers James Shields and Wade Davis. They are projected to join Ervin Santana, acquired by trade with the Angels, and a re-signed Jeremy Guthrie to make up a totally revamped Royals rotation.
Reaction around baseball has mostly been that the Royals blew it. But why?
It's true that Shields is a projected staff ace who looks more like a number-two. The 30-year-old was a solid, unspectacular 15-10 last year, with a 3.51 ERA. Still, he does have a big appetite for innings, having gobbled up more than 200 in each of the last six seasons.
The club did give up four of their top 20 prospects to make the deal, too. So what? Even after the trading frenzy, KC still has one of baseball's deepest farm systems. Royals GM Dayton Moore may have a weakness for signing veterans past their expiration date, but the guy can find and grow young talent. The one undeniable triumph of his tenure has been turning the club's farm system from awful into the envy of MLB.
Besides, one of those very famous windows of opportunity is about to shut, and it might fall on Moore's neck. The team's first crop of homegrown talent is ripe. Alex Gordon, Billy Butler, Eric Hosmer, and Mike Moustakas are rising stars. With the new pitching arms in place the team has a core group sewn up for at least the next three years.
The eventual world champion Tigers only won 88 games in a weak AL Central. With good luck and weather, the new Royals could equal that total in 2013. Granted "let's squeak into the payoffs" isn't exactly a war cry to set hearts aflame. But it's better than nothing.
Okay, let's say the Royals are, forgive the awful pun, betting the farm on next season. Like that's a bad thing? This franchise hasn't had a winning season since 2003. A little gambling with the future is long, long overdue. Besides, as anyone with an ounce of wisdom will tell you, the future is always now.
What's burning on your hot stove, Jake?
–Hampton
Hampton,
My eye's on something completely different: Josh Hamilton and the rise of two Los Angeles superteams.
Hamilton, the biggest free-agent prize on the 2012 market, agreed to a five-year, $125 million deal with the Angels on Thursday, a crushing blow for their AL West rivals in Texas. The Rangers were unwilling to go the extra mile for the talented but unstable Hamilton, a former drug and alcohol addict who has publicly relapsed several times. Hamilton now joins the biggest free-agent signing in 2011, Albert Pujols, on an Angels team that could be the American League favorite in 2013.
The second-best free agent of the offseason was Greinke, who went to the suddenly free-spending Dodgers. Actually, "free-spending" doesn't do it justice—the Dodgers are spending money in a way that would make the Yankees blush. After taking on Adrian Gonzalez, Carl Crawford and Josh Beckett in a 2011 trade with the Red Sox and signing South Korean pitcher Ryu Hyun-Jin for six years and $36 million, the Greinke acquisition pushed the Dodgers' projected opening payroll to $207.9 million, the highest in baseball.
How do Angels owner Arte Moreno and new Dodgers owner and hedge fund magnate Mark Walter plan to fund this record spending spree? Television money. The Angels' deal with Fox Sports is worth some $3 billion over 20 years, a $150 million-a-year windfall that could fund more Pujols-type signings. The Dodgers deal with Fox Sports is currently being negotiated, but it's expected to dwarf the Angels deal, a 25-year, $6 billion behemoth of a contract that would pay the team $240 million a year.
It's hardly a surprise that L.A.'s two teams are signing record TV deals. The Yankees already have a money-making machine with the YES Network, and mammoth TV contracts are cropping up in college football and elsewhere. The Dodgers and Angels have the second-biggest U.S. market at their disposal, and the twin spending sprees are the product of finally having aggressive owners who want to spend money. But it is also another stark reminder of financial realities of the salary cap-less MLB. The Dodgers and Angels might be new to the big-money club, but they've always been "haves" in baseball's economically unequal world. Meanwhile, the Rays and Royals circle each other and trade top assets, two minnows doing whatever they can to compete with the sharks.
–Jake