The Plot to Reinvigorate European Design Journalism—in Print
The newly launched 'GRID' magazine sticks to an old medium but champions new ideas.
The newly launched GRID magazine sticks to an old medium but wants to champion new ideas.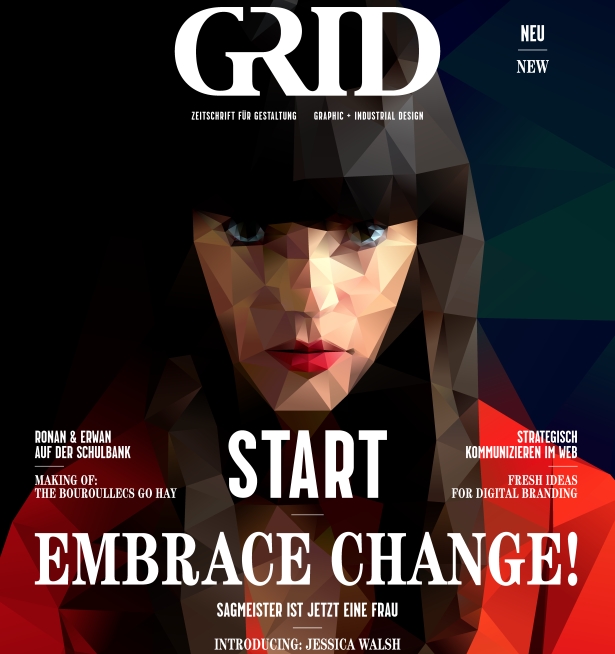 slanted.de
Why would any savvy editor/publisher start a lavish new print magazine aimed at an audience that gets more of its information online with every nano-second? Gerrit Terstiege, who for six years was editor-in-chief of the reputable German design magazine FORM says the medium is just better for what he wants to do. Along with Munich-based publisher Detail, the 44-year-old Terstiege has launched a thick new, glossy design magazine called GRID, which he hopes will be the hub of design journalism in Europe. There's an accompanying German/English website www.grid-magazin.de that covers news, "but when it comes to well-edited long texts, portraits, extensive interviews, for me, nothing beats print," Terstiege says.
For a subject area like design, sticking with print makes sense: "With GRID we can really go deep, content-wise, and be visually appealing with double-page spreads and great photography and art work." The new format was developed by Mario Lombardo in Berlin and will be implemented by art director Jochen Schnekenburger, with an eye towards providing an alternative to existing design magazines.
FORM, the magazine's foremost rival, was acquired last April by a new owner, who gave Terstiege "the strong impression it was time to start something new." Detail provided funding support for GRID (which perhaps coincidentally, like FORM, is also a four-letter, three-consonant name) and he left to start from scratch. Yet how Terstiege will make GRID different from FORM, which also covers the full design spectrum from industrial to product to furniture to graphic design, and transform the distinct editorial point of view he developed at FORM, will be an interesting challenge.
Indeed, the debut issue of GRID echoes certain aspects of Terstiege's FORM. Still, he insists there are differences in "the way we present articles and our special thematic mixture of graphic design, packaging design, digital / web design, product design, funiture design, and design management topics," adding that GRID's three main goals are "to be absolutely up-to-date, to feature renowned, experienced authors, and to present really international high-quality projects and products."
In an effort to stake out its own space, the first issue of GRID features a curiously sultry vector rendering of Jessica Walsh, design "star" Stefan Sagmeister's young new business partner, suggesting this magazine is dedicated to a generation of up and comers. For Terstiege new and different are charged words. "When it comes to design, in my eyes, to be different is crucial," he says. "To dare things. To go where no one has gone before. To look for new materials, news ways of production, new ways of distribution. As a journalist I am always attracted to projects and concepts that surprise or even irritate me."
slanted.de
Terstiege is on a mission to have GRID bring a different perspective to new or trendy concepts in the design world. He mentions, for example, today's buzzed-about discipline, design management. "We want to look behind the design processes to evaluate and comment on the strategic aspects in design," he says. "That´s why our third issue´s thematic focus is just that: design management and branding."
Viability, however, is the No. 1 job. Income through advertising, subscriptions and by selling GRID at special interest book-stores, at train-stations, and airports is the goal. "We are also establishing a business department called Transfer in order to work closely together with companies, helping them to develop content that reacts specifically to their communicative needs." Terstiege wants to build a GRID aura: "The more attractive GRID becomes as a brand that stands for high-quality design publishing the better this brand image can be transferred to a variety of other publishing platforms," he says, hinting at non-print venues. "Our foremost goal in this phase is to establish it in the market, make people respect it, even love it, buy it, advertise in it." A print magazine these days is something special, like that old car without the GPS. You got to love the old thing to keep driving it. And it takes love, Terstiege affirms, "for design, for print and for well-researched articles in order to build up a substantial readership." With the second issue barreling to completion, he feels "confident that we are on the right track—even if we are still at the beginning of our journey."