The NBA Was Right to Fine the Spurs
Basketball is about more than just winning titles, and the regular season should be taken seriously.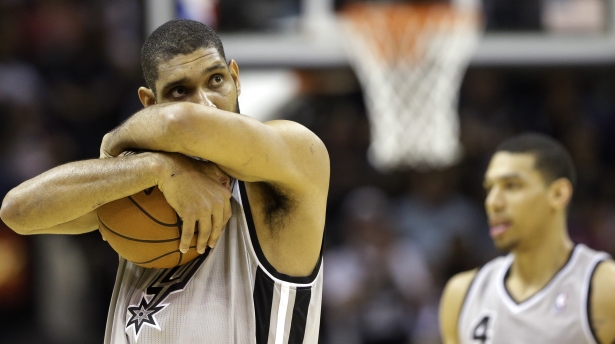 AP / Eric Gay
San Antonio Spurs coach Greg Popovich is a master tactician and peerless evaluator of talent. But basketball fans that enjoys watching the NBA's best compete should be disappointed by his decision to hold several key Spurs starters out of a marquee match-up with the Miami Heat, a decision that resulted in a $250,000 fine for the franchise. They should also be disappointed that so many sportswriters defended the decision.
By benching Tim Duncan, Tony Parker, Manu Ginobili and Danny Green—let's call this controversy Benchgate—Popovich became complicit in a sad, emerging reality in the NBA: that the regular season just doesn't matter very much to elite players and coaches. Stern is right to fight back against that trend. Fans deserve to see exciting, well-contested basketball games throughout the NBA season.
There was a time not long ago when the sport's best took every game seriously, in large part because of the fans. Larry Bird, that old-school stalwart who took tremendous pride in playing the game the right way, didn't seek nights off for the sake of some extra rest. In an interview with ESPN's Bill Simmons, he described the life of an NBA player this way:
This is your job. And a lot of people depend on whether you win or lose. You know we got this building, we got all these workers, they got to feed their families, and you go out there and mess around and you don't put a full effort into it every night, not only does your team suffer but everyone suffers from that.
A bit sentimental? Perhaps. But Bird's quote contains a lot of truth. Playing basketball is the job of an NBA player, and fans assume players will show up for each of the regular season's 82 games, not just the ones in which they feel like competing.
In the documentary Michael Jordan to the Max, which examines Michael Jordan's final season with the Chicago Bulls, there's a scene in which journalist Bob Greene insinuates that Jordan made a concerted effort to compete every night, because he knew that there was someone in the stands "who had never seen him before, who would never see him again, and this would be the one Michael Jordan moment they ever had and he would say he was playing for those people there." In that same scene, Jordan's coach Phil Jackson tells a story about a road trip during which Jordan suffered severe back spasms. In spite of the pain, he went out and scored 40 points in one game, because according to Jackson he "wanted everybody to see his special skill, and he didn't want people who loved basketball not to have that opportunity."
Of course, those quotes may seem like a bit of mythmaking by two men who clearly have a special affinity, and in Jackson's case a close professional relationship, for Jordan. Skeptics will scoff at the notion that Jordan's maniacal competitiveness stemmed from a desire to give casual fans a show. But note that even in his later years, Jordan rarely took a day off. In his last three seasons with the Chicago Bulls, he played in all 82 regular-season games. He didn't have to, and there's no question that Jordan could have used some extra rest during those seasons: In the 1998 playoffs a fatigued Bulls team nearly lost the Eastern Conference Finals to the Indiana Pacers. But Jordan wasn't the type of player to look for a night off.
The Spurs coach rationalized his decision by pointing out that the team's recent schedule put the players through the grinder by requiring them to compete in 11 road games in a month's time. The veteran players and Green needed to rest their aching bodies. Last year, the aging Spurs looked poised to capture the franchise's fifth NBA championship before they hit a wall and lost four straight playoff games to the young Oklahoma City Thunder. To try to ensure that the team doesn't suffer a similar fate this spring, when San Antonio will presumably compete for the title once again, Popovich apparently plans to occasionally rest his starters during the season, a tactic he's used in the past.
I understand the need to keep key players fresh and have argued that relegating starters to the bench during blowout victories constitutes common sense. But failing to play top players in a game that pits two of the NBA's best teams is almost tragic. The implication behind Pop's behavior is this: The Spurs' sole goal is to win a championship, and if keeping his best players out of a regular-season match-up helps achieve that goal then it is justified. That reasoning suggests regular-season games are essentially meaningless, that there's nothing to be gained from the sheer joy of playing one of the NBA's best teams in a highly anticipated match-up.
The pervasive appeal of this logic should not come as a surprise. We live in a winner-take-all sports culture where great athletes from Dan Marino to Karl Malone are more likely to be mocked for never winning a championship than celebrated for their unreal skills and accomplishments. Regular-season greatness means nothing. Anything less than a title means you're a loser. And in this type of world, a regular-season game featuring Tim Duncan and LeBron James, two of the top five players of the post-Jordan era, only has meaning in the context of playoff-seeding implications and the effects on championship aspirations.
But there's a dangerous precedent being set. If Michael Jordan, often seen as the cartoonish embodiment of sports' win-at-all-costs mentality, didn't practice strategic benching, how can we think it's OK that Popovich did? I don't know if Duncan, Parker, and Ginobli had any say in whether or not they would play against the Heat, but I'd like to believe they wanted to be on the court. That's the type of competitive fire fans want to see in professional athletes. It's one of the reasons so many fans pine for the days of Bird and Jordan, days when superstars gave everything they had on a nightly basis.
The purpose of professional sports is about more than just winning championships. It's about playing to win every night and relishing the opportunity to test oneself against good competition, whenever such an opportunity arises. Sports culture today is too heavily tied to the notion that winning a championship is the only way for a player to validate his or her career. The job of NBA coaches and players is not just "to win titles," as Jake Simpson argued in his Atlantic piece defending Pop's decision. It's to try and win every game on the schedule and to entertain paying fans in the process.
To their credit, the Spurs players play exceptionally hard every time they hit the floor. It would have been nice if Popovich had given them the chance to display such effort against the Heat, another team that lays it out on the line night after night. LeBron James has averaged 37.3 minutes-per-game this season. He probably could have used some rest on Thursday night, but credit Heat Coach Erik Spolestra for playing his starters as if the season rode on the outcome.
If Popovich was seriously concerned about giving key players rest during the Spur's long road trip, he could have played them minimal minutes against the Washington Wizards and Orlando Magic, two sorry teams that San Antonio's back-ups could have handled with ease. This benching seemed like a deliberate thumb in the eye of Commissioner David Stern. It's understandable that winning an NBA championship is Popovich's primary goal, but he's more than capable of pursuing it without keeping his best players out of marquee regular season match-ups. Hopefully Popovich will discontinue this practice if for no other reason than fans, the people whose attention and money makes the NBA go, deserve a chance to watch the game's best compete when the schedule calls for it.