The Heisman Race: In Sports, How Do You Define 'Outstanding'?
Texas A&M's Johnny Manziel should win college football's highest award Saturday because has had the most chances to succeed—and he's delivered on them.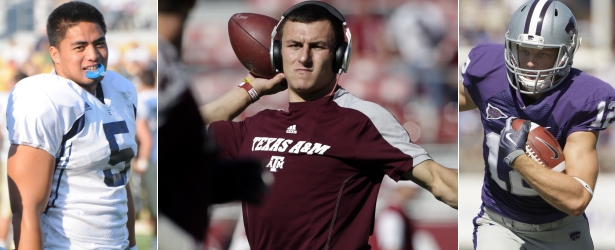 From the time the Heisman Trophy was created in 1935 until today, the only criteria ruling it has been that it should go to "the outstanding college football player in the United States."
Okay, that leaves out Canada. But beyond that, the definition of "outstanding" is pretty much left to the voters' discretion. "The most valuable" or even "the best" would have given them at least a tiny bit more to go on. Merriam-Webster defines "outstanding" as "standing out from a group." Does that help even a little?
It helps me. Among the thousands of offensive and defensive linemen who play college football, there is one who stands out this year: Texas A&M quarterback Johnny Manziel, who also happens to be the odds-on favorite.
Sorry to take the suspense out of it, but that's probably the way this year's Heisman voting is going to go and certainly the way it should. Kansas State quarterback Collin Klein and Notre Dame linebacker Manti Teʻo are in the discussion, but although they are outstanding players, with Manziel in contention neither can be called the outstanding one.
Anyone who has followed the college football season has read by now that Manziel has passed for 3,419 yards with 24 touchdowns and has run for 1,181 yards and 19 more touchdowns. Despite these eye-popping numbers, some are making the case for Klein, who has indeed been terrific, passing for 2490 yards with 15 TDs and running for 890 yards and 22 TDs.
But how to compare them? Did Manziel throw the ball more often than Klein, or was he actually better? And who was the better runner? Let's look at some of what I call "quality numbers."
Start with their rushing stats. Klein didn't really run for 890 yards; that number doesn't include the yardage lost when he was sacked. It's an absurd affectation of college statisticians to subtract sack yards from a QB's rushing total—the pros more sensibly subtract sack yardage from the team's yards gained passing—so I'm going to ignore that 890 and award Klein 109 more yards for a total of 999, which give him a healthy average of 5.5 yards per run. Manziel was even better. Johnny Football—get used to the nickname because you're going to be hearing it for the next couple of years—actually ran for 1342 yards for a spectacular 8.3 yards/run.
Now, the passing stats. Klein topped Manziel in one critical number, averaging 9.15 yards/throw to Johnny's 8.55. But Manziel beats Klein in the second-most important passing stat: He threw just eight interceptions in 400 pass attempts to Klein's 7 picks in 272 tries. If you regard touchdown-to-interception ratio as important, and many do, then Manziel wins easily, 24 TDs to eight interceptions while Klein was 15 to seven.
It's not necessarily relevant which player gained the most yards, but it's very important who they gained those yards against. In truth, neither quarterback played against a schedule of particularly tough opponents, but Texas A&M beats out Kansas State in one key category: opponents who ranked high in total defense. Manziel faced seven teams ranked in the top 70 toughest defenses (ordered by fewest yards allowed) while Klein was up against just three. I can't see any real argument for Collin Klein in any of these numbers.
I can see a big argument for Te'o as the most outstanding. Football writers constantly argue that defensive players don't receive the same Heisman consideration as offensive backs, and, of course, that's true. Defensive players simply can't put up the same kind of gaudy numbers that offensive players can. Prior to 1965 this wasn't an issue. Before then, college football players had to play both offense and defense, so a player's defensive ability was a necessary consideration.
I've argued many times over the years that it would be perfectly fair and would reflect the way football is played in the modern era if two Heismans were awarded—one for the outstanding player on both sides of the ball. Otherwise, how are we to evaluate defensive players? A great many pundits have made the case that since the Fighting Irish are sixth in the country in fewest yards allowed, and since their national championship run—they face Alabama in the BCS title game on January 7—is based almost entirely on defense, that Te'o has a legitimate claim as most outstanding.
He is certainly the best defensive player I've seen this year, just as Manziel is the best on offense. It would make great sense to award the Heisman after the bowl games are played, and then we might have some way of evaluating Te'o's impact against Alabama with Manziel, who lead the Aggies to a 29-24 victory over Alabama on Nov. 10. But for some inexplicable reason, the Heisman Trust won't wait that long, and so all we have to go on is the regular season.
But I fear that a sizeable number of voters will choose Te'o for the wrong reason: He is a senior and Manziel is just a freshman, and no freshman has ever won. Though no one will say it, there seems to be an assumption among football writers I know that a freshman should have to prove himself by having at least two great seasons before being honored. But that would be the wrong reason for voting for Te'o. The award is supposed to go to the most outstanding player in the country, and there's no provision for seniority.
The main difference between the two is this: Manziel can call his own number any time on a pass or a run. As former USC coach John McKay said of one of his workhorse tailbacks, "He's not a member of a union. We can use him as often as we like." A&M uses Manziel so often that this season he accounted for 70 percent of his team's yards on offense. A team that faces Notre Dame will try and make plays away from where Te'o is playing, so it is possible—though by no means easy—to minimize his effectiveness.
Let's say it this way: Johnny Manziel has far more opportunities to be outstanding—or to fail—than Te'o, and he's handled those opportunities with excellence.
Define it however you want—best, most valuable, or, if you prefer, most famous. Johnny Manziel is all of these, and the player most deserving of the 2012 Heisman Trophy.