Is Tom Hooper's adaptation of the beloved musical exhilarating or exhausting? Maybe, both?
Universal
I dreamed a dream in time gone by, in time gone by so very...slowly.
The words (at least the first eight of them) are from the fallen Fantine's mournful aria in the first act of Les Misérables. In Tom Hooper's new cinematic adaptation of the beloved musical, the song is sung by Anne Hathaway, and your response to it will likely be a good barometer of your response to the film overall. Hathaway gives it everything she has, beginning in quiet sorrow before building to a woebegone climax: she gasps, she weeps, she coughs. If you are blown away by the scene—as many will be; it will almost certainly earn Hathaway her first Oscar—this may be the film for you. If, however, like me, you feel that its poignant, plaintive beginnings give way to an overwrought, ostentatious conclusion—well, you have a long 157 minutes ahead of you.
Related Story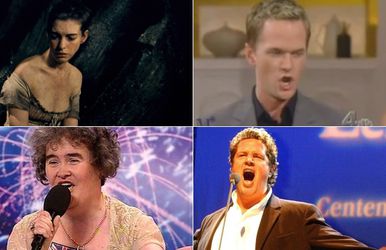 Largely faithful to the stage version, Hooper's Les Miz is an extravagant melodrama, at once openly ambitious and almost touchingly earnest. As anyone who's seen the film's oddly infomercial-like theatrical trailer will be aware, Hooper has taken the innovative step of having cast members sing their numbers live on film, rather than lip-synching to pre-recorded tracks. It's a genuine breakthrough: As the performers lift their voices, the camera holds them in intimate closeup; the experience is about as close to live theater you're likely to find onscreen.