The Atlantic's film critic picks the year's 10 best titles—and doles out some less-conventional awards.
Marvel, The Weinstein Co., DreamWorks, Fox Searchlight
A few boilerplate caveats: I saw a great many films this year, but by no means all of them. In particular, I missed a few documentaries that might well have made their way onto this list. It was also a very good year for film—the best, perhaps, since 2007—so a number of movies that could have made the list in weaker years (Argo, The Dark Knight Rises, Life of Pi, Les Miserables, Skyfall, etc.) have instead been consigned to honorary mentions. Finally, lists such as this one are inevitably silly, idiosyncratic things, and mine is no exception. So have at it. And after (or before!) you've gone through the slideshow of the best (ranked from one to 10), don't neglect the still-more-idiosyncratic-categories below.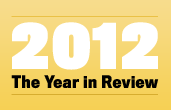 Atlantic
writers survey the biggest stories and ideas on their beats.
See full coverage
Honorary mention: Argo, Brave, Compliance, The Dark Knight Rises, Django Unchained, Life of Pi, Looper, Les Miserables, Rust and Bone, Rise of the Guardians, The Sessions, Skyfall
The Big Things Come in Small Packages Award: Beasts of the Southern Wild
The Small Things Come in Big Packages Award: The Hobbit
Best Dog: Sparky, Frankenweenie
Runner-up: Woola, John Carter
Best Dog Thief: Sam Rockwell, Seven Psychopaths
Runner-up: Ben Mendelsohn, Killing Them Softly
Breakthrough Performer: Scott McNairy (Argo, Killing Them Softly, Promised Land)
Runner-up: Jason Clark (Zero Dark Thirty, Lawless)
Movie You're Least Likely to See on an Airplane This Holiday Season: Flight
Runner-up: The Dark Knight Rises
Best Earrings: Moonrise Kingdom
Worst Hair: Rock of Ages
The Maybe We Should Give American Moviegoers More Credit Award: Piranha 3DD (U.S. Gross: $376, 512; Global Gross $8,117,216)
Best Hat: Daniel Day-Lewis, Lincoln
Best Cravat: Christopher Walken, Seven Psychopaths
Best Lapels: Everyone, Argo
The Hoo-ah Award for Most Blatant (But Almost Certainly Successful) Bid for an Oscar: Anne Hathaway's "I Dreamed a Dream" scene from Les Miserables
Best Homoerotic Frisson: Skyfall
Creepiest Portrayal of a Korean by a Non-Korean: Hugo Weaving, Cloud Atlas
Runners-up (tie): Jim Sturgess; James D'Arcy; Ben Whishaw; Hugh Grant; Jim Broadbent; Keith David, Cloud Atlas
Most Erotic Manipulation of a Man by a Woman: Kristin Scott Thomas, The Woman in the Fifth
Least Erotic: Amy Adams, The Master
The Miraculous Transformation Award: James D'Arcy as Tony Perkins in Hitchcock
Baddest Santa: Alec Baldwin, Rise of the Guardians
Lamest Vronsky: Aaron Taylor-Johnson, Anna Karenina
Hottest Anything: Channing Tatum, Magic Mike
Best Tiger: Life of Pi
Best Bear: Brave
Worst Werewolf: Dark Shadows
The "Wait, A Heroine Died of Tuberculosis in a Musical—and I Didn't Direct It?"Award: Baz Luhrmann
The "Wait, Someone Got to Do Multiple Scottish Accents—and It Wasn't Me?" Award: Mike Myers
Best Young Actor Playing an Old Actor: Josh Brolin as Tommy Lee Jones, Men in Black III
Runner-up: Joseph Gordon-Levitt as Bruce Willis, Looper
Best Sleigh: Rise of the Guardians
Worst Sleigh: The Hobbit
The Marijuana Could Save Your Life Award: The Cabin in the Woods
The Alcohol Could Ruin It Award (tie): Flight, The Master, Smashed
Best Soundtrack: Django Unchained
Worst Soundtrack: Battleship
Worst Textual Analysis: Bradley Cooper on Hemingway in Silver Linings Playbook
Runner-up: Dennis Quaid on Bradley Cooper in The Words
Best Joke About George Washington and a Water Closet: Lincoln
Worst Running in a Straight Line: Charlize Theron, Prometheus
We want to hear what you think about this article. Submit a letter to the editor or write to letters@theatlantic.com.