The Beginning of the End of Manny Pacquiao?
One of the best boxers in the world took a punch from Juan Manuel Marquez Saturday night and went down, face first. He may fight again, but his career may never recover.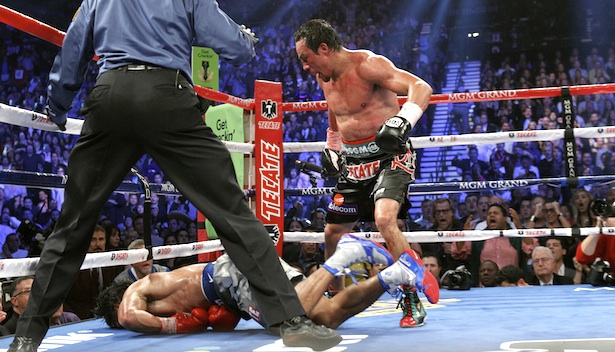 Steve Marcus / Reuters
On Saturday night, with one second to go in the sixth round of the biggest fight of the year, Manny Pacquiao took a short right to the face from Juan Manuel Marquez. Marquez had feinted one way and then ripped his right hand at Pacquiao. It was a devastating, perfectly executed punch that could usher in the final, competitive era for one of the greatest fighters alive.
Pacquiao—the congressman and national hero in the Philippines who also happens to be considered the best boxer in the world along with Floyd Mayweather Jr.—fell to the canvas, face first. It was right in front of Mitt and Ann Romney, who were sitting ringside. (Snooki and 50 Cent were at the fight too.) Jinkee, his wife, was inconsolable and struggled into the ring. Would Pacquiao get up?
The very point of boxing is to knock someone out. If you watch enough boxing matches live, you become an aficionado of the various types of KOs. This one was frightening. It took Pacquiao nearly a minute to rise—finally, finally—from the canvas.
Up until the knockout, which will be the talk of the boxing world for months, it had looked like Pacquiao would win the fight. He was desperate to do so because he wanted to regain his boxing dominance, which had seemed to be escaping him over his last several bouts. This was the fourth time he had fought Juan Manuel Marquez, 39.
Marquez, considered the sixth-best pound-for-pound boxer in the world, fought Pacquiao to a controversial draw in 2004 and a split-decision loss in 2008. He again lost to Pacquiao in 2011, but again it was surrounded by controversy. The judges ruled that Pacquiao had won, but many people disagreed. The normally popular Pacquiao was greeted by thunderous boos on that night. Marquez, disgusted, stormed from the ring. It didn't seem like he would ever have a chance to avenge the loss. It looked like Pacquiao was moving onto other opponents, and maybe—just maybe—an eventual superfight with Floyd Mayweather Jr.
But earlier this year, Pacquiao lost a controversial decision to Timothy Bradley. While Pacquiao came in second on the judges' scorecards, much of the boxing public believed he had soundly beaten Bradley, who had to be brought in a wheelchair to the post-fight press conference, where he was announced as the new welterweight champion. Yet even the buzz from that incident couldn't get Mayweather and Pacquiao's promoters to negotiate the fight everyone wanted. So Pacquiao decided to take on Marquez again: a risky decision for his reputation, but a smart one moneywise, given that the 39-year-old Mexican fighter Marquez is so popular.
Once again, the match was very close. Pacquiao went down in the third as the victim of a right hook, but then he seemed to take control. He wasn't quite as dynamic as in years past, but he was able to put Marquez down in the fifth with a short hook in a spectacular round of boxing—the best this year. Pacquiao was winning 47-46 on the judges scorecard. Marquez had a bloody nose, difficulties breathing, and a concussion. His body was sprinkled in blood. But he was still thinking about how to defeat his nemesis, who had become careless. Pacquiao, 33, has always used his speed to create angles and land blows. But as speed erodes precision, openings become wider. Marquez readied himself, feinted, and made the perfect punch.
And now what is left for Pacquiao? He's a congressman and his wife is running for vice governor of his very-poor province. He's taken on the cause of fighting poverty worldwide. And he will probably fight again. On Saturday night, commentators were already talking about a follow-up bout. It'd undoubtedly be popular. "A fifth fight?" said Bob Arum, the boxing promoter, excited about the prospect. "Why not?"
Pacquiao's trainer Freddie Roach was more cautious. Roach has Parkinson's, which he attributes to his own years as a fighter. He has promised to tell Pacquiao when it's time to hang up the gloves. "If I see signs of him declining, I will tell him to retire."
He may have seen those signs Saturday night, in a fight that felt like the beginning of an end.