The 49ers' Big Quarterback Gamble May Not Be Much of a Gamble
Jim Harbaugh's controversial decision to replace his solid, veteran passer with a relatively untested younger talent has less to do with either quarterback than it does with the rest of the team.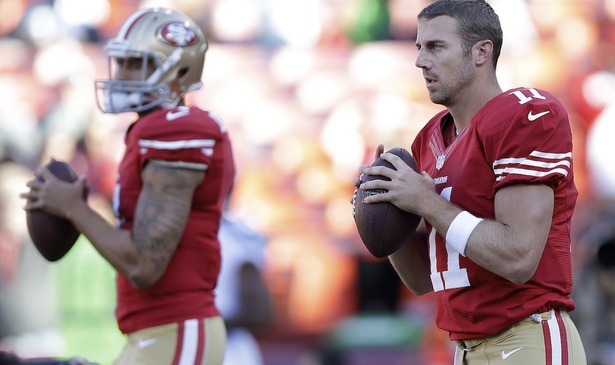 San Francisco 49ers coach Jim Harbaugh has clearly studied the Bill Belichick playbook when it comes to things like candor with the press. The less about his team he addresses publicly, the less information he is ultimately expected to divulge, and the better he feels about it all. Which is why a quarterback controversy holds so many possible downsides for him, and why it makes the one he's currently nurturing so remarkable.
Second-year QB Colin Kaepernick took over the offensive reins when veteran Alex Smith was sidelined by a concussion against the Rams in Week 10. Eight days later, in his first-ever NFL start, Kaepernick led San Francisco to victory over the Bears on Monday night football as Smith convalesced. Harbaugh's decision to start Kaepernick the following week against New Orleans, even though Smith had been medically cleared to play, lit a fire among fans and commentators. When he did it again for this Sunday's game at St. Louis, the coach effectively dumped depth-chart propane onto the conversational blaze.
Now the primary question raging through Bay Area sports-talk radio concerns the magnitude of the gamble. Is Harbaugh doing the right thing by handing control of what may be the NFL's best roster to a 25-year-old who, prior to the Rams game, had completed all of eight passes in his NFL career? The Smith camp says that he has proven his value and did nothing to lose his job save for getting hurt. Kaepernick's supporters counter that his athleticism gives San Francisco a dynamic component it has never known with Smith at the helm.
But both parties may be mistaken is in thinking that Harbaugh's decision is either a referendum on Smith's limitations or Kaepernick's upside. Instead, it could well be more a reflection of the coach's feelings about his defense and running game—things that have little to do with either quarterback.
That the 49ers defense might be the NFC's best is almost beside the point. If Harbaugh harbors doubts about its ability to single-handedly win games in the postseason, it would make sense that he'd reach for Kaepernick's high ceiling rather than Smith's certainty. Frank Gore and the rushing attack lead the NFL in yardage, but if Harbaugh thinks that the threat of Kaepernick stretching the field in ways that Smith cannot will keep opposing defenses from stacking the line, he'll go for the upside play.
Related Story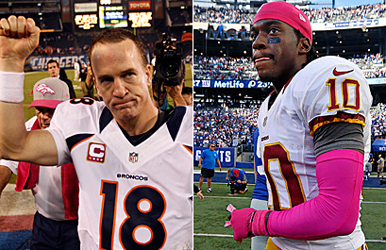 Trick plays tend to be used by outmanned teams. It seems odd to refer to the 49ers this way, but Kaeprnick is the roster equivalent of a flea-flicker—going for a big gain under increased odds that something can go wrong.
If there is a litmus for this decision, it is the New York Giants, who beat San Francisco in last year's NFC Championship game, 20-17, and again in October—a 26-3 thrashing in which Smith threw three interceptions, two in the third quarter as the 49ers strained against a 14-point deficit. Eli Manning, despite recent struggles, is a proven big-game performer. Should San Francisco make it by him—or Aaron Rodgers or Matt Ryan—and to the Super Bowl, their quarterback will likely be matched against Tom Brady, Peyton Manning, or the defense of the Houston Texans.
With Smith behind center, those comparisons are hardly favorable. The same may yet be said about Kaepernick ... or not, depending upon how he continues to play. Harbaugh has been coy about naming a permanent starter, opting instead to judge the situation game by game. This is Kaepernick's trial run; San Francisco has the NFC's second-best record, and only two teams with winning marks—the Patriots and the Seahawks—remain on its schedule. Should Kaepernick regress, Harbaugh's defensive unit is good enough to provide significant cover, giving the coach room with which to stock his informational database before deciding which man will be his team's playoff leader.
(It might be said that Harbaugh tipped his feelings about Smith when he actively pursued Peyton Manning during the off-season; it was only after Manning signed with Denver that the 49ers locked up Smith with a three-year contract. Then again, the overture also signaled insecurity about Kaepernick's game readiness—which the second-year player now seems to be putting to rest.)
Steve Young once spent four seasons backing up Joe Montana in San Francisco, one Hall of Famer in front of the other on the depth chart. In this analogy, it is clear that Alex Smith is not Joe Montana and never will be. There is a chance, however, that Kaepernick can approximate Young's success. That hope, on its own merits, can provide powerful motivation.
Ultimately, it comes down to this: The 49ers might be championship-worthy with Smith under center, but if Kaepernick's success is sustainable it will make San Francisco dominant in every phase of the game—and odds-on Super Bowl favorites. And that's all Harbaugh needed to know.