Recording Studios May Die, but the False Mythology Around Them May Not
The fallacy that technology ruins music's soul may get aired in Dave Grohl's forthcoming documentary—or it may get debunked.
Between its 1969 founding and its 2011 closing, Los Angeles's Sound City was the recording space for the likes of Elton John, Fleetwood Mac, Santana, Pat Benatar, Rancid, Weezer, Bad Religion, Nine Inch Nails, and Johnny Cash—just to name a few. Classic albums including Neil Young's After the Gold Rush (1970), the Grateful Dead's Terrapin Station (1977), and Nirvana's Nevermind (1991) were made there. Producer Rick Rubin had a particular fetish for the spot, having worked on no fewer than seven records at Sound City.
Related Story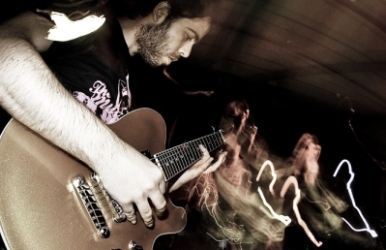 The fabled studio will have its story told in the Sound City, whose premiere at the 2013 Sundance Film Festival was just announced (its wider release will come in February). The film will be the directorial debut for Foo Fighters frontman Dave Grohl, who would seem to have the right pedigree for something like this. After all, he was Nirvana's drummer when Nevermind was recorded.
But Grohl's an intriguing figure to take on this project for another reason: He's become in many eyes an avatar for the mix of short-term nostalgia and conflicted technological discontent known as "rockism." The film could either try to resolve the contradictions inherent in that term, or it could just amplify them.
Earlier this year, when accepting a Grammy for Best Rock Performance, Grohl said from the stage, "The human element of making music is what's most important"—adding, later in the brief speech, "It's not about being perfect. ... It's not about what goes on in a computer." (There's a lightly autotuned version of the speech on youtube.com.) Grohl's remarks got an enthusiastic response from the Grammy audience, but caused a firestorm on Twitter and elsewhere, and he felt the need to release a clarifying statement later. The statement went, in part:
"I love music. I love ALL kinds of music. From Kyuss to Kraftwerk, Pinetop Perkins to Prodigy, Dead Kennedys to Deadmau5.....I love music. Electronic or acoustic, it doesn't matter to me. That's exactly what I was referring to. The "human element." That thing that happens when a song speeds up slightly, or a vocal goes a little sharp."
This "human element" appears to be the core of Studio City, judging by the trailer that went live yesterday:
The fascinating thing about the trailer is that while its talking heads speak about the importance of the human element, they are at the same time surrounded by and praising technology. Just 45 seconds into the trailer, the narrative shifts from the initial survey of Sound City's remarkable discography to a single, still, geeky image of celebrated British engineer Rupert Neve. The voiceover praises the "next generation consoles" that Neve designed. Trent Reznor then lauds "the Neve sound." (A voice is heard later—it appears to be Grohl's—noting the expectation that a particular console, the Neve 8028, at Studio City would "just go straight to the Rock and Roll Hall of Fame." Grohl himself bought the 8028 from Sound City Studios last year.) The studio's origins as "tape-based" are touted. As if to make up for too much gadget talk, a remark resets the narrative: "It's a place where real men went to make records."
Such contradictions about whether technology is crutch or muse, adversary or compatriot, run through the trailer—sometimes consciously, but most of the time not. John Fogerty, of Creedence Clearwater Revival, recounts with some revulsion a young musician explaining that perfection is just a digital procedure away. The irony is that Fogerty is himself a studio aficionado who famously recorded his hit album Centerfield alone, playing every instrument from vocals to drums to guitar. Gains in multi-tracking technology provided him with what he desired: artistic control over every recorded element.
"Chemistry is something that happens between people," says Metallica drummer Lars Ulrich, whose prominent role in the fight against Napster earned him a reputation as an Internet-era Luddite. But the fact is that Metallica's long-running support of a "taper section" at concerts made it clear that he knows full well that peer-to-peer sharing technology connects people whose chemistry is rooted in cultural experience. (This taping subculture is well covered in Nick Paumgarten's recent survey of the Grateful Dead's recorded archive in The New Yorker.)
Rick Rubin is seen in the trailer uttering a characteristic production koan: "Be true to yourself, and make music that you love." It is an especially peculiar choice for inclusion, because for all of Rubin's associations with naturalist recording (witness his late-period Johnny Cash albums, the second of which, Unchained, was recorded at Sound City), his groundbreaking early efforts in rap (LL Cool J, Run-DMC, Beastie Boys) helped cement cut-and-paste as core components of contemporary pop-music production.
If we're fortunate, these contradictions will be as much the subject of the film as the studio itself will be. There's no doubt that the rise in laptop and related technology, both software and hardware, has contributed to the decline in numbers of large-scale recording studios. The question that lingers is whether Sound City will be rockist nostalgia, technological contemplation, or both at the same time. How much is this recent shift a story of new technology replacing old technology, and how much is it the story of new technology limiting human interaction? (The concept of the recording studio as an endangered species is emphasized by the participation on Sound City by writer Mark Monroe, who worked with director Louie Psihoyos on The Cove, whose depiction of threats to dolphins won it the 2009 Oscar for Best Feature Documentary.)
In his 2010 book What Technology Wants, Wired's Kevin Kelly summarized the conundrum of figuring out which technology is enemy and which technology is ally:
When I asked my friends about their own technological choices, I found one friend who e-mailed but did not fax; another who faxed but did not have a phone; a friend who had a phone but no TV; someone with TV who rejected microwave ovens; another with microwaves but no clothes dryer; one with a clothes dryer who had rejected air-conditioning; one who loves his AC but refuses to get a car; a car fanatic with no CD player (only vinyl records); a guy with CDs who refuses GPS navigation; someone who embraces GPS but not credit cards; and so on. To outsiders, these abstinences are idiosyncratic and, arguably, hypocritical, but they serve the same purpose as the choices made by the Amish, which is to sculpt the cornucopia of technology to suit our personal intentions.
The Studio City trailer suggests that Grohl may take the opportunity to wrestle with this subject—to further clarify and expand upon his Grammy speech from earlier this year. He asks in the trailer, "In this age of technology, where you can manipulate anything, how do we retain that human element?" It's likely that the development of the film was on his mind when he stood on the stage accepting the Best Rock Performance award: He was busy making a movie about the sort of institution where a "performance" is, in fact, constructed as much as it is captured.
Because despite all of the flack that Grohl received for his awkwardly worded Grammy speech, the televised ceremony showed him to be anything but technophobic. He and the Foo Fighters performed live that same evening with Deadmau5, the cartoon cyborg avatar of electronic dance music.