Is the Heisman Actually College Football's *Least* Important Award?
Sorry, Johnny Manziel. According to the numbers, the sport's most prestigious accolade in recent years hasn't been a great indicator of professional success.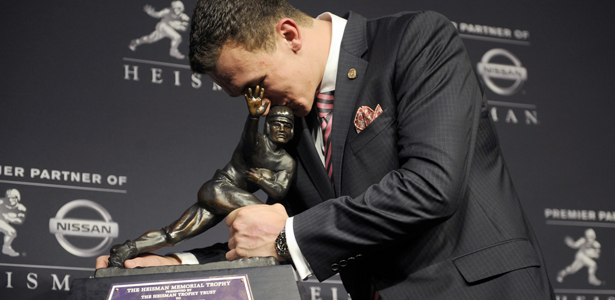 AP Photo / Henny Ray Abrams
Johnny Manziel seemingly has a lot to live up to. As the first freshman ever to win the Heisman Trophy, the Texas A&M quarterback will endure a substantial amount of scrutiny during the rest of his college career. The Heisman, given out this past weekend, is widely considered college football's most significant award. Manziel must be feeling the weight of its legacy—right?
Actually, perhaps not. Surprising as it may seem, recent history shows that he should enjoy this newfound fame while he can: Lately, there has only been a weak association between winning the Heisman Trophy and achieving professional success in football. It turns out that pundits and fans may have been obsessing over the wrong football award for the past decade and half.
For a 13-year stretch (1976-88) every Heisman winner went on to earn at least one Pro Bowl nomination in his career. This group includes Hall of Fame running backs Tony Dorsett (1976), Earl Campbell (1977), Marcus Allen (1981), and Barry Sanders (1988). Along with high-profile players such as Tim Brown and Herschel Walker, this group reached the upper echelon of players during the 1980s and 1990s. Altogether, this group earned 14 AP First Team All-Pro nominations and 48 Pro Bowl nominations combined.
For whatever reason, though, Heisman winners are no longer the dominant forces that they once were. Legendary players such as Tony Dorsett were replaced by the likes of Danny Wuerffel and Matt Leinart. Looking at Heisman Trophy winners from 1989-2010, this group has only five All-Pro nominations and 16 Pro Bowl nominations combined. (I'm including Reggie Bush's 2005 vacated Heisman in this analysis, although it's not all that relevant since he has earned neither an All-Pro nor a Pro Bowl nomination.) Most recently, the last eight eligible Heisman Trophy winners do not have a single Pro Bowl season among them. Heralded quarterbacks such as Tim Tebow are not even starters this year.
Regardless, the most telling indictment against the Heisman as a metric for future success isn't a comparison among its own winners. The truth is that the Heisman Trophy isn't even the best predictor among year-end college football awards. After Barry Sanders was selected by all three major award committees in 1988, Maxwell Award winners and Walter Camp Award winners have achieved more in the NFL as compared to Heisman Trophy winners.

Looking at this group of nominated players in the NFL, there is a clear separation in terms of the combined volume of achievement.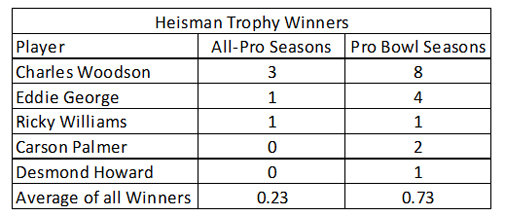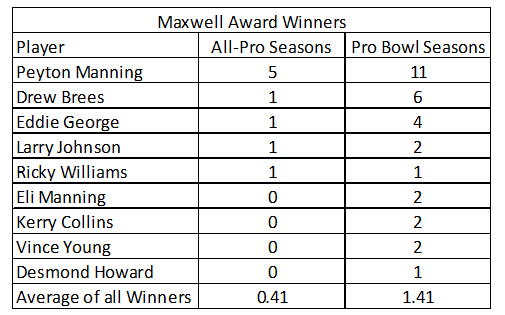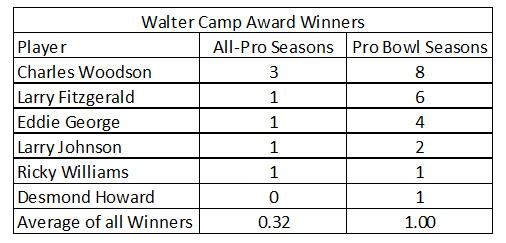 Interestingly, both of the players that lead these lists, Charles Woodson and Peyton Manning, were selected in 1997. For all of the heat that the Heisman Committee takes for not selecting defensive players, the one year that they did happen to pick a cornerback ended up being the year that the Maxwell Football Club instead selected one of the best quarterbacks of all-time!
What's more, comparison with the Maxwell list reveals that for all the much-discussion about the Heisman committee's bias towards quarterback, the trophy has been going to the wrong quarterbacks lately. While 11 of the last 13 selected for both Heisman and Maxwell committees were passers, the Maxwell Football Club has at least chosen ones that have gone on to receive professional recognition.
It's true that the Heisman Trophy is not a scouting tool; it is merely an expression of the Heisman Committee of who has been the best college player that year. Nevertheless, it's bizarre that this group of elite college players has been unable to transfer their skills to the next level of play while others, judged outstanding by seemingly less prestigious organizations, have established themselves as perennial all-stars in the NFL.
For those interested in upcoming comparisons between Heisman and other award winners, we should see strong evidence coming soon this year. In 2011, Robert Griffin III won the Heisman Trophy while Andrew Luck won the Maxwell and Walter Camp Awards. With both the Redskins and Colts eyeing a playoff run, perhaps it will be one of these two quarterbacks who will show why their respective award is the most accurate for predicting success at the next level of football.
With a Heisman Trophy under his belt, odds are that Johnny Manziel has likely already earned himself a look in the NFL Draft when he decides to come out of college. Given recent history, it is even probable that, barring a significant drop-off in his ability, Manziel will be selected in the first round. But history also shows that "Johnny Football" will have to buck this recent trend of underperforming Heisman Trophy winners in order to prove this award as a solid predictor of football talent. Personally, I'll have my eye on this year's Maxwell and Walter Camp Award winner Manti Te'o instead.