New titles from Khaled Hosseini, Tracy Chevalier, Elizabeth Strout, and others
Atria Books; Putnam Adult; Viking Adult; Hard Case Crime
If there's a common moral that binds together some of the most exciting releases of 2013, it's that it's a small world after all.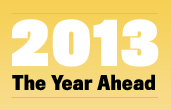 Atlantic writers preview the stories, trends, and ideas to watch.
See full coverage
Khaled Hosseini's welcome return brings with it a family story set in several parts of the world; David Sedaris bumbles around the globe, collecting tales of both the poignant and the absurd. And other novelists and scholars give voice to planet-spanning stories especially pertinent in the age of globalization: Tracy Chevalier and Chimamanda Ngozi Adichie tell intimate accounts about immigration, Marie Arana delivers the authoritative account of Simón Bolivar's map-altering political revolutions in South America, and Ruth Ozeki offers a sad, lovely tale about the accidental, intercontinental connection between a teenage author in Tokyo and her only reader.
Meanwhile, foodie extraordinaire Michael Pollan takes on the anthropology of cooking, and Stephen King revisits the universe of The Shining for the first time since he created it 36 years ago. In other words, it's about to be a big year in books. Below, read more on what these and other notable authors are up to in 2013.
We want to hear what you think about this article. Submit a letter to the editor or write to letters@theatlantic.com.
Ashley Fetters
is a writer based in New Jersey, and a former staff writer at
The Atlantic
.