Images from this year's edition of Miami's famed, increasingly snarked-at art festival
Over the last 10 years, Art Basel Miami Beach has become the year's largest annual gathering of art on the planet. Inside the main fair at the Miami Beach Convention Center, 260 galleries are showing work who's total value is estimated somewhere over $2 billion. Another 10 or 20 fairs (it depends on what you count as a fair) bring more than a thousand galleries to town. It's twice as big as the Armory show that takes place in New York every year, and nearly three times the size of the show in Basel, Switzerland that spawned it. The fair was begun to cater to collectors from North and South America, but it has always brought galleries from all over the world.
Related Story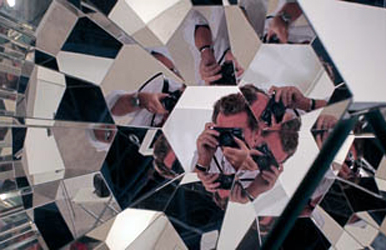 It's the kind of event about which you might say "there's something for everyone," except, apparently, there isn't. This year Simon Doonan wrote the obligatory denounciation of contemporary art in general and Art Basel in particular. His piece joins a growing corpus, including Adam Lindemann's feverish rant from last year. Then there's Camille Paglia, who savaged contemporary art in a recent interview thus: "the fine arts have become very insular and derivative ... [t]here's too much gimmickry and irony and not enough intuition and emotion."
How can this be? Art Basel is the Olympics of the art world, and every piece on display has worked hard to get here. Each gallery is selective about the artists they represent, and they bring only their best to Miami. Each fair has its own selection process, some rejecting three quarters of the galleries that apply. And yet talk to a lot of the observers coming through town, and they'll agree that much on view is hopelessly shticky, cheaply shocking, and willfully ugly.
Part of it may be that artists today have a seemingly limitless menu of modes in which to operate. And there are more of them working today than ever before, both in absolute terms and as a percentage of the population. It's not enough to be talented; a contemporary artist must make space for themselves by creating work that is in some way unlike anything that came before. Each new piece must be a new meme.
And so obviously an event like Art Basel—much like the art world—can't be generalized about. I spent five days looking at art last week. Some things I saw were wonderful, and some weren't. Here's a selection.
We want to hear what you think about this article. Submit a letter to the editor or write to letters@theatlantic.com.