A Kids' Singing Contest That's a Geopolitical Proxy War for Adults
For the handlers of Junior Eurovision contestants, there's a lot more at stake than music.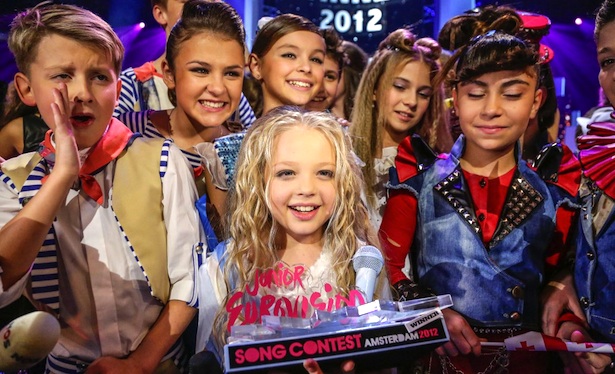 Nurturing aspiring pop stars requires a lot of patience, especially when Hamas is firing rockets over your border. Daniella Gardosh Santo of the Israeli Broadcasting Authority (IBA) learned that fact firsthand in recent weeks as she worked with Kids.il, a sextet of 10- to 14-year-olds competing in Israel's name at the 2012 Junior Eurovision Song Contest. The threat of pipe bombs and the roar of sirens forced the group to adjust its rhythm on the eve of the December 1 contest. "We missed a few rehearsals because I didn't want to take responsibility for having the kids in the studio when the alarms sounded," she says. "It's not like you're on the beach. The shelter is very crowded."
Even as the missiles dropped, Gardosh Santo knew the show had to go on. Her team continued to drum up publicity for the group throughout the conflict, and, given the sensitive nature of taking children away from their families during a war, arranged for all of their parents to journey with them to the Netherlands for the week of rehearsals and press conferences that began at the end of November. For Gardosh Santo and the IBA, competing at Junior Eurovision holds significance far beyond giving six kids their 15 minutes of fame. "We want to cultivate and enhance international relationships," she says, "and bring the beautiful face of Israel to the world."
Now in its 10th year, Junior Eurovision is a spinoff of Eurovision, the wildly popular—and widely mocked—pan-European song contest whose alumni include ABBA, Celine Dion, Jedward, and Olivia Newton-John. Watched by more than 20 million people in Europe, the former Soviet Union and Australia, it remains the world's biggest song contest for children aged 10 to 15. For governments who fund the contestants—and their choreographers, vocal coaches, producers, costume designers, P.R. teams, and chaperones—it's also a massive exercise in soft power, and an opportunity to foment goodwill with kiddy viewers and their parents across the world. The resulting talent show mixes the ambition of pageant moms with the studied reason of policy wonks with the patriotism of the Olympic Games—albeit with far more wind machines and sequins.
Israel's global charm offensive began with a nationwide audition in the spring, which resulted in the selection of six children of Russian, Yemenite, Indian, and Israeli descent. "We have all these colors," says Gardosh Santo triumphantly. "But they are all Jews." The original, three-minute song that the Israelis wrote for the competition—an ode to peace called "Let the Music Win"—took on renewed significance in light of recent events. Speaking ahead of the final, and without a translator, 13-year old Daniel Pruzansky understood the brief: "The music united people, and the music united us."
Not all countries grasp that message, and some wage a proxy battle through the Eurovision franchises. Armenia and Azerbaijan, bitter enemies who fought a bloody war over the disputed Nagorno-Karabakh region in the early 1990s, have taken their political stalemate to the adult and junior contests for years. Armenia withdrew from Eurovision last year because it was being held in Baku, the Azerbaijani capital. And in 2009 Azeri security officials detained Azerbaijani citizens who had voted for Armenia's contestant. The junior contest isn't immune from the squabbling. In 2010 Azerbaijan's state broadcaster, which aired Junior Eurovision but did not field a contestant, cut the live transmission once it became apparent that a 12-year old Armenian boy had won. His song had no political message: He merely crooned about a schoolyard crush gone wrong.
Given the significance they place on the contest, it's not surprising that Azerbaijan, which debuted at Junior Eurovision this year, went big. Rather than allowing its contestants to write their own song, the oil-rich nation outsourced the task to British songwriters and producers behind acts like the Sugababes and Britney Spears. They also hired Maksim Nedolechko, one of Russia's most famous pop choreographers, and paid a Russian production company that specializes in children's programming to sort out their costumes and staging. In the official program, the biography of Azerbaijan's lead singer said her "greatest wish is to be able to represent Azerbaijan worthily."
Adults may have been using them as pawns in their geopolitical posturing, but the kids remained blissfully unaware of it all. During the dress rehearsals, the Armenian and Azerbaijani contestants clapped for one another—even though their coaches did not. And as an Azeri hype girl jumped up and down on a DJ platform spinning a faux turntable, she seemed to believe in her sweet, if naïve, message of togetherness: "Come and join us/ Let's sit on the Moon and smile/ Together enjoying the stars."
Organizers want to preserve that innocence—and they may need to in order to keep Junior Eurovision going. In 2005 French TV officials called Junior Eurovision "vulgar" and withdrew after one year of participation. In subsequent years a steady stream of nations—including Denmark, Norway, and the U.K.—have followed suit. They frequently voice concern the contest puts too much pressure on the children and encourages them to grow up too quickly. Jaws dropped this year when the 11-year old Albanian contestant turned up to her dress rehearsal in a see-through lace dress—approved by her coaches—that failed to cover her legs, chest, or shoulders. Event supervisors deemed the frock "too mature," and quickly found the contestant a Dutch stylist, who redesigned her provocative top.
Competing countries also shoulder the responsibility of protecting their kids from pushy parents who make American pageant moms look tame. In the Netherlands, which airs a 13-episode national selection, officials interview the families of contestants to make sure the kids have appropriate support before starting their journey. "There are parents who want their children to be a star, and they hope for the record deals," says Nicole Dirksen, an editor at AVRO, the Dutch public broadcaster. "We sometimes have to have serious talks with them and tell them to back off."
To a large extent, though, the kids who make it to Junior Eurovision are steering their own train. Speaking with me outside of the Heineken Music Hall ahead of the contest, Anastasiya Petryk, a 10-year old winner from the Ukraine, insisted on stopping the interview briefly so she could retrieve bubble gum from a member of her entourage. Throughout the week, she marched around the rehearsals and parties with utter confidence and self-belief, proudly showing off her massive D-Squared belt, and a velour tracksuit with rhinestones. Her adult chaperone trailed behind with her coat.
In the end, her talent justified the diva-like behavior. Petryk, who hails from the village of Nerubayskoye, near Odessa, dropped guttural growls Christina Aguilera-style and seemingly channeled an exorcist through her swaying dance moves and facial expressions. She won the contest by the largest margin in its history. "This song is an appeal to the audience to do only good things and to act only in a good manner," she explained through a translator at the winner's press conference afterwards. "I hope that the whole country will feel proud for me."
She's far too young to understand just how proud they are. The following morning Ukraine's president Viktor Yanukovych phoned with his congratulations, and issued an official statement praising "her bright performance" that "has contributed to the rise of Ukrainian international authority."
Israel finished eighth out of the 12 finalists. Azerbaijan came next-to-last—or, as Baku probably sees it, eight places below Armenia.