Shakespeare, Superman, colossal robots, and other sights to see at the cinema this year
Warner Bros.; Lionsgate; Pixar; 20th Century Fox
Looking back on the year in cinema, 2012 was a good year for franchises and for heroines—and an especially good year for Spandex.
Thanks to high-gloss superhero flicks like Joss Whedon's The Avengers, Christopher Nolan's The Dark Knight Rises, and Marc Webb's Marvel reboot The Amazing Spider-Man—the top three earners of the year—the stretchy stuff got a generous bit of screen time. And Magic Mike didn't hurt.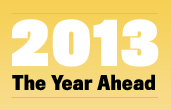 Atlantic writers preview the stories, trends, and ideas to watch.
See full coverage
While Man of Steel, Iron Man 3, and the second installment of The Hunger Games trilogy all promise to provide 2013 with its fair share of neoprene and Lycra-clad action stars, watch for this year's heroes to get a little grittier (Bruce Willis returns to Die Hard! Brad Pitt vs. zombie apocalypse!), a little more cerebral (Daniel Craig, Matt Damon, Cate Blanchett, and George Clooney star in a heist movie about art history!) and even a little more grandfatherly (Tom Hanks as Walt Disney!).
Of the 18 films included in this list, five are installments of existing franchises; another five are based on best-selling books and classic works of literature, and three draw their inspirations from real, historical events. Before we get there, though, the necessary opening disclaimers: First, this (admittedly incomplete) list is limited to films presently slated for wide release; that is, release in 2,000 theaters or more. And second, re-releases of older films are left off the list. That's why this year's 3D and IMAX re-edits of Jurassic Park, Star Wars Episode II: Attack of the Clones, Star Wars Episode III: Revenge of the Sith, Top Gun, and The Little Mermaid are omitted.
We want to hear what you think about this article. Submit a letter to the editor or write to letters@theatlantic.com.
Ashley Fetters
is a writer based in New Jersey, and a former staff writer at
The Atlantic
.