Why Pitchfork's Paris Music Festival Felt So ... Brooklyn
The tastemaking music website's French festlast weekend was less about drawing on the city's artistic legacy than it was about tapping into the global music scene Pitchfork helped build.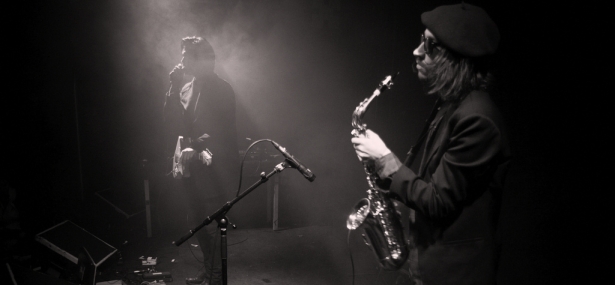 There was a fun irony watching Justin Vernon headline the inaugural Pitchfork Music Festival in Paris last year. On paper, it made perfect sense: The Wisconsin native, whose French moniker still goes mispronounced across the US, finally played to a crowd who finally got it right.
But rest of the festival for both years I attended—including its second sold-out edition this past weekend—didn't feel like quite as perfect a fit between location and event. It's not the the festival was bad, just that it's the kind of thing that gets you wondering aloud. Why Europe? Why now? Why France of all places for this highly influential media brand to launch its first international event? Those are questions I found myself asking a number of artists and colleagues, and the answer inevitably came with a raised Heineken under the sponsor's tent: Why not?
The 15-year-old New York-based website with Midwestern roots has been in expansion mode ever since launching its first festival in Chicago six years ago. There have been the international collaborations with All Tomorrow's Parties and Primavera, new ventures in #Offline and the recently postponed FORMS video-game festival in New York, and an entire Pitchfork.tv channel that launched in April 2011. But how an online arbiter expands is one thing. How underground culture scales is another. Is the site stretching its brand over new territory with each spin-off effort, or simply monetizing an already existing online community that's entirely divorced from geography? Despite the gorgeous 19th century venue that's played host for the last two years, the answer this past weekend was clear: Pitchfork Paris is a lot more Pitchfork than Paris.
Certainly, nothing about the three-day experience seemed particularly foreign to a foreigner, despite a few more European acts from the previous year. Entering the historic Grande Halle at the Parc de la Villette as the sun was setting over three crisp days was a distinctly continental experience. Yet most of the other signifiers were pure Brooklyn. There was no ignoring the number of fixies locked outside, nor the artisanal food booths that replaced the strange New York-style hot dog vendors from last year.
In the program for the first Paris festival, Pitchfork founder Ryan Schreiber noted how it was only in 2005 that the publication began to move offline and interact with the readers and artists it covers. "But we have been eager to do more," he wrote in the palm-sized booklet. "We want to add to what the city already has to offer." And when he says "add," he means just that: import, rather than integrate beyond the vendors or production staff—or a passing documentary postcard from local auteur Vincent Moon—to achieve some sort of cultural synthesis. Calling any Best New Music recipient on the bill (save maybe Death Grips) an heir to Impressionism in this city would be generous. And there's not much Gallic romanticism in the international indie complex of instantly commodified hype and promotional leverage.
MORE ON MUSIC
Besides, culturally, Paris has become something of a stultified-but-significant Manhattan compared to the outer boroughs of the rest of the continent. For every seminal French act like Gainsbourg or Daft Punk, there's a band like Phoenix that spent over a decade trying to sound like the Strokes to please North American sensibilities. Nor is the cost of Parisian living commensurate to the DIY arts as well as, say, Berlin these days. Mention real estate here and you're not talking about the band. So I imagine Pitchfork's choice to visit Paris was, well, the same as for lots of people: to indulge the love affair between France and New York that popular culture has been perpetuating for decades.
Of course, location doesn't matter so much when the publication is distributed online and the regional newspapers where influential arts critics used to reside are on the decline. Last weekend, the sold out crowd spread across 220,000 square feet went nuts to M83 on opening night. They were reverent enough for Kristian Matsson, The Tallest Man on Earth, who stood with an acoustic guitar bathed in a single light barking his Dylan yelp for more than 40 minutes. They even made Grizzly Bear feel like Saturday's de facto headliner despite DJ sets that dissolved into the early morning. Yet standing in that international sea for three days, surrounded by broken English and Strand bags, I couldn't help feeling like I was everywhere and nowhere at once.
I remember standing in Chicago's West Loop and thinking Pitchfork had achieved some sort of coup in 2006. The site's first curated event was bigger than any block party and boasted Tortoise as a headliner. It wasn't so much what the festival represented—the homegrown success of an already culturally significant, if niche, community—that was so overwhelming, but rather the way Pitchfork managed to make itself more important by celebrating the fact. Soon, it was challenging Lollapalooza across town and grabbing regular, if dismissive, mentions in legacy media.
Events like the Pitchfork Music Festival in Paris are attempting to duplicate that success. But the feeling is no longer that of an overthrow or a coming-out party. It's of a kingdom planting its flag in a land it conquered long ago.