Why It's Great for College Football That the UCLA-USC Rivalry Is Back
Two teams from the same town facing off in the sun as winter set in elsewhere: Bruins vs. Trojans was part of NCAA mythology. But then its romance faded—until UCLA's victory this past weekend.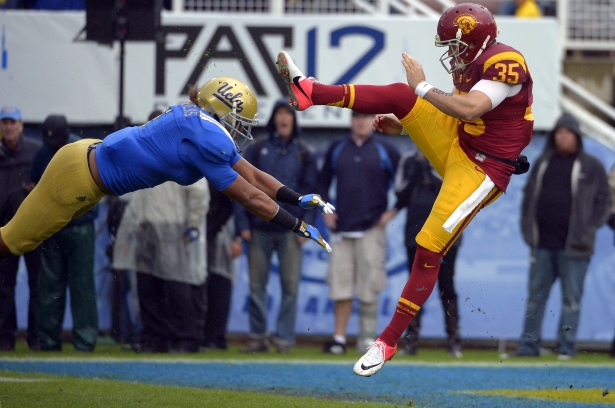 AP Photo/Mark J. Terrill
One of college football's proudest, most distinctive rivalries, USC vs. UCLA, between two teams only 12 miles apart in the same city, crashed down from the pinnacle of the sport in the late 20th century into a chasm of irrelevance in the early 21st. The reason? It just wasn't competitive anymore. Twelve USC wins in the last 13 years had reduced UCLA football to a punch line, and the college football world moved on, focusing its attention mostly in the Deep South and the Bible Belt.
But this past Saturday, this classic game—and a part of college football history—was emphatically resuscitated when UCLA thumped USC, 38-28, in Pasadena.
You can be forgiven if you missed the significance, especially if you're 25 or under. If you've paid attention at all, you've seen only Trojan dominance.
Related Story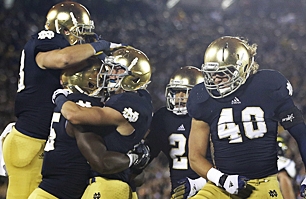 But many sports fans have long memories and a yearning for the past. And before Saturday's contest at the Rose Bowl, a long-absent but familiar vibe was in the air, a feeling that had been growing all season. Maybe it was SEC fatigue, or rank sentimentality brought on by hoary Notre Dame's resurgence, or just the realization that UCLA had its first legitimately good team since the 1990s, but some notable keepers of the college football flame were calling for the UCLA-USC game to mean something again.
"I don't care who wins the game, but I have a wish: Have it be a classic! " Chris Fowler, ESPN's College GameDay emcee, said that very morning. "As a kid growing up in the Midwest in the early days of color TV, you'd watch the Bruins and the Trojans and it was so vibrant, and dramatic, and colorful. Let's have a classic game, let's bring the rivalry back. We've gotta get back to the glory days. This was the greatest rivalry in the sport, in my opinion, back then."
His ESPN broadcast partner, the renowned Kirk Herbstreit chimed in: "When we were growing up, these [UCLA-USC] games were always the one game you wanted to see."
See, in the 1960s, '70s and early '80s, there wasn't a more magical-looking game in the country. Every November, while the rest of the nation grew cold and winter approached, USC and UCLA kicked off in the Southern California sunshine, both wearing their home jerseys (a practice unique in all of college sports, because both schools shared the same stadium): the Trojans in cardinal red, the Bruins in powder blue. The LA Coliseum was divided down the middle, one half a sea of red and gold pom poms, the other an ocean of blue and gold. On virtually every play, one side would erupt in cheers, the other would stay silent. Both school's song girls got plenty of camera time, looking impossibly Californian and glamorous.
Legendary athletes did their thing—from USC's OJ Simpson to Ronnie Lott, from UCLA's Kenny Easley to Troy Aikman—and the game often decided who went to the Rose Bowl game, and sometimes, who could win a national title. And, of course, whose season ended in heartbreak.
Sure, there were always other great rivalries: Michigan-Ohio State, Nebraska-Oklahoma, Alabama-Auburn. They were often better games. But none looked quite like UCLA-USC, played in coastal sunshine, in the entertainment capital of the world.
The Trojans usually seemed like favorites, owing to their historical greatness, and Bruins the underdog, with their "gutty little Bruin" moniker. But the ebbs and flows of the rivalry (USC dominated the 60's and 70's, UCLA the 80's and 90's) produced a pretty even split. Over the 50 years from 1950 to 1999, UCLA won 25, USC 22, and they tied three times.
And then, after the 2000 season, USC hired Pete Carroll, and things changed. Drastically. A brilliant coach and fearsome recruiter, Carroll immediately made his mark: At his first rivalry game, in 2001, the Trojans embarrassed UCLA, 27-0. Thus ensued a decade of USC dominance, unlike anything the rivalry had ever seen. The Trojans of Carson Palmer and Troy Polamalu, of Matt Leinart and Reggie Bush, rolled over suddenly hapless, completely outclassed UCLA by scores like 66-19, 52-20, and 47-22. There was only one hiccup: a still-surreal 13-9 loss to UCLA that knocked USC out of the 2006 national championship game. But that proved to be a fluke. Carroll left for the NFL in 2009, but it didn't matter, as the USC hegemony continued to decimate UCLA, culminating in last season's 50-0 shellacking that was arguably the lowest point in Bruin football history. That game cemented the firing of Coach Rick Neuheisel, the third UCLA coach fired in nine years—all, in the end, for getting stomped by USC.
And then, last December, Jim Mora was hired by UCLA to replace Neuheisel.
Much like Carroll at USC, Mora arrived at UCLA with little fanfare, accompanied by question marks and skepticism about whether an NFL lifer recently fired from his last job would get it done in the college ranks.
Tasked with changing UCLA's "soft" perception, casual approach, and indifference to losing, Mora got to work. He opened eyes in week two of the season by beating mighty Nebraska, and as a suddenly tough, organized and well-coached UCLA squad piled up the wins—including a 66-10 decimation of Arizona, one week after the Wildcats had just beaten USC—and amassed a better record than the Trojans, the rivalry again began to simmer.
Things had been testy in August, when USC put up a huge billboard of quarterback Matt Barkley on Westwood Boulevard, right next to UCLA's campus. It was removed the next day. Mora himself angered USC people when he noted that at UCLA, "there weren't murders two blocks off campus." He later apologized.
And last week, days before the game, UCLA suddenly announced that, effective immediately, it would no longer tolerate the Trojan band drum major's pregame tradition of stabbing his sword into the UCLA logo at midfield. If he did, the USC marching band wouldn't be allowed to play. USC protested these "strong arm tactics." Both schools released a joint statement urging fans (and drum majors?) to show restraint.
The fans got the message, but UCLA's players did not, showing no restraint in jumping out to a 24-0 lead in a gray drizzle, the first UCLA-USC game played in the rain since 1961. The Bruins never relinquished that lead, and though USC launched a great comeback and made it close, UCLA ultimately clinched the victory with a late, gritty drive capped by a touchdown run by Johnathan Franklin (who grew up a Trojan fan until he signed with UCLA five year ago). Moments later, the Bruins ended USC's chances with a violent sack of Matt Barkley, knocking the golden boy quarterback from the game with a sprained shoulder.
"Are we seeing a changing of the guard in Los Angeles?" wondered the game's commentator, Gus Johnson.
Too early to say that. But one thing seemed clear. The rivalry was back: UCLA versus USC seemed alive and well, and college football would be better for it.