The Surreal Agony of the NHL Lockout for Hockey Diehards
Fans are weathering the labor mess with fake games, foreign leagues, and communal angst.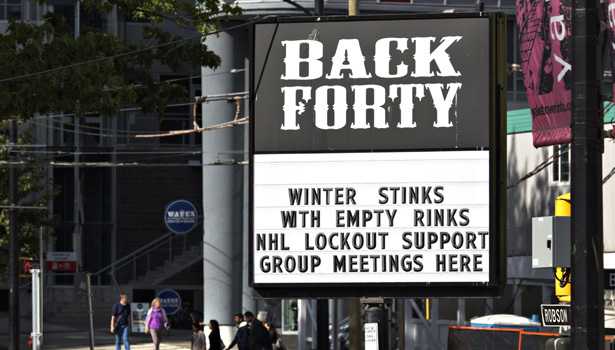 In "Tlön, Uqbar, Orbis Tertius," Jorge Louis Borges imagines a centuries-long conspiracy to create a planet that exists only on paper, a place so fully realized that it begins to revolt against the boundaries of its own artificiality. Three months into the National Hockey League's lockout, a sort of hockey Tlön is filling the empty space where this season might once have stood. At The Games That Weren't, a proprietary simulation formula allows for blow-by-blow online depictions—full game capsules, box scores, even—of games that aren't being played.
Related Story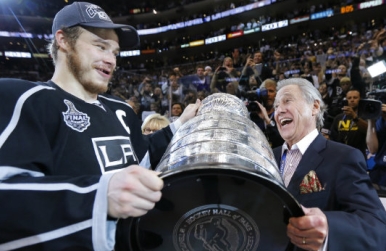 Clark Rasmussen, a Detroit Red Wings supporter and editor of DetroitHockey.net, started the fake league as a way to distract from the hockey's absence. "It lets me laugh about it a little bit, I think," said Rasmussen. "The anger part of it comes and goes, but at least this gives me something else to focus on." Hockey Tlön is not without its surprises. When Rasmussen and I spoke in late October, the lowly Columbus Blue Jackets were atop the Central Division standings.
The Games That Weren't may seem surreal, but too so does the lockout for hockey diehards—many of whom, like Rasmussen, are finding novel ways to cope. For these fans, this November is tough to take. It's not just that games aren't being played: This early in an NHL season, the games usually don't really matter. It's that the emotional thrill of hockey's return isn't there. So fans have to get it from somewhere else.
In Washington, Russian Machine Never Breaks has been the irreverent yet authoritative voice of Capitals' fandom, reveling in the sublime exploits of Alex Ovechkin and Nicklas Backstrom, or—when the occasion calls for it, which is fairly often—talking Caps faithful off a ledge. If this were a normal season, site editor Ian Oland and his co-bloggers would be publishing game recaps and interviews, or attempting to blanket the Verizon Center with "game on" signs. Instead, after choosing not to focus on the intricacies of the labor dispute, RMNB has trained its attention on more distant rinks.
RMNB might be the only NHL fan site with a Moscow bureau—fortuitous in times like these. Russia-based blogger Fedor Fedin has kept close watch on Capitals prospects playing in the Kontinental Hockey League (KHL), translating news reports and interviews and giving Washington fans a sense of what the future might hold. This season, he's given Oland something of a KHL crash-course. The ice is Olympic-sized—much larger than the rinks used in the NHL. "Speed is very, very important in the KHL," he says. "There's a lot more open space ... it's much less physical."
And there are other idiosyncrasies too. "Fedor showed me that the goalie will come out for one of the teams and shovel coal into the net—for the team that has like, a coal thing in their name." (He's referring to HC Donbass, who play in Ukrainian coal country.) Oland says that in the Swedish league, Caps speedster Brooks Laich is his team's leading scorer, a distinction that entitles him to a special jersey and helmet with flames on the side.
"We really want to show our readers how it's going for Laich, how it's going for Ovi, how it's going for [Capitals prospect Evgeny Kuznetsov] so they can still feel like there's hockey, even if there isn't," Oland says.
Yet with the NHL sidelined, foreign hockey has a teasing quality to it. Fans in Minsk or Astana or Niznekamsk are treated to thrilling, near-NHL-level hockey, while in Pittsburgh, those autumn weeknights are chillingly empty.
"Having a game a couple times a week for a couple hours—you can kind of lose yourself in that and have a kind of release from normal life," says Derek Rocco, editor of the PensBlog. He estimates that he tweets up to 200 times during a typical Penguins game, swapping observations and jokes with a close community of fans. I spoke with him just hours after it was reported that the league was on the brink of canceling its annual Winter Classic, which is no longer scheduled to be played in front of over 100,000 fans at Michigan Stadium on New Year's Day. He said he was resigned to the season being axed, even if the possibility still feels a little unreal. "We're at the point where the game is as good as it's been," Rocco says. "The level of play is as good as it's been. There are big names, great storylines, it's just fantastic. Now they're just throwing that all away, and it's unbelievable that it's even happening."
But it's happening. And this puts the league's preeminent blogger, Yahoo! Sports' Greg Wyshynski, lead writer at Puck Daddy, in a doubly awkward position. Firstly, there's no hockey to cover. "With the lockout you can fall into that repetitive thing where you've got these stops and starts, these false deadlines," he says. "It's the same issues over and over again—it's just whether the rancor has gotten louder or not." But for the journalist-fan, the harder thing about the lockout might be balancing one's own indignation against a sense of responsibility towards readership. Luckily, Wyshnyski's had some help in navigating this potential dilemma.
"We have this recurring feature called The Vent. It was a way for our readers to grab the mic for a bit," Wyshynski says. "And it was born out of the fact that we were getting these beautiful emails from people about how frustrated they are. They didn't really have a place to send it, so they would send it to us ... we get more than a dozen a day from people who are frustrated and want to have this outlet."
Some of The Vents are angry, others sly or sardonic. The latest was devastating. "Meet six-year-old Mackinley," wrote Puck Daddy blogger Harrison Mooney. "Her dad works in a mining camp for month-long stretches and is home for only two weeks at a time. When he's home, he and his daughter sit down with a big bowl of chips and watch hockey. The lockout is robbing this little girl of her special thing with her father. She has made a YouTube video urging the league to please bring back hockey back." Though she's wearing a Vancouver Canucks shirt, young Mackinley's appeal could melt the coldest heart in Calgary.
It's becoming clear that the lockout's combatants don't care about Mackinley, or really about any of the fans. Neither side is negotiating with a sense of urgency—they went through most of October without negotiating at all. "The NHL knows we're crack addicts for their product," Wyshynski says—although he predicts that a second missed season will cause some families to "reassess their investment" in a dysfunctional league during uncertain economic times.
Inertia is setting in as the days tick away, and as the disaster of an erased season morphs from scare tactic to distinct possibility. For the time being, life remains hockey-less. The absence weighs on Oland, as it must upon millions of other puck nuts across North America. "It's a close-knit group of fans," he says of his fellow Capitals supporters. "I miss the emotion. I'm kind of up with the team when they win and I'm down with them when they lose ... Without hockey, it's a lot different. It really is a lot different."