The NBA Spurs Controversy Is a Controversy Over the Purpose of Sports
Should teams try to win or to entertain? By fining San Antonio for sitting out its star players, Commissioner David Stern sides with "entertain."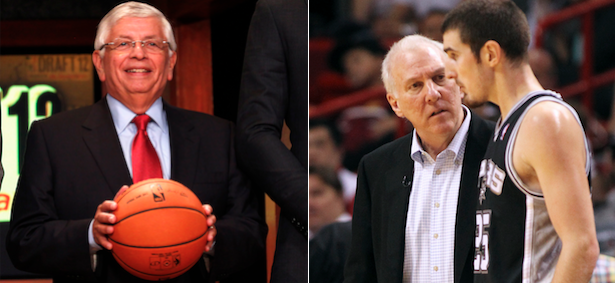 Thursday's game between the Miami Heat and San Antonio Spurs was supposed to be a nationally televised showcase of two elite, star-studded teams. The promo practically wrote itself: "It's Lebron, Wade, Bosh and the Heat against Tim Duncan, Tony Parker, Manu Ginobili and the Spurs, tonight on TNT!"
Instead, the game became the subject of an ethics debate among players, fans and the media about the basic purpose of sports. Are NBA players entertainers or competitors first? Now we know, depressingly and definitively, that David Stern says "entertainers."
Related Story
The drama started when Spurs coach Gregg Popovich—a brilliant, irascible coach who will do whatever it takes to win—decided to sit Duncan, Parker, Ginobili, and Danny Green and let them travel home to San Antonio early. Popovich's rationale was simple: It's the last game of a long road trip, my stars are aging veterans, and we probably won't beat the Heat in Miami anyway, so I'm going to think long-term and give my best guys a day off.
"This month we've had 11 away games, after tonight," Popovich explained to reporters, "We've had an eight-day trip and a 10-day trip, and we're ending it with four [games] in five nights here. I think it'd be unwise to be playing our guys in that kind of a situation, given their history."
Popovich's announcement drew a bombastic response from the equally irascible NBA commissioner David Stern, who issued a statement before the game apologizing to NBA fans and promising "substantial sanctions" against the Spurs. Update, 6:25 p.m.: He then levied $250,000 against the team, saying "the Spurs did a disservice to the league and our fans."
Stern's message was clear: By sitting your best players, you're tarnishing the product put out by the NBA and embarrassing the league on national television. That argument presupposes that the NBA exists to entertain consumers and provide the best possible show night in and night out. In other words, sports is played for the audience, like a Broadway production. And no Broadway director willingly sits his four top actors for understudies at the end of an eight-show week to try and win as many Tony Awards as possible in the long run.
But a chorus of players and media members sided with Popovich's position, which implicitly holds that sports are about an athlete or group of athletes trying to win a championship, year in and year out. The Spurs coach was doing what he thought gave his team the best chance to win in the long run, specifically in late May and June. Using only that criterion, Pop's move makes perfect sense. The Spurs ran out of gas in the Western Conference Finals last season, racing out to a 2-0 series lead before losing four straight games to a much younger Oklahoma City Thunder team. A day off here and there for Duncan et al during the season could keep San Antonio healthy and energized for the only games that matter: playoff games.
The group of Popovich backers included LeBron himself. "I don't think Pop was in the wrong," he said. "It's not in the rules to tell you [that] you can't send your guys home." Most sports columnists writing about the controversy also sided with the Spurs coach and backed the argument that trying to win a championship trumps entertaining the fans.
To blast Popovich for his decision, as Stern and some former players have done, is hypocritical. The Spurs have rested their key players in regular-season games before, including last year. Just seven months ago, the league gave its blessing when Popovich sat Duncan, Parker and Ginobili in a late-season game against the Utah Jazz. "The strategic resting of particular players on particular nights is within the discretion of the teams," NBA deputy commissioner Adam Silver said at the time. "And Gregg Popovich in particular is probably the last coach that I would second-guess."
The league is suddenly angry now because Spurs-Heat was on national television, with TNT and a host of ratings-hungry advertisers footing the bill. Had Popovich held his stars out of Wednesday's game against the Orlando Magic and played them against Miami, Stern wouldn't have made a peep.
Major sports leagues obviously would not exist without fan and television support, and entertainment is a large part of what drives the NBA. But the job of coaches and players is not to increase market share or boost ratings. It's to win titles—not games or divisions, but championships. Stern would do well to recognize and accept that fact.
By the way, the star-less Spurs hung tough with the Heat for the entire game Thursday night, leading by five points with two minutes left before falling victim to Miami's latest last-minute comeback. It certainly seemed entertaining to me.