The Lakers Have Been Through This Coaching Drama Before (31 Years Ago)
If any team can survive this latest hiring-and-firing debacle, it's LA. After all, it did in 1981.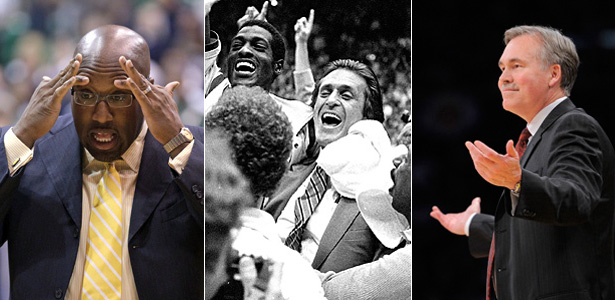 Had any other NBA franchise fired its coach only five games into the 82-game season, as the Los Angeles Lakers recently did with Mike Brown, it probably would've been labeled a lot of things. Panicky, probably. Bungling. Delusional, even.
But the Lakers aren't any other franchise, and 16 NBA titles and countless star turns get you some leeway in the public eye. Plus, the future is always right now in L.A. Patience and rebuilding are never options; the franchise and its fans insist on the reload—and they usually get it—even though that sometimes comes with a heavy dose of drama.
Which it has again.
It had seemed the Lakers were finished retooling their team and their brand this summer, adding superstars Dwight Howard and Steve Nash to their already-crowded firmament in two shrewd trades. After two down (for them) years, they were The Lakers once again. A march to the NBA Finals to face LeBron James and the Miami Heat seemed possible, maybe even preordained.
Related Story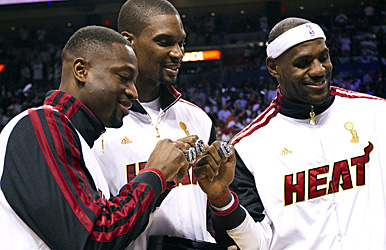 Then they started playing the games. And it was ugly.
Coach Brown, smarting from last season's playoff whipping at the hands of the much younger, uber-athletic Oklahoma City Thunder, decided to install the "Princeton Offense." This is a slow-down, deliberate system that frankly is made for slow, small guys who can shoot from outside but can't really play (sorry, Princeton) at an elite level.
For a professional team that features three surefire Hall of Famers in its starting five, it was a bizarre choice. And it showed, as L.A. lost all eight of its preseason games, and the first three regular season contests, too. Almost worse than the losing, though, was that they were boring. After watching the Lakers on opening night sputter and struggle through a desultory loss, TNT commentator Charles Barkley said with disgust, "Man, I want my accountant from Princeton; I don't want my damn offense from Princeton."
Clearly, something else needed to be done.
So, after starting 0-3, Coach Brown was squarely on the hot seat. Two games later, after a disturbing loss in Utah, Lakers Executive Vice President Jim Buss (son of owner Jerry) issued the dreaded public vote of confidence for Brown, telling reporters "he was fine with what was going on."
The next day he fired Brown.
More psychodrama in L.A.? Attention-seeking behavior? Another instance of purple-and-gold hubris? Not if you examine Lakers history, actually. Six times since they've moved to L.A. in 1960, they've changed coaches during a season, so this was nothing new. In the past, sometimes it's worked. Sometimes it hasn't.
And one particularly fascinating Lakers season three decades ago not only may be instructive on what's happening now, but eerily similar.
Cut to: November, 1981.
Even though it's early in the season, all is not well in Laker Land. They are only two years removed from their last NBA title, but the previous season ended in playoff disappointment, and as a result, the head coach (Paul Westhead) has put in a new, more methodical and structured offense. But early returns are not positive: The offense seems constrictive, boring, with not enough fast breaks. Despite a star-studded roster littered with future Hall of Famers, the team loses its first few games, and fans and players are grumbling.
(Sound familiar?)
And in the front office, owner Jerry Buss is not only grumbling, he's fuming. After an opening night loss, he mutters, "What's going on? I just don't like this." He begins asking a lot questions about Westhead's offense: to his players, his general managers Jerry West and Bill Sharman, and to Westhead himself. He didn't like the answers.
So Buss decides, and quickly. After only nine games, he informs West and Sharman that he's going to fire Westhead. Crucially though, he agrees to Sharman's request to "give it a week" before making it public, while they sniff around for a replacement coach.
Two games later, it all blows up. Magic Johnson, already clashing with Westhead's restrictive style, snaps after the coach yells at him during a late timeout. The Lakers win, but Magic trudges to the locker room and shocks the sports world by publicly requesting to be traded.
Buss, of course, would sooner trade his own limb than Magic—and he's already decided to axe Westhead. Knowing, unfortunately, that Magic will get the heat for this, Buss fires Westhead the next day.
Melodrama ensues. Magic is immediately vilified, because to the public it appears he, Magic Johnson—a player—has essentially fired his own coach. It's unheard of and threatening. Sports aren't supposed to work like this.
But before people can even assimilate that, before the season-long cascade of boos are directed at Magic, even by his own fans, before Los Angeles Times columnist Jim Murray, the dean of American sportswriters, calls Buss "an unfit owner," before the avalanche of letters to the editor denouncing Magic as a spoiled, temper tantrum-throwing egomaniac are printed ... the Lakers have to, you know, pick a new coach.
Hastily, Buss debates his options with Sharman and West. They want Westhead's assistant, Pat Riley, who had never coached at any level before two years ago. Buss is unsure, worried that Riley would be in over his head. In fact, Buss wants West to coach the Lakers, and says that if he does, Riley could stay on as his assistant co-coach, or something, and West can slowly turn the reins over to Riley. Or not. The details are fuzzy for everyone. West kind of agrees, but leaves that meeting thinking that Riley is the head coach, and West will be the sort-of assistant. So West offers the job to Riley, who accepts ... and is flabbergasted hours later at the press conference as Buss announces Jerry West as the Lakers' coach. West strides to the podium, and immediately makes his own announcement: Riley is actually the coach, and he, Jerry West, will be working for Riley. Now it is Buss's turn to be flabbergasted. Confusion reigns. As the press conference breaks up, writers and TV reporters literally don't know who the coach is.
Turns out it's Riley. And suddenly the Lakers play faster, easier, and rip off 17 wins in the next 20 games. Showtime is back, and the L.A. fastbreaks all the way to the NBA championship, the first of four titles that the previously unknown Riley will win in the next seven years, on his way to becoming a basketball legend.
Cut to now.
As soon as Brown was fired on November 9th, rumors abounded that the Zen Master, Coach Phil Jackson, he of the triangle offense and 11 NBA titles (including the five he won with Kobe Bryant during his previous two stints as Lakers coach), would return as coach for a third and final run with the purple and gold.
In fact, Jackson left a Saturday interview with Jim Buss and GM Mitch Kupchak under the impression he'd been offered the job and had until Monday to decide for sure.
Apparently not. Because Sunday at midnight Jackson was roused by a Kupchak phone call saying, actually, the Lakers have decided to hire someone else, fast-break guru Mike D'Antoni, as the coach.
Jackson is floored. His agent says the whole mess "is indicative of the shabby way that organization is being run."
Again ... sound familiar?
So now, what will happen? Could the 1981 parallels continue and D'Antoni ride a wave of Nash-led fast break passes to Kobe and pick-and-rolls with Howard, all the way to the title, like Riley did with Magic and Kareem Abdul Jabbar? This being L.A., the land that loves a good sequel, it's hard to bet against Showtime II.