The Atlantic's 'Lincoln' Reading List
According to our archives, the president portrayed in Steven Spielberg's new hit was depressed, "odd-featured," and visionary.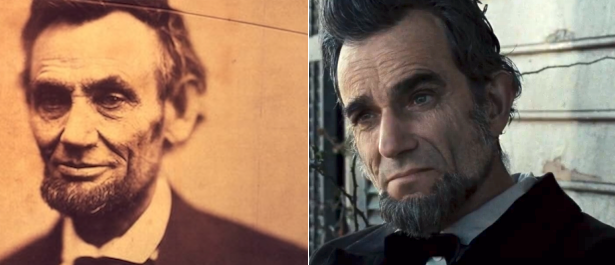 National Portrait Gallery, Smithsonian Institution / Dreamworks
Steven Spielberg's biographical drama Lincoln, starring Daniel Day-Lewis, has been a hit with audiences and critics alike, gathering an impressive $21 million at this past weekend's box office as it expanded to wider release. The Atlantic, founded in 1857—a mere four years before before the Civil War began—covered the 16th president in his own day and in the decades after. So in recognition of the new-found public interest in the Great Emancipator, here's a look back at a selection of Atlantic writings by authors from Ralph Waldo Emerson to James Russell Lowell and Garry Wills—touching on everything from Lincoln's greatest accomplishments to his depressive tendencies and penchant for dirty jokes.
New Light on Lincoln's Boyhood (February 1920) by Arthur E. Morgan
Decades after Lincoln's death, a civil engineer journeyed through the Ozark Mountains, interviewing Lincoln's friends, relatives, neighbors, and their offspring to piece together a picture of the president's formative years.
He did not like girls' company, but was 'a great fellow to be with the boys.' He was known for good-nature, even temper, and for seldom becoming angry. He would go to all the dances in the country, but would not dance. Off at one side, with the boys gathered around him, he would tell jokes and funny stories, and would relate what he had read. For their further edification he would turn handsprings, stand flat-footed, and lean back until his head would touch the ground, and would perform many other athletic stunts. Sometimes at such dances, 'it would be hard to get enough boys to stand for a set,' because Abe's company was more interesting.
Recollections of Lincoln (February 1904) by Henry Villard
Henry Villard, a journalist covering the Lincoln-Douglas debates, met Lincoln at the second matchup and kept in touch. Years later, The Atlantic published an excerpt from Villard's memoirs in which he recalled his impressions of this aspiring politician, who, with his gawky manner and penchant for dirty jokes, had seemed a surprising candidate.
As far as all external conditions were concerned, there was nothing in favor of Lincoln. He had a lean, lank, indescribably gawky figure, an odd-featured, wrinkled, inexpressive, and altogether uncomely face. He used singularly awkward, almost absurd up-and-down and sidewise movements of his body to give emphasis to his arguments. His voice was naturally good, but he frequently raised it to an unnatural pitch....

[After one of the debates] two stalwart young farmers rushed on the platform, and, in spite of [Lincoln's] remonstrances, seized and put him on their shoulders and carried him in that uncomfortable posture for a considerable distance. It was really a ludicrous sight to see the grotesque figure holding frantically to the heads of his supporters, with his legs dangling from their shoulders, and his pantaloons pulled up so as to expose his underwear almost to his knees....

I am sorry to state that he often allowed himself altogether too much license in the concoction of ... stories. He seemed to be bent upon making his hit by fair means or foul. In other words, he never hesitated to tell a coarse or even outright nasty story, if it served his purpose. All his personal friends could bear testimony on this point. It was a notorious fact that this fondness for low talk clung to him even in the White House. More than once I heard him "with malice aforethought" get off purposely some repulsive fiction in order to rid himself of an uncomfortable caller. Again and again I felt disgust and humiliation that such a person should have been called upon to direct the destinies of a great nation in the direst period of its history. Yet his achievements during the next few years proved him to be one of the great leaders of mankind.
The Election in November (October 1860) by James Russell Lowell
In 1860, as the presidential election approached, The Atlantic's first editor, James Russell Lowell, threw the weight of the magazine behind the anti-slavery Republican candidate, commending Lincoln as a "statesman" and a powerful voice against the spread of slavery.
Will the election of Mr. Lincoln endanger the Union?... Speakers [in the South] are beginning to assure their hearers that the election of Mr. Lincoln will do them no harm. We entirely agree with them, for it will save them from themselves....

The election of Mr. Lincoln will do more than anything else to appease the excitement of the country. He has proved both his ability and his integrity; he has had experience enough in public affairs to make him a statesman, and not enough to make him a politician ... He represents a party who know that true policy is gradual in its advances, that it is conditional and not absolute, that it must deal with facts and not with sentiments, but who know also that it is wiser to stamp out evil in the spark than to wait till there is no help but in fighting fire with fire.
Lincoln's Great Depression (October 2005) by Joshua Wolf Shenk
In 2005, the author explored Lincoln's lifelong struggle with clinical depression.
When Abraham Lincoln came to the stage of the 1860 state Republican convention in Decatur, Illinois, the crowd roared in approval. Men threw hats and canes into the air, shaking the hall so much that the awning over the stage collapsed; according to an early account, "the roof was literally cheered off the building." Fifty-one years old, Lincoln was at the peak of his political career, with momentum that would soon sweep him to the nomination of the national party and then to the White House.

Yet to the convention audience Lincoln didn't seem euphoric, or triumphant, or even pleased. On the contrary, said a man named Johnson, observing from the convention floor, "I then thought him one of the most diffident and worst plagued men I ever saw."

The next day the convention closed. The crowds dispersed, leaving behind cigar stubs and handbills and the smells of sweat and whiskey. Later the lieutenant governor of Illinois, William J. Bross, walked the floor. He saw Lincoln sitting alone at the end of the hall, his head bowed, his gangly arms bent at the elbows, his hands pressed to his face. As Bross approached, Lincoln noticed him and said, "I'm not very well."

Lincoln's look at that moment—the classic image of gloom—was familiar to everyone who knew him well. Such spells were just one thread in a curious fabric of behavior and thought that his friends called his "melancholy." He often wept in public and recited maudlin poetry. He told jokes and stories at odd times—he needed the laughs, he said, for his survival. As a young man he talked more than once of suicide, and as he grew older he said he saw the world as hard and grim, full of misery, made that way by fate and the forces of God. "No element of Mr. Lincoln's character," declared his colleague Henry Whitney, "was so marked, obvious and ingrained as his mysterious and profound melancholy."
American Civilization (April 1862) by Ralph Waldo Emerson
In late January 1862, Ralph Waldo Emerson delivered a lecture at the Smithsonian Institution, urging emancipation and emphasizing that only ending slavery would end the conflict. Two days later, he visited Lincoln at the White House, presumably to further press his case. Three months after that, the text of his Smithsonian speech appeared in The Atlantic, along with some additional paragraphs commending Lincoln for steps he had since taken toward emancipation. Within a year, Lincoln would issue the Emancipation Proclamation.
President Lincoln has proposed to Congress that the Government shall cooperate with any State that shall enact a gradual abolishment of Slavery. In the recent series of national successes, this Message is the best. It marks the happiest day in the political year. The American Executive ranges itself for the first time on the side of freedom. If Congress has been backward, the President has advanced. This state-paper is the more interesting that it appears to be the President's individual act, done under a strong sense of duty. He speaks his own thought in his own style. All thanks and honor to the Head of the State!
The Words That Remade America (June 1992) by Garry Wills
In 1992, the historian and journalist Garry Wills reconstructed the events leading up to Lincoln's remarks at Gettysburg, debunking the myth that Lincoln wrote his speech at the last minute, and carefully unpacking Lincoln's language to show how—in just 272 words—he subtly cast the nation's understanding of the Constitution in new, egalitarian terms. Wills's book Lincoln at Gettysburg, from which the essay was adapted, won the Pulitzer Prize in 1993.
When Lincoln rose, it was with a sheet or two, from which he read....

[His voice] was high to the point of shrillness, and his Kentucky accent offended some eastern sensibilities. But Lincoln derived an advantage from his high tenor voice—carrying power. If there is agreement on any one aspect of Lincoln's delivery, at Gettysburg or elsewhere, it is on his audibility. Modern impersonators of Lincoln, such as Walter Huston, Raymond Massey, Henry Fonda, and the various actors who give voice to Disneyland animations of the President, bring him before us as a baritone, which is considered a more manly or heroic voice... What should not be forgotten is that Lincoln was himself an actor, an expert raconteur and mimic, and one who spent hours reading speeches out of Shakespeare to any willing (or sometimes unwilling) audience. He knew a good deal about rhythmic delivery and meaningful inflection. John Hay, who had submitted to many of those Shakespeare readings, gave high marks to his boss's performance at Gettysburg. He put in his diary at the time that "the President, in a fine, free way, with more grace than is his wont, said his half dozen words of consecration." Lincoln's text was polished, his delivery emphatic; he was interrupted by applause five times. Read in a slow, clear way to the farthest listeners, the speech would take about three minutes... He had done what he wanted to do.
Late Scenes in Richmond (June 1865) by Charles Carleton Coffin
Just after the war's end, reporter Charles Carleton Coffin described Lincoln's triumphant visit to the recently evacuated city of Richmond, where, as he made his way to the Confederates' erstwhile headquarters, he was thronged by newly freed slaves, whom he greeted warmly.
He entered the city unheralded; six sailors, armed with carbines, stepped upon the shore, followed by the President, who held his little son by the hand... The writer of this article was there upon the spot, and, joining the party, became an observer of the memorable event...

The air rang with a tumultuous chorus of voices. The street became almost impassable on account of the increasing multitude. Soldiers were summoned to clear the way. How strange the event! The President of the United States—he who had been hated, despised, maligned above all other men living, to whom the vilest epithets had been applied by the people of Richmond—was walking their streets, receiving thanksgivings, blessings, and praises from thousands who hailed him as the ally of the Messiah!...

The walk was long, and the President halted a moment to rest. 'May de good Lord bless you, President Linkum!' said an old negro, removing his hat, and bowing with tears of joy rolling down his cheeks. The President removed his own hat, and bowed in silence; but it was a bow which upset the forms, laws, customs, and ceremonies of centuries. It was a death-shock to chivalry, and a mortal wound to caste. Recognize a nigger! Faugh! A woman in an adjoining house beheld it, and turned from the scene in unspeakable disgust. There were men in the crowd who had daggers in their eyes; but the chosen assassin was not there, the hour for the damning work had not come, and that great-hearted man passed on to the executive mansion of the late Confederacy.
The Discovery (December 1928) by The Atlantic Editors
In the late 1920s, the Atlantic's editors published a series titled "Lincoln the Lover," based on supposedly rediscovered love letters between Lincoln and Ann Rutledge, the woman believed to have been his first love. Only gradually did the editors come to realize they had fallen victim to an elaborate hoax. The magazine defended the collection two months later in a lengthy editors' note. But by April, one of the magazine's contributors was able to definitively demonstrate that the correspondence had been a fraud.
(For more, check out The Atlantic Commemorative Civil War Issue, with stories by Mark Twain, Henry James, Harriet Beecher Stowe, Frederick Douglass, Nathaniel Hawthorne, Louisa May Alcott, and many others.)